6 race cars that we'd love to campaign again
From ground-effect endurance to Group B, there will be plenty of racing royalty going under the hammer at RM Sotheby's upcoming London action. Here are the six cars we would fire up for next season.
1976 Chevron B36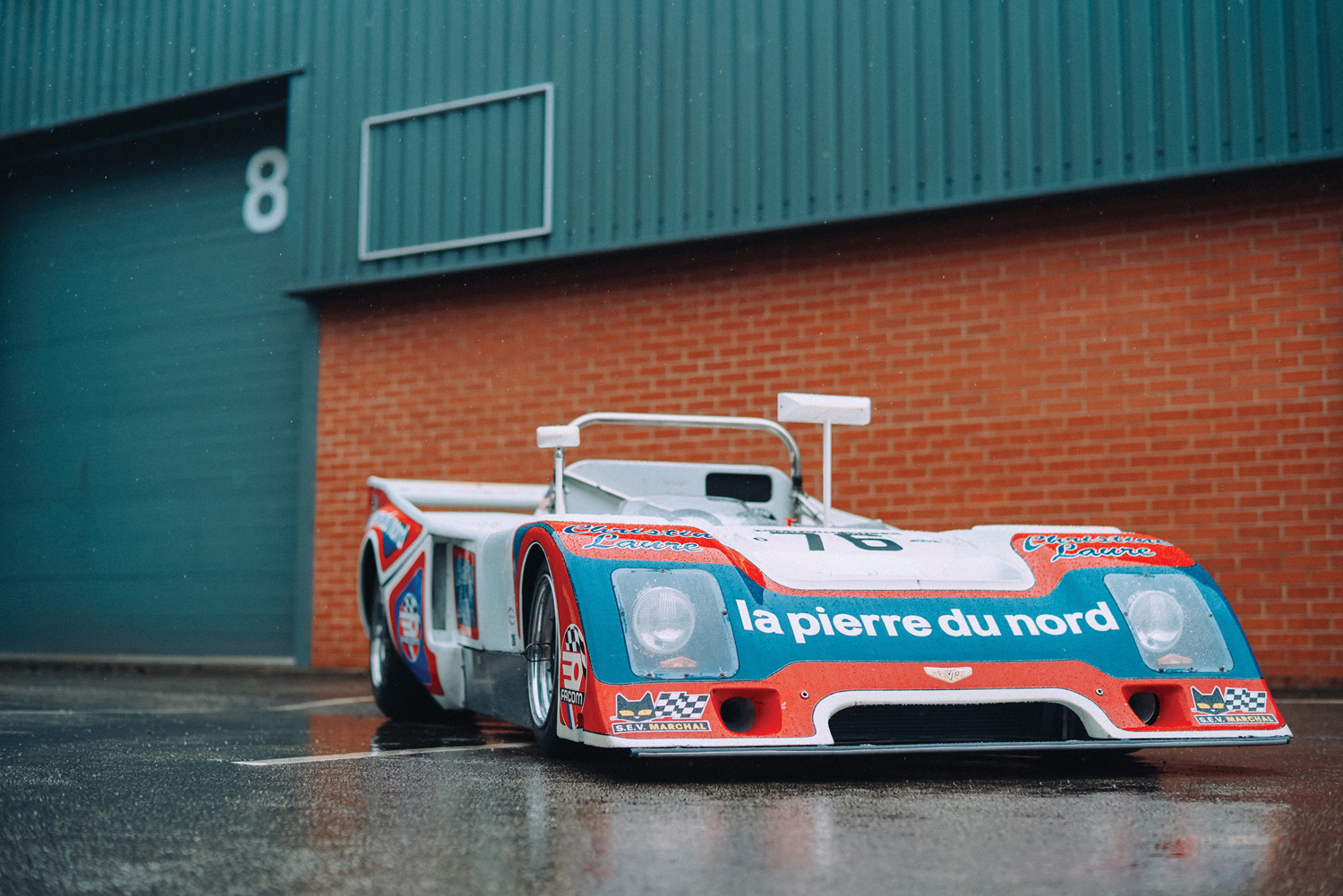 Estimate: $230,000 – $280,000
A relatively affordable entry into the vintage endurance racing game, this Chevron is actually a four-time Le Mans veteran that took the class win in both 1977 and 1978. Powered by a period-correct 1975-cc Cosworth BDG four-cylinder engine, chassis #76-02-WH1 is one of approximately 21 Chevron B36s made in Britain.
Today, it comes with a tub made in 2003, which makes it perhaps not the most original B36 out there, but one that's certainly ready for many more decades of looking good on track. The original racing tub is also part of the deal, while the striking livery tells the tale of a Pierre du Nord sponsorship. Campaigned in the Classic Endurance Racing Series for several years, this ground-effect beast has also competed at the Le Mans Classic in 2004, 2006, and 2008, where it finished 1st in Class. Not bad for a four-pot.
1985 Lancia Delta S4 Rally
Estimate: $900,000 – $1,000,000
Looking for a road-legal car that's just plain nuts in every way? Enter the world of the twin-charged Lancia S4. With its turbo- and supercharged 1.8-liter four-cylinder, Kevlar-infused silhouette body, and Hewland all-wheel drive, the S4 replaced the rear-wheel-drive Lancia 037, champion of the 1983 WRC season. And while Lancia built 200 Delta S4 Stradale models for homologation purposes, this particular car is one of just four of the works Delta S4s that won a World Rally Championship event. In fact, Lancia's short-wheelbase rocket debuted at the 1985 RAC rally, only to win it with this exact car. The S4 was developed into the Lancia ECV, but once Group B got canceled, the Italians moved on to create the Delta HF 4WD. The S4 remains the rare one, and this, chassis #202, was restored to 1985 spec and is now accompanied by an Abarth Classiche Certification.
1989 Jaguar XJR-11
Estimate: $1,350,000 – $1,600,000
Jaguar's Group C cars tend to pop up for sale now and then, but the XJR-11 is an often overlooked machine. Acting as a bridge between Jaguar's highly successful XJR-9s and XJR-12s, the three XJR-11s featured an all-alloy, twin-turbo JRV6 instead of a naturally-aspirated V-12. TWR built them around a new monocoque, but reliability issues and the V-8 competition from Sauber meant they were doomed, despite being a huge step forward in terms of drivability. While Jaguar sent the sister car XJR-10s to IMSA, the three XJR-11s were essentially retired after the new XJR-12 was chosen for Le Mans in 1990. However, the V-6 cars kept racing in Japan well into 1991, after which this one, chassis #590, first ended up with Paul Spires, the president of Aston Martin Works, before moving to XJ 220 specialist Don Law Racing. Today, it's one of the only two XJR-11s in the original 1989 configuration, ready for a number of events.
1990 Porsche 962 C
Estimate: $1,300,000 – $1,900,000
How about a two-time 24 Hours of Le Mans participant that's also claimed to be "one of the most original and correct of all 962s?" Porsche introduced its 962 in 1984, with a longer wheelbase than the previously dominant 956s. Being a late evolution, this car, 962 chassis #159, went to the Japanese Trust Racing Team in long-tail spec just prior to the 1990 Le Mans 24 Hours.
Featuring the less-powerful customer-spec 3.0-liter flat-six, it finished the race at 13th overall. It then went back for a second run the following year, when turbocharged cars were heavily penalized due to the FIA's intention to shift to 3.5-liter naturally aspirated engines for 1992. Porsche 962-159 was then purchased by Bruce Canepa in August 2008, who subjected it to "a $300,000 restoration" at Canepa Design. Today, this stunning race car is ready for the Historic Group C series, as well as stand-alone events such as Le Mans Classic, Le Mans Legends, and the Classic 24 Hour at Daytona. Yeah, we want it too.
1994 Ferrari 412 T1
Estimate: $1,800,000 – $2,300,000
It's hard to find a more exciting toy to have than a Formula 1 car from the 1990s, and Ferrari's 412 T1 is no exception. Designed with a four-valve head and a transverse gearbox, this V-12 improved Scuderia Ferrari's reliability record significantly, finishing the season at third with Gerhard Berger behind Benetton's young ace Michael Schumacher, and the Williams FW16B of Damon Hill. Thanks to its longer wheelbase, Ferrari's 1994 car is also much more stable at speed than 1993's F93A. This particular machine, the second of eight 412 T1s constructed, finished the 1994 Brazilian GP at 3rd with Jean Alesi, and the infamous '94 Italian GP at 2nd with Gerhard Berger. Scuderia Ferrari sold it after 2002, and now, it can be yours to play with.
2006 Maserati MC12 GT1
Estimate: $2,300,000 – $2,900,000
Maserati built just 62 MC12s, all based on the Ferrari Enzo's technology. The 50 road-going Stradales were only sold to satisfy homologation rules so that 12 Corsas could race in the FIA's GT1 class. Now it's your chance to get one.
This example raced extensively in America for two years, only to be shipped to a private museum in Switzerland in 2008. Today, this ALMS veteran is eligible for the Trans-Atlantic Masters Endurance Legends series and Endurance Racing Legends events. It's roughly 550 pounds lighter than an MC12 Stradale, and it must be said that there are companies that can make MC12 Corsas road-legal. Either way, your racing Maserati will always be faster than an Enzo.