Channel some early Paul Newman with this 1974 Porsche 911S race car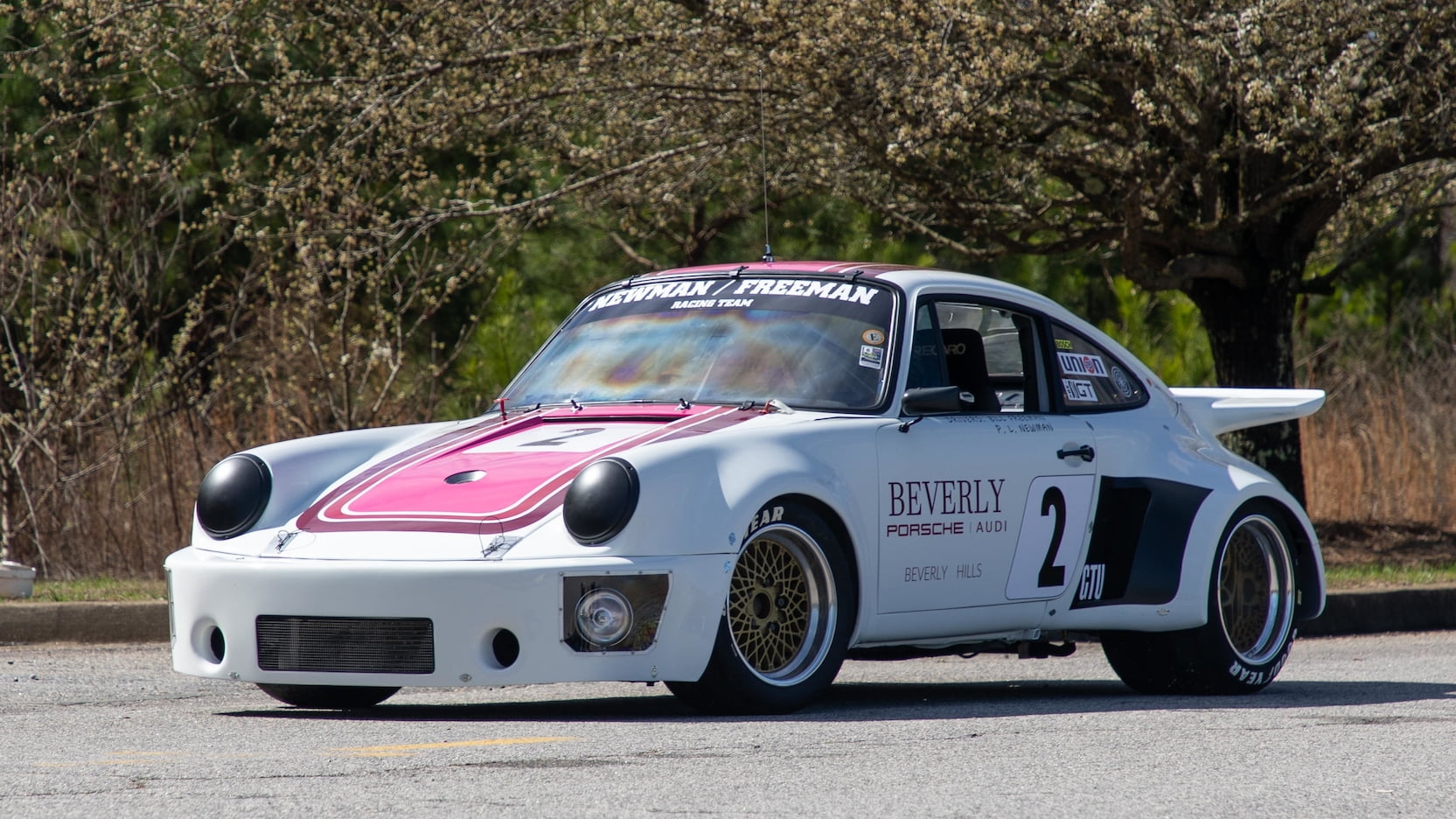 There's a lot more to Paul Newman than Butch Cassidy, Cool Hand Luke, and salad dressing. The award-winning actor was also a film director, a political activist, and philanthropist, and had some serious talent behind the wheel of a race car. Not just a movie star who strolled in and bought some seat time, Newman won four SCCA championships and finished second at Le Mans. He even took a class win at the 24 Hours of Daytona a week after his 70th birthday.
Most commonly associated with Datsuns/Nissans, he also drove everything from the Triumph TR6 that launched his career to Ferraris, IMSA GTPs, and Porsches like this 1974 911S at Mecum's upcoming Indianapolis auction.
Newman was already in his 40s when he was bitten by the racing bug while attending the Bondurant Racing School in preparation for the 1969 movie Winning. Obviously a quick study, by the mid-1970s Newman had already established a name for himself on the track, and to tackle more serious competition he started a team with racer Bill Freeman: Newman Freeman Racing. Newman Freeman cars were highly successful in Can-Am during the late '70s, but one of the team's very first exploits was at the 12 Hours of Sebring in 1977. Newman and Freeman co-drove this white-and-pink 1974 Porsche 911S, sponsored by Beverly Porsche/Audi, to a rather unimpressive 30th-place finish. But at least the car finished, and although the Newman connection with this specific car ends there, it did go on to score a podium finish at Mid-Ohio the next year and was extensively raced in the IMSA series up until 1987, again at Sebring.
The car will cross the block at Indianapolis on May 18; it carries a $450,000–$500,000 estimate.
Other ex-Newman race cars have sold at auction before, namely the 2002 Corvette he drove in his last victory, and the Porsche 935 he drove to second-place finish at Le Mans in 1979. The Corvette sold in 2012 for $275,000, and the Porsche sold in 2016 for a whopping $4.84 million, but aside from the Newman connection and stellar finish at Le Mans, that 935 also won at Daytona and was driven by greats like Brian Redman, Bobby Rahal, and Rolf Stommelen. This 911S just isn't as good, but it is seriously cool and it helped get Newman's on-track career going.
The car was actually at the second auction that I ever attended, Mecum Houston in 2014, where it was overshadowed by a $7.56M Ford GT40. The Porsche was hammered not sold at a $325,000. It wore an orange-and-yellow livery at the time, but it is otherwise unchanged since its 2006–09 restoration, including the same bodywork and competition equipment like the 360-horsepower 3.0-liter engine. The car now wears the same livery as when Newman drove it in 1977, which helps, and Porsches in general have gotten way more valuable since 2014.
The problem is that there can't be much originality left in this car. It raced in several different IMSA classes over a long period, and because racing at the pro level is very tough on cars, there's no telling how much on the 911 now was there in 1977. That, along with the brief and not-so-great results it had with Newman behind the wheel, explain why Mecum's realistic estimate isn't higher.
Regardless, it is apparently race-ready as it sits and is eligible for all sorts of great events. Knowing Paul Newman drove it is just icing on the cake. Maybe Adam Carolla would like it?