The top American muscle cars coming to the Scottsdale 2018 auctions
The auction festivities at Scottsdale are fast approaching, so we sifted through the listings at Barrett-Jackson, Bonhams, RM Sotheby's, and Worldwide to find the most exciting offerings in Detroit muscle. This year's auctions are full of historic vehicles with legendary roots, iconic owners, and racing pedigrees. There are also some great potential drivers that represent a time warp to an era of flashy advertisements, brash colors, and loping idles.
Here are some of favorites that we'll be closely watching.
Presale Estimate: $1,000,000–$1,200,000
Hagerty Price Guide: $681,000–$1,050,000
While there's nothing garden-variety about a Shelby GT350, the R model took the performance to an even higher level with a totally track-ready package and a high-winding 289-cubic-inch V-8 good for 350 horsepower. Featuring a unique history as part of the Shelby Caravan could translate into even higher value than the already exclusive GT350 R.
Presale Estimate: $150,000–$200,000
Hagerty Price Guide: $114,000–$239,000
This automatic-transmission GT350H was available for rent in San Diego for the first year of its life. Eventual it moved to Canada, where it picked up some Shelby upgrades like a roll bar and GT350 R wheels. Its third owner was none other than the inimitable Carroll Shelby, who kept the car at the company's Las Vegas facility beginning in 2008.
Presale Estimate: N/A
Hagerty Price Guide: $97,700–$175,000
Choked by emissions requirements, the era of the muscle car was winding down in 1973, but someone forgot to tell Pontiac. Featuring forged rods and pistons and a modest cam, the SD455 brought mid-13-second quarter-mile E.T.s while much of Detroit languished. The SD455 was the top engine available in Firebirds and was only available for a two-year run, with 180 produced for 1973. This version was gently restored to highlight its survivor status, showing a light patina.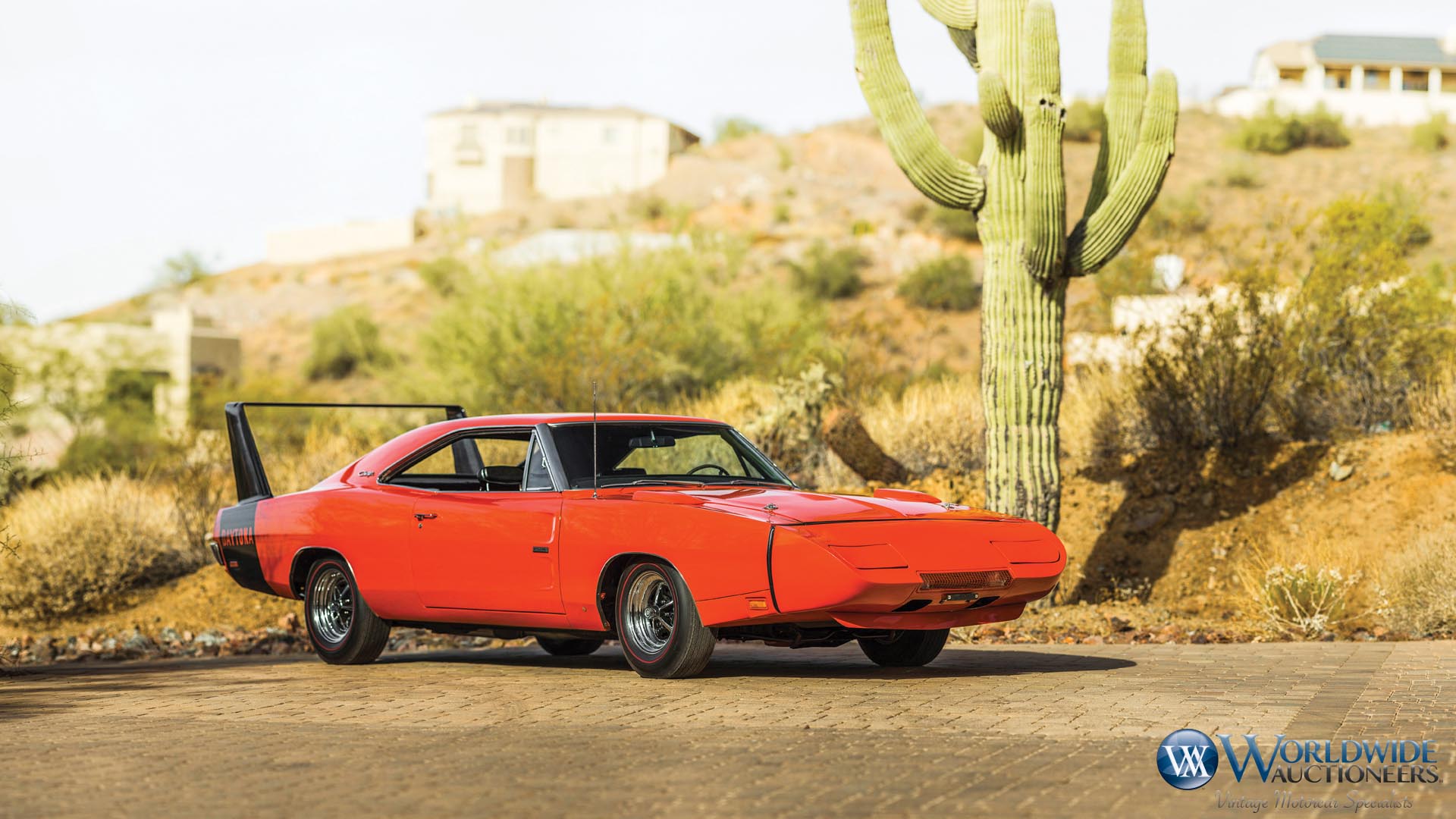 Presale Estimate: $600,000–$800,000
Hagerty Price Guide: $330,000–$790,000
One half of Mopar's aerodynamic assault on NASCAR super speedways, the Charger Daytona took the Charger 500's flush rear window and added a pointed nose with hidden headlights and a tall wing that aided stability. Wind-tunnel testing and potent V-8 engines gave them NASCAR superiority and helped push Buddy Baker to the first lap above 200 mph in NASCAR history. This automatic-equipped model is also Hemi-powered, making it one of the most desirable wing cars.
Presale Estimate: N/A
Hagerty Price Guide: $385,000–$604,000
Only 69 copies of the ZL1 Camaro were unleashed on the Pro Stock drag racing scene, but that was enough to make waves and set records. Their all-aluminum, 427-cu-in big-block V-8s came via the Central Office Production Order, earning them the COPO moniker and legendary status among drag racers and collectors.
Presale Estimate: $1,600,000–$1,900,000
Hagerty Price Guide: $454,000–$980,000
In the Mopar world, and even the broader world of muscle cars, it doesn't get much cooler than a Hemi E-body, unless of course you're talking about an Hemi E-body convertible. This is one of only five Hemi/four-speed R/T convertibles made, and the only one in Plum Crazy Purple. It's that kind of exclusivity that can bring big prices, and considering a drop-top 1970 Hemi 'Cuda sold for $2,470,000 in 2015, it could be Dodge's time to shine.
Presale Estimate: $120,000–$150,000
Hagerty Price Guide: $98,500–$196,000
This highly optioned 1969 Camaro includes the 375-hp, L89 396-cu-in V-8 with aluminum heads—one of only 311 built. Adding to its muscle car credibility are its close-ratio M21 four-speed transmission and Positraction rear differential. This car received a full restoration in 2009 and has been driven sparingly since.
Presale Estimate: $450,000–$600,000
Hagerty Price Guide: $229,000–$525,000
After spending more than 35 years stored in a basement, this GB5 blue 'Cuda spent four years going through an exhaustive restoration process. It retains all of its original bodywork thanks to its well-preserved state, and has only 21,433 miles on the odometer.
Presale Estimate: N/A
Hagerty Price Guide: $283,000–$525,000
Pontiac offered five versions of its potent Ram Air 400-cu-in V-8, and this gorgeous green Judge is packing the most powerful of all: the 370-hp Ram Air IV with its round-port exhausts, cast headers, and rowdy cam. One of 24 Ram Air IV four-speeds, this Pepper Green convertible won two Concourse Gold awards in 2017.
Presale Estimate: N/A
Hagerty Price Guide: $229,000–$600,000
One-year-only fender "gills" make the 1971 'Cuda perhaps the most instantly recognizable of Mopar's E-body pony cars. This True Blue version comes fully restored and documented with only 23,772 miles on the odometer and all of its original sheet metal. It's also the last known of only 59 1971 Hemi 'Cudas built.
1969 Ford Mustang Cobra Jet R
Presale Estimate: N/A
Hagerty Price Guide: N/A
Early in its racing career, before it was sold to Foulger Ford race team members Lucy and Bob Below and the car became known as "Lucy's Larceny," this Foulger Ford Cobra Jet R sported a striking split blue/white livery. Restored to this original paint scheme, it includes all of the drag racing modifications that made it a Super Stock contender on the West Coast, including the Doug Thorley 180-degree headers and the automatic transmission that replaced the T-10 four-speed.
Presale Estimate: N/A
Hagerty Price Guide: $120,000–$250,000
As a pre-production prototype used to develop and homologate the 1966 GT350 for SCCA competition, chassis #SFM6S001 carries a number of unique features not found on other GT350s including a vinyl roof that never entered production and the Pony interior package not available on Shelby models. Completely restored in 2011, chassis #SFM6S001 is a piece of Shelby history.
Presale Estimate: N/A
Hagerty Price Guide: $95,700–$201,000
Chevrolet's muscle car followed on the heels of the 1964 Pontiac GTO and used the same muscle car recipe of full-size engine in a midsize car. Chevy only installed the 375-hp, 396-cu-in big-block on a limited run of 200 Z16s before being it was widely available in SS models in 1966. This example is a one-owner car that was painstakingly restored and is fully documented.
Presale Estimate: N/A
Hagerty Price Guide: $70,100–$149,000
Wearing Lemon Twist Yellow and a saddle and tan interior, this restored B-body is one of only 44 four-speed Hemi Road Runner coupes from 1970. Its Air Grabber hood, Trak-Pak rear axle, pistol-grip shifter, and Rally gauges are all desirable options and show just how customizable muscle cars were, even from the factory.