7 motorcycles worth watching at Monterey 2019
Yes, it's called Monterey Car Week, but motorcycles haven't been forgotten by the auction companies. As we anticipate all of the style, ingenuity, rarity, and glamor of the upcoming Pebble Beach Concours d'Elegance on August 18, here are seven two-wheeled gems we'll be keeping our eye on when they cross the block earlier in the week.
1953 BMW R67/2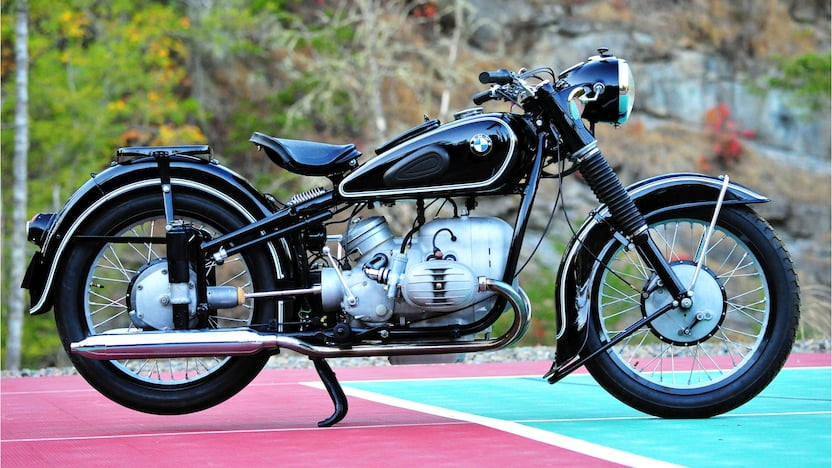 Mecum, Lot T36
Estimate: $23,000–$26,000
The R67 was one of the first twins produced by the BMW factory after World War II, and it helped the iconic automaker regain its footing after war reparations. The /2 BMW market (often referring to R50, R60, and R69 models) has been on fire the last few years, and that's bringing a lot of attention to earlier models in BMW's range as well. This bike (#615539) sold for $24,200 at Mecum's 2019 Las Vegas auction in January.
1912 Sears Dreadnaught V-twin
Gooding & Company, Lot 164
Estimate: $80,000–$100,000
It's amazing what you were able to buy from a Sears store back in the day, including motorcycles. Motor-powered bikes first became available in the vast Sears Catalog in 1909, but most people remember Sears selling Allstate rebranded scooters and motorcycles in the 1950s and '60s. The Dreadnaught was sold directly through Sears from 1912–16 and cost about $250. That's about $6300 today. This one has the added coolness of being owned by Formula 1 world champion Phil Hill. A 1913 Sears Dreadnaught Deluxe, which had been modified for the 2016 Cannonball Run, sold for $49,500 at Mecum's 2018 Las Vegas auction, and a similar 1913 model in original condition hammered not sold after being bid to $52,000 at Mecum's 2014 event.
1936 Indian Chief (Steve McQueen)
Gooding & Company, Lot 125
Estimate: $250,000–$350,000
An Indian Chief with the most perfect patina, once owned by Steve McQueen. It doesn't get much better than that. Motorcycles from the 1984 McQueen estate auction come up for sale on a consistent basis (there wasn't exactly a shortage of motorcycles in McQueen's collection), and this bike is one of the more valuable. A restored 1935 Indian Chief once owned by McQueen sold for $60,000 at Mecum's 2017 Las Vegas auction, about 20-percent higher than similar non-McQueen versions. These usually trade hands for $40K–$50K, and even with the McQueen premium, we're not sure the bike on offer will come close to its low estimate of $250,000. We hope it does, however.
2002 Kawasaki ZRX1200R
Mecum, Lot T119
Estimate: N/A
The Kawasaki ZRX is affordable, fast, fun, and becoming more and more treasured by collectors. It also exemplifies Kawasaki's habit of bringing retro-style bikes to the U.S. market before they are truly appreciated. In 2000, there was the W650, similar in style to the W1 from the '60s. U.S. sales were poor, and it was axed two years later. Nowadays, the W650 is in high demand and sells for close to the original MSRP. The ZRX is retro-styled after the early '80s KZ1000R. As the '80s sport bikes are seeing big appreciation, these could become the next collectible bike from the early 2000s. Nice examples are selling for around $4500 and have been inching upward. One with 1190 miles on the odometer recently sold for $8100 on eBay.
1963 BSA Rocket Gold Star
Mecum, Lot T170
Estimate: N/A
Using the A10 super rocket engine, one of the hottest BSA production engines at the time, and mounting it on a Goldstar scrambler frame, BSA churned out a performance motorcycle that was born when an American importer combined the two on behalf of a client. The Rocket Gold Star was one of the last pre-unit twins—and one of the most desirable. This example has been recently restored and will attract strong collector appeal if the numbers and originality check out.
1936 Crocker Small Tank
Mecum, Lot S103
Estimate: $700,000–$800,000
A 1937 Crocker Small Tank sits 19th on Paul D'Orleans' list of most expensive motorcycles sold at auction, having changed hands for $423,500 at Mecum's Vegas auction in January. The Crocker being auctioned at Monterey will easily eclipse that if it reaches its $700–$800K estimate. The bike is from the same Venice 1346 Crocker Collection as the '37 and is believed to be the only unrestored example in existence.
2014 Lotus C-01
Mecum, Lot S48
Estimate: $125,000–$150,000
The only motorcycle bearing Lotus' name was built by Lotus. It was built by a once-Lotus-backed LMP2 team turned LMP1, which licensed the Lotus name and enlisted Daniel Simon, the man behind the Tron movie motorcycles. Each supposedly cost around $130,000 and only 100 were to be built and distributed worldwide, but the actual total is unknown. According to Mecum, only two are known to exist in the U.S. One was bid to $190,000—far short of its $370,000–$450,000 estimate—at Mecum's 2016 Monterey event. The Lotus C-01 that crosses the block next week carries a much lower estimate of $125,000–$150,000, about one-third that of the 2016 bike.