The Mercedes G-wagen is a rugged, head-turning alternative to the Toyota Land Cruiser
Toyota Land Cruisers, valued for their utility, reliability and off-road competence, have become nearly as common at collector car auctions as Corvettes and Shelby Mustangs. Every auction seems to have one, and often more. At Barrett-Jackson Scottsdale in January, there were six. Mostly, they are presented in more-or-less stock condition, but more than a few are hiked up with big wheels and tires, lift kits, multiple shocks, and enough lights to melt paint
It's a phenomenon that has had its ups and downs and went over the top a few years ago with FJs bringing six-figure prices—like the FJ43 soft top below that brought $176,000 at Gooding & Company's Pebble Beach auction in 2016. RM sold a standard FJ40 at Arizona in 2014 for $101,750. There seems to be an endless supply of them. Their popularity has inflated the values of Broncos, Scouts, and Blazers. Supply has driven down the prices of FJs, and somehow, through it all, people are forgetting the G-wagen.
RM Auctions' Ft. Lauderdale auction April 6–7 introduced an unusual entrant in the off-road category—this 1991 Mercedes-Benz 250 GD. Built from 1990–2001, the 460-series Gelandewagen 250 GD was based on a military vehicle known in Germany as The Wolf. It has live axles front and rear, three electrically-controlled locking differentials, and a five-speed gearbox. Power comes from an inline five-cylinder 2497-cc indirect-injection diesel rated at 84 horsepower and 114 lb-ft torque. Built for Mercedes by Magna Steyr in Austria using body-on-frame construction, early Gelandewagens are rudimentary, rugged, practical, utilitarian off-roaders.
Later G-wagen iterations have all sorts of creature comforts, wood interior trim, and even 6.3 AMG engines.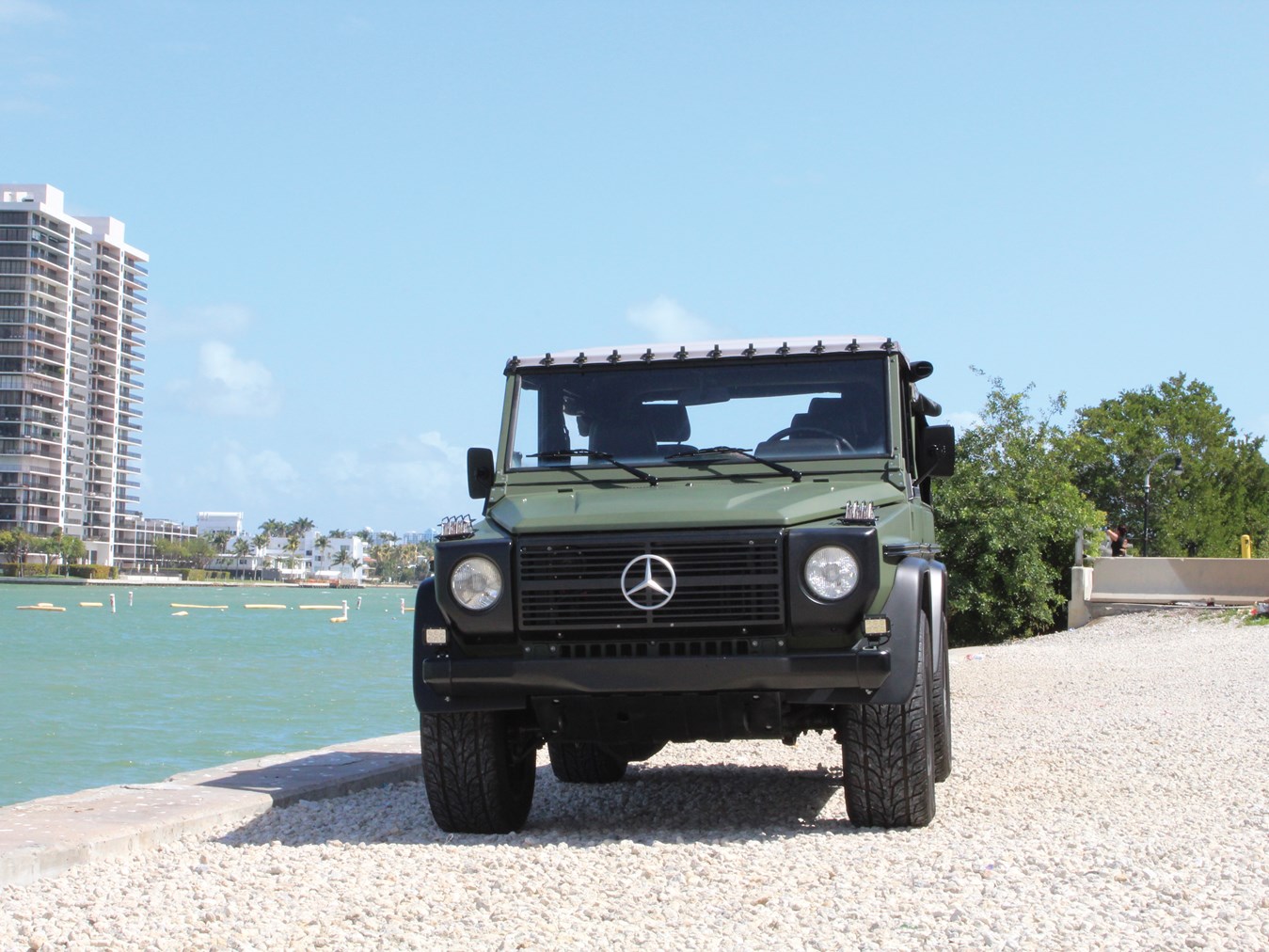 The one at RM in Ft. Lauderdale betrayed its military origins with a matte Olive Green paint job, black vinyl-covered seats, and grey cloth top over the substantial rollover bars. It had been restored to nearly like new condition and received a Kenwood CD stereo, 20-inch aftermarket alloy wheels, and some LED auxiliary lights. Estimated by RM at $40,000–$45,000, it blew right past the high estimate and went to a new owner on a hammer bid of $60,000 ($66,000 total, with commission).
Considering its rarity and features, ownership of a 460-series Gelandewagen is a near-certain ticket to the center of attention at the next mud run—even if its performance doesn't match that of the modified 280 GE that Jacky Ickx and Claude Brasseur drove to victory in the 1983 Paris-Dakar Rally.