Major Movers: Surprising up-and-coming cars to watch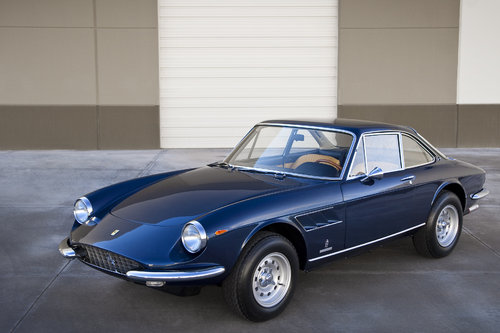 Hagerty Price Guide constantly monitors the collector car market, watching how prices are changing and examining the root causes of these changes. During the past 12 months we have observed volatility across several market segments, with strong gains in European cars in particular. Ferrari, Mercedes-Benz, Porsche and Aston Martin have led the way in a highly publicized fashion, but below are several cars from these manufacturers that have received less attention than their more talked-about stable mates. It turns out that it's not just Cal Spyders, 250 GTOs and 300SLs on the up.
FERRARI
The Ferrari 330 GTC has flown under the radar for some time, mainly due to its being wedged between the iconic 275 GTB and the 365 GTB/4 Daytona, but times have changed. The bottom line is that it takes nearly half a mill to buy a V-12 Ferrari from the 1960s today, so while the 330 GTC used to be a backdoor into this segment, buyers have now figured that out and prices have responded. The cars now trade at nearly 35 percent more than what they were 12 months ago.
What does this money get you? The aforementioned 4.0-liter V-12, a refined and subdued Pininfarina design that is unmistakably Ferrari, and a behind-the-wheel experience that is on par with any other two-seat GT of the day—or possibly ever. Furthermore, the 330 GTC is a well-mannered and, dare I say, practical Ferrari, which makes it all the more attractive a purchase.
Recent sale of note: Russo and Steele sold a 1968 Ferrari 330 GTC at its 2012 Scottsdale sale for $429,000.
1969-74 Ferrari Dino 246 GT and GTS
It is no secret that Enzo-era Ferraris have been on a tear since 2009. The front-engine, V-12 cars of the 1950s and 1960s have seen consecutive double-digit annual growth for nearly three years now (see our Ferrari Index for support). It may come as a surprise, though, that a car can have half as many cylinders, place those cylinders in the wrong place, and not even wear a prancing pony on the nose, yet still enjoy similar appreciation. Not too long ago Dinos could be found for less than $100,000. Now they often command two to three times that. More than anything, this seems to be driven by a new group of enthusiasts who are interested in driving and touring with the Dino, which just so happens to be one of the best ways to enjoy a vintage rally. Dinos can be comfortable touring cars, are able to expertly handle those twisty roads that are a rally staple, and they simply stand out from most of the other cars on the docket. Over the past 12 months Hagerty Price Guide has observed upward moves from 15 percent to 18 percent for 246s.
Recent sale of note: RM Auctions sold a 1973 Ferrari Dino 246 GTS equipped with chairs and flares for $363,000 at its 2012 Amelia Island sale.

MERCEDES-BENZ
The 190SL has been dismissed for more than a decade as an also-ran. It is smaller, slower and overall less than its more famous sibling, and its value reflected that. A funny thing has happened in the past few years, though. Interest in the pagoda-topped 230SL, 250SL, and 280SL has increased during the past five years as they came into their own. Increased values here have put pressure on the 190SL, and those cars have seen a recent bump in value. Why own a 190SL instead of a later 230/250/280? It mainly comes down to the link the 190SL shares with the 300SL, as the 190 is immediately identifiable as from that era, whereas the pagoda SLs are a more modern offering. Twelve-month gains are between 6 and 10 percent.
Recent sale of note: RM Auctions sold a 1961 Mercedes-Benz 190SL for $88,000 at its annual October London sale in 2011.

PORSCHE
Porsche 914s have mostly outgrown their "nerd car" persona of 10 years ago, but the 914/6 in particular has newfound appreciation. As 911 prices move ever upwards, and long-ago 914/4 owners remember their former cars fondly, the 914/6's price is becoming more attractive — and making cheap ones ever more difficult to find.
And why not? Taken on its own, the car offers the scoot of a 911 flat-six, mid-engine handling, a Targa top, and a sportier interior suitable for a true sports car. If you still scoff whenever you see a 914/6, take note that you are now in the minority. Prices are up on these cars 20 percent during the past year.
Recent sale of note: A 1970 Porsche 914/6 sold on eBay in November 2011 for $35,000.

ASTON MARTIN
The Aston Martin V8 exists at a different level than the David Brown cars that were built from 1952-68. It historically has been derided by marque purists as Aston's interpretation of a Ford Mustang, but that doesn't necessarily have to be a bad thing. With a large hood scoop, attractive fastback body, and a 1970s squared look, the car is nowhere near as handsome as the DB6, but still attractive in its own right.
The story here is the same as it is for a lot of the cars on this list. As prime examples of a brand appreciate beyond the reach of certain enthusiasts, their attention drops to the next car on the rung. This isn't a case of a rising tide lifting all boats, however. The Aston Martin V8 is appreciating on its own merits as well. The cars are brawny, and their lines have aged well. Most of the build problems that dogged their reputation have been sorted, and the abused examples that formerly appeared on used luxury lots have all but disappeared. While the DBs have seen stratospheric appreciation during the past 5 years, the V8 has quietly moved up 20 percent in the past 12 months.
Recent sale of note: Gooding & Company sold a 1986 Aston Martin V8 Volante for $140,250 at its 2012 Scottsdale sale.