The Lotus Esprit Series 1 is probably cooling off
Just when we thought the Lotus Esprit Series 1 might be a rising star in the collector car market, one Arizona auction brought it back to earth. After years of fairly stagnant values, a low-mileage 1977 Esprit (perhaps the best we've ever seen) went for big money at Monterey last August, so we zeroed in on another high-quality '77 S1 at RM Sotheby's on Friday night to determine if the first sale was an aberration. Looks like it was.
Five months after a stellar 4100-mile example sold for $106,400 at RM Monterey, another extremely original, 15,000-mile S1 went for less than half that at the crowded Arizona Biltmore in Phoenix. The blue Esprit's final price of $50,400 was more in line with the S1's current average values of $37K for a #2 (Excellent) example and $65K for a #1 (Concours) car.
Both Esprits were coddled by their owners, which Hagerty valuation editor Andrew Newton says is the only way an S1 can bring the kind of coin that the Monterey car did. "These cars were poorly built, and since they weren't worth very much for a quite a long time, they suffered from deferred maintenance and generally just fell apart," he says. "So it's very rare to see an original, unrestored, low-miles Esprit that has been pampered from new and still looks nearly factory fresh."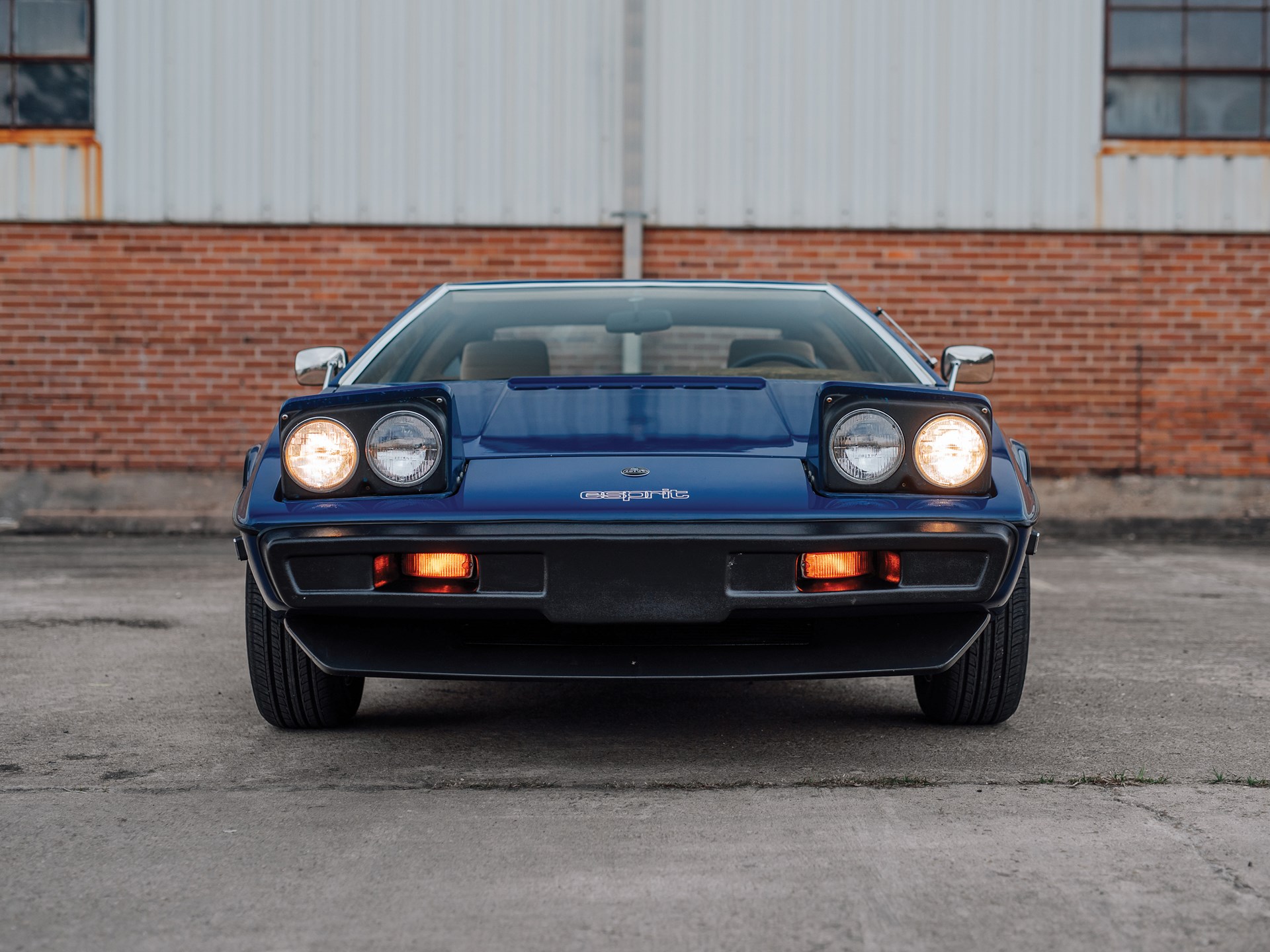 The original Lotus Esprit was all about the angles, and the Series 1 played them all. With sharp-wedge styling courtesy of Giorgetto Giugiaro, it was the right car at the right time. Although already successful on the track, Lotus needed a production car to spark sales and improve its image as a more sophisticated automaker. That was in stark contrast to its previous offering—the inexpensive but odd-looking mid-engine Europa. Let's just say Giugiaro's Esprit blew the Europa's doors off, figuratively and literally.
Featuring a fiberglass body and steel chassis, the Esprit S1 is powered by a 2.0-liter, four-cylinder mid-mounted engine that musters 140 horsepower. It is mated to a five-speed manual transmission. Although it lacks performance punch, the Esprit's ride and handling are top notch.
The 1977 Esprit that sold at Scottsdale (titled as a 1978) was under single ownership for four decades before being acquired last year, and it has accumulated just over 15,000 miles. It recently underwent a sympathetic mechanical restoration that included a complete engine rebuild, along with attention to the suspension, brakes, and transmission. The car carries its original Oxford Blue paint (one of 36 delivered in that color) and features an Oatmeal cloth and brown Marcasite interior.
"It has some scratches on the front bumper and some cracking in the paint, but almost every Lotus from that period with original paint has cracking in it," Newton says. "It also has a wild, very '70s, brown cloth/suede interior that has held up very well."
With that said, Newton thought the Esprit would go for more, despite the fact that it immediately followed RM's star car, a spectacular 1957 Ferrari 250 GT Coupe Speciale, which was unsold at $7.5M.
"I'm a little surprised," Newton says of the S1's sales price. "Following the biggest car of the week didn't do it any favors, but regardless it looks like top-notch early Esprits are indeed not the next big thing."