James Bond 1965 Aston Martin DB5 could sell for $11M
James Bond is usually good for a wry, well-timed joke before he saves the day, but as gadget-master Q once told him, "I never joke about my work, 007." And so we're thrilled to report—seriously—that a verified 1965 Aston Martin DB5 Bond car is heading to auction this summer at RM Sotheby's Monterey sale.
RM's pre-sale estimate is $4M–$6M, but our valuation experts believe the hammer is likely to drop at a price of at least $11M.
The Aston in question, DB5/2008/R, is one of four examples built in so-called Goldfinger-spec, complete with a complex array of gadgets that Bond fans remember from the 1964 film. Film company Eon Productions sourced two DB5 loans from Aston Martin for production, one of which was built for driving and the other for closeups. (The closeup car was the one used for shots featuring Q Branch's famous gadgets—retractable bulletproof rear glass, tire slashers, oil slick, hydraulic bumper ramps, hidden .30-cal Browning machine guns, radar tracking, revolving license plate, ejector seat, and so on.)
The movie's humongous success proved to be a cultural touchstone, skyrocketing both Bond and the DB5 to global fame. By the time Thunderball was being prepared for 1965 release, Eon ordered two additional DB5s for media promotion duty in the U.S., one of which is DB5/2008/R. Unlike the first cars, which were more haphazardly outfitted for movie magic, these third and fourth cars were made by Aston Martin and the gadgets were built to last the long and arduous U.S. media tour.
In 1969, 2008/R and the other Thunderball car were sold as a pair to British collector Anthony Bamford (now Lord Bamford). After the car was returned to the factory for service and some cleaning up, Bamford sold it to the Smokey Mountain Car Museum in Pigeon Forge, Tennessee, where it lived for 35 years, protected under a large wire-mesh cage to keep out grubby fan fingers.
RM Sotheby's then sold the car in 2006 for $2.09 million. And in 2010, one of the original two Goldfinger cars (the driving example) changed hands for $4.6 million.
According to Hagerty valuation expert John Wiley, you have to factor these sale prices into the mix when calculating what the 2008/R should be worth today. Consider the fact that 1965 Aston Martin DB5 values for Concours-condition cars have shot up since 2006 from $275,000 to $1.45 million—an increase of 427 percent—the same car should be, mathematically speaking, worth $11.02 million.
"By late 2010, the top-condition value for a 1965 Aston Martin DB5 base coupe was up to $550,000, or an increase of 100 percent from 2006," Wiley notes. "That suggests 2008/R would have sold for $4.18 million in 2010, meaning the Goldfinger driving car (1486/R) is worth about 10 percent more."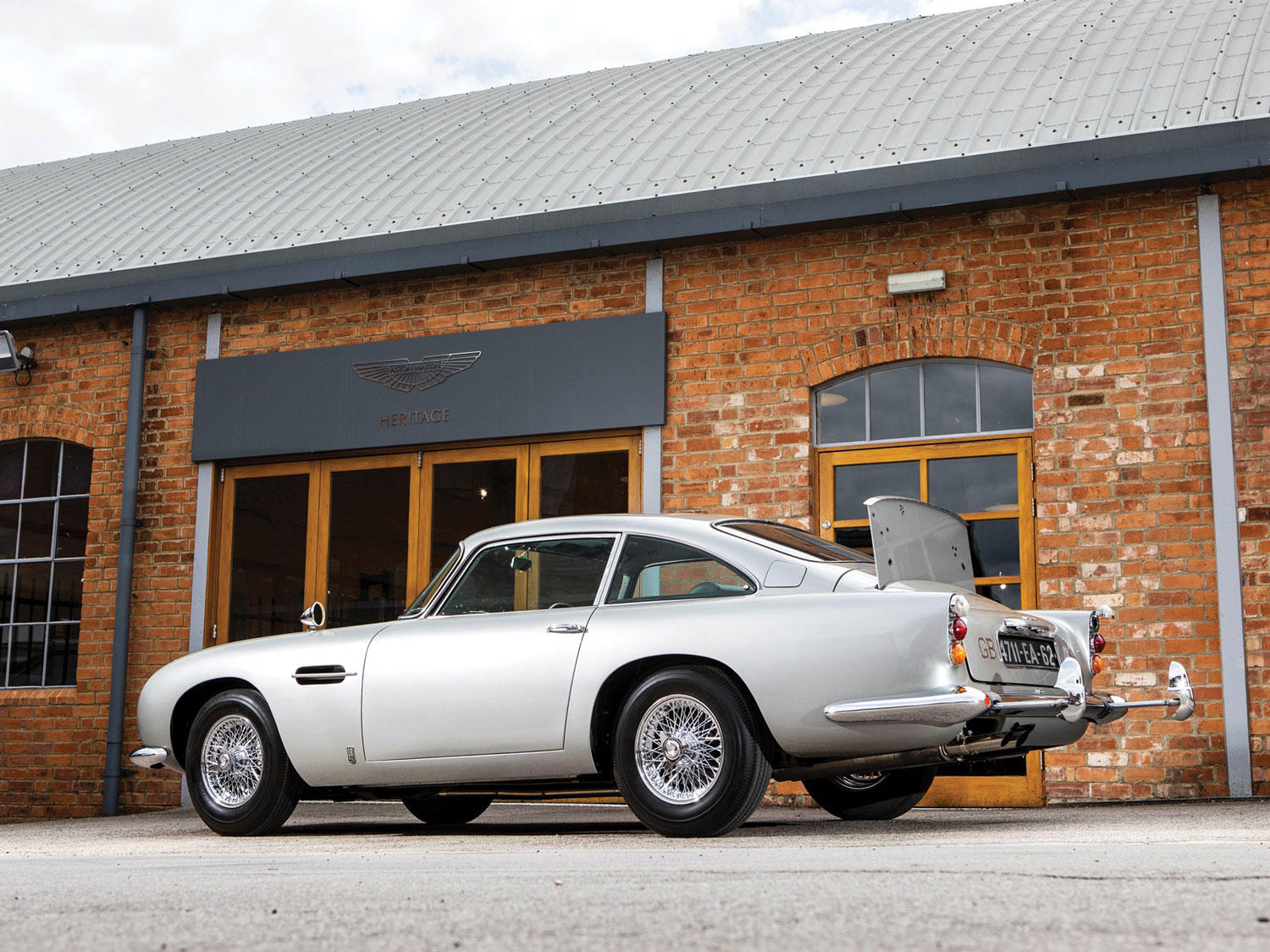 While we can't say for sure the range, it's fairly clear RM's $4M–$6M estimate is extremely conservative—especially when you consider DB5/2008/R was painstakingly restored in 2012. As the catalogue reads, a verified Bond Aston is "Quite simply the most iconic car of all time, DB5/2008/R is the most legendary Aston Martin ever built, as one of the cornerstones of a marketing relationship that exists to this day. It would crown any important collection and offers a highly desirable acquisition for the serious marque collector…or secret agent."
It'll be fascinating to see just how much a car of this caliber and cultural significance means to the bidding audience. For my part, I'll just enjoy playing with the LEGO version.