Is Marilyn Monroe's '56 Ford Thunderbird worth $500,000?
She convinced us that Gentlemen Prefer Blondes, There's No Business Like Show Business, and Some Like It Hot. Decades after her death, is the allure of Hollywood legend Marilyn Monroe strong enough to persuade bidders to spend $500,000 for her 1956 Ford Thunderbird? Don't be surprised if the answer is yes.
Celebrity sells, especially if that celebrity is named Marilyn Monroe.
Monroe's T-Bird will cross the auction block at Julien's "Icons & Idols: Hollywood" auction November 17 in Los Angeles. Pre-auction estimate is $300,000–$500,000. The low number is four times higher than the average value of a 1956 Thunderbird in #1 (Concours) condition and more than six times higher than one in #2 (Excellent) condition.
"It's difficult to measure exactly what the celebrity premium is since each person is different, but there are lots of clear examples of people paying gigantic sums of money over market values and even presale estimates for cars with a celebrity connection," says Hagerty auction editor Andrew Newton. "The vast majority of the value with this T-Bird is the Marilyn Monroe connection. It might even be worth more if it hadn't been restored."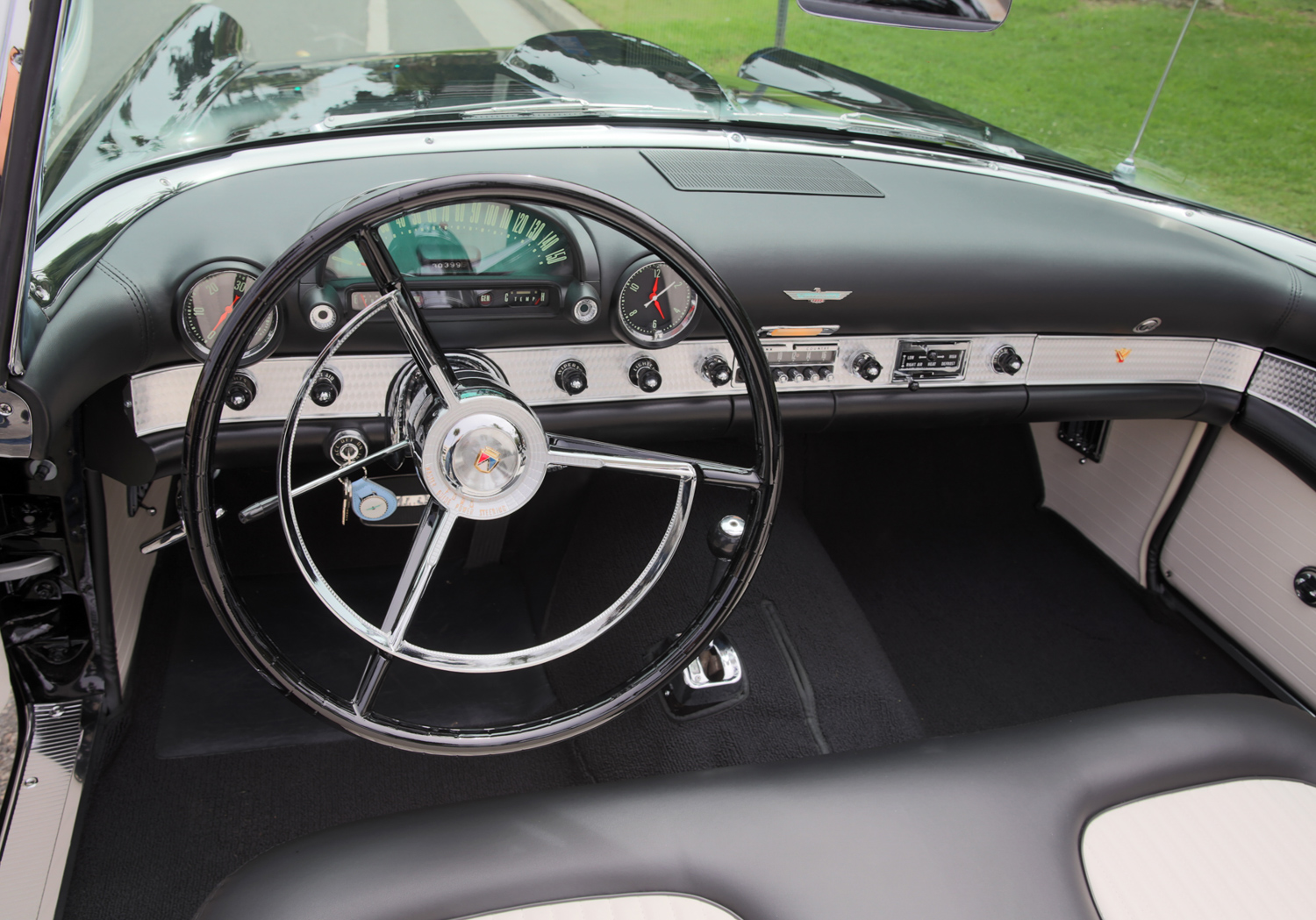 Monroe's business partner and personal photographer, Milton Greene, purchased the roadster from Westport Motors in Westport, Connecticut, on December 20, 1955—under the name of her corporation, Marilyn Monroe Productions—and gave it to the legendary movie actress as a Christmas gift. Greene's wife, Amy, said she and Monroe would go for rides in the car. Monroe and her third husband, playwright Arthur Miller, spent a lot of time in the Raven Black convertible, judging from all of the photos taken of the two in it.
Young John Strasberg, son of Monroe's acting coach Lee Strasberg, knew the roadster intimately—Monroe gave it to him for his 18th birthday just a few months before her unexpected, controversial death (ruled a suicide) in 1962.
According to the British newspaper The Daily Mail, the Thunderbird's whereabouts were unknown for more than five decades until the current owner tracked down the car using documents he purchased from the Strasberg estate. The anonymous owner hired Prestige Thunderbird, Inc., of Santa Fe Springs, California, to restore it.
"Once in a while something comes along that has a powerful magic about it, a charisma, because of everything and everyone associated with it," says Darren Julien, president and chief executive officer of the auction house. "This wonderful black Ford Thunderbird is not only part of automotive history but comes with an aura of glamour, romance, and tragedy of a true Hollywood legend."
Monroe received the car while she was living in New York and taking acting lessons from Lee Strasberg during a six-month contract dispute with 20th Century Fox. The two sides finally reached an agreement on December 31, 1955, just days after Greene gave Monroe the Thunderbird. (20th Century Fox gave in to Monroe's demands by awarding her story, director, and cinematographer approval, a salary of $100,000 per film, and the right to make movies with other studios or independent filmmakers if she chose to do so.)
When Monroe and Arthur Miller married on June 28, 1956, published reports at the time suggested the couple drove the Thunderbird to both their civil ceremony and private wedding two days later.
Amy Greene, quoted in Anthony Summers' 1985 biography Goddess: The Secret Lives of Marilyn Monroe, recalled the Thunderbird fondly. "Marilyn liked to drive," Greene said. "We'd take the convertible and with the top down, we'd go sailing along the highway. We both liked to feel the wind in our faces and the warmth of the heater on our legs."
The historic T-Bird is powered by a 225-horse, 312-cubic-inch V-8 engine mated to a Ford-O-Matic automatic gearbox. Top speed is 110-plus mph. The Thunderbird features a black-and-white interior, Continental kit, and both a removable hard top with porthole windows and a canvas convertible top. The sale includes the documents used to find the car.
Celebrity ownership often commands a huge premium. Examples include:
Elvis Presley's 1960 Lincoln Continental Mark V , which for $121,000 in 2009, about 10 times its market value at the time.
Presley's 1955 Cadillac Fleetwood 75 , which sold for $172,000 in 2011, about eight times its value.
David Bowie's 1981 Volvo 262 C Bertone , which sold for $216,000 in 2017, an astounding 24 times its value.
Freddie Mercury's 1974 Rolls-Royce Silver Shadow, which sold for $120,348 in 2013, about 9.5 times its value.
Keith Richards' 1983 Ferrari 400i , which sold for $414,000 in 2017, about 10 times its value.
John Lennon's 1965 Ferrari 330GT 2+2 , which sold for $548,863 in 2013, about three times its value.
On the other hand, celebrity ownership doesn't guarantee a big dividend. For example:
Whitney Houston's 1991 Porsche 911 Carrera 2 Cabriolet sold for $38,225 in 2015, only a $10K premium over its market value.
Rod Stewart's 1971 Lamborghini Miura sold for $704,000 in 2014, no more than its market value.
Wesley Snipes' 1993 Acura NSX sold for $52,800 in 2017. Not much of a premium there, either.
Then there's Paul McCartney's 1964 Aston Martin DB5, which exemplifies both sides. The DB5 sold for $495,000 in 2012—its approximate market value. Five years later, the same car sold for $1,780,000—about a half-million dollars above its market value. Go figure.
Newton has little doubt that Monroe's Thunderbird will sell on the high side. Just how high anyone's guess.
"Generally, the bigger the celebrity, the bigger the premium, especially if they owned the car for a while and drove it regularly," Newton says. "Marilyn Monroe and the '56 T-Bird are both '50s icons, so it will be fun to see what that combination brings. You just never know.
"As (automotive writer) Rick Carey once said about a Steve McQueen car that sold for insane money, 'They're just paying for his butt cheeks.'"
Considering Monroe drove the Thunderbird for six years, she no doubt left quite an impression.
(Editor's note: Marilyn Monroe's 1956 Thunderbird sold for $490,000.)