Is the Lexus LFA Nürburgring the next million-dollar supercar?
At a time when Japanese supercars of the '80s and '90s are red hot, it should come as no surprise that the ultimate Japanese road-missile of the 2010s is also in high demand. No, I'm not talking about the new Acura NSX, which Honda wishes were selling a lot faster, nor am I referring to the Nissan GT-R, which is somehow still on sale and about a third more expensive than when it made its debut in 2008. That high-pitched, V-10 yowl you're hearing is the Lexus LFA, Toyota's limited-production, Formula 1-derived supercar.
For the uninitiated: the LFA was Toyota's long-gestated moonshot attempt to both showcase its F1 program technology and upstage Ferrari. Toyota couldn't cut it in F1, but the LFA went ahead anyway as a way over-engineered halo model showing off the very best in performance innovation that Japan had to offer. Launched in late 2010, the front-engine, rear-drive supercar has an extremely impressive carbon fiber chassis and body. Yamaha co-developed its 4.8-liter V-10, which makes 553 horsepower at a dizzying 8700 rpm and sounds about as close to a Formula 1 car as a street car can. To date there has not been a Japanese supercar with this level of engineering, cachet, and pure emotional appeal. Despite that, by the time it went on sale five years after the first concept was revealed in 2005, the LFA fell a little bit flat in the supercar market and didn't become an instant sensation.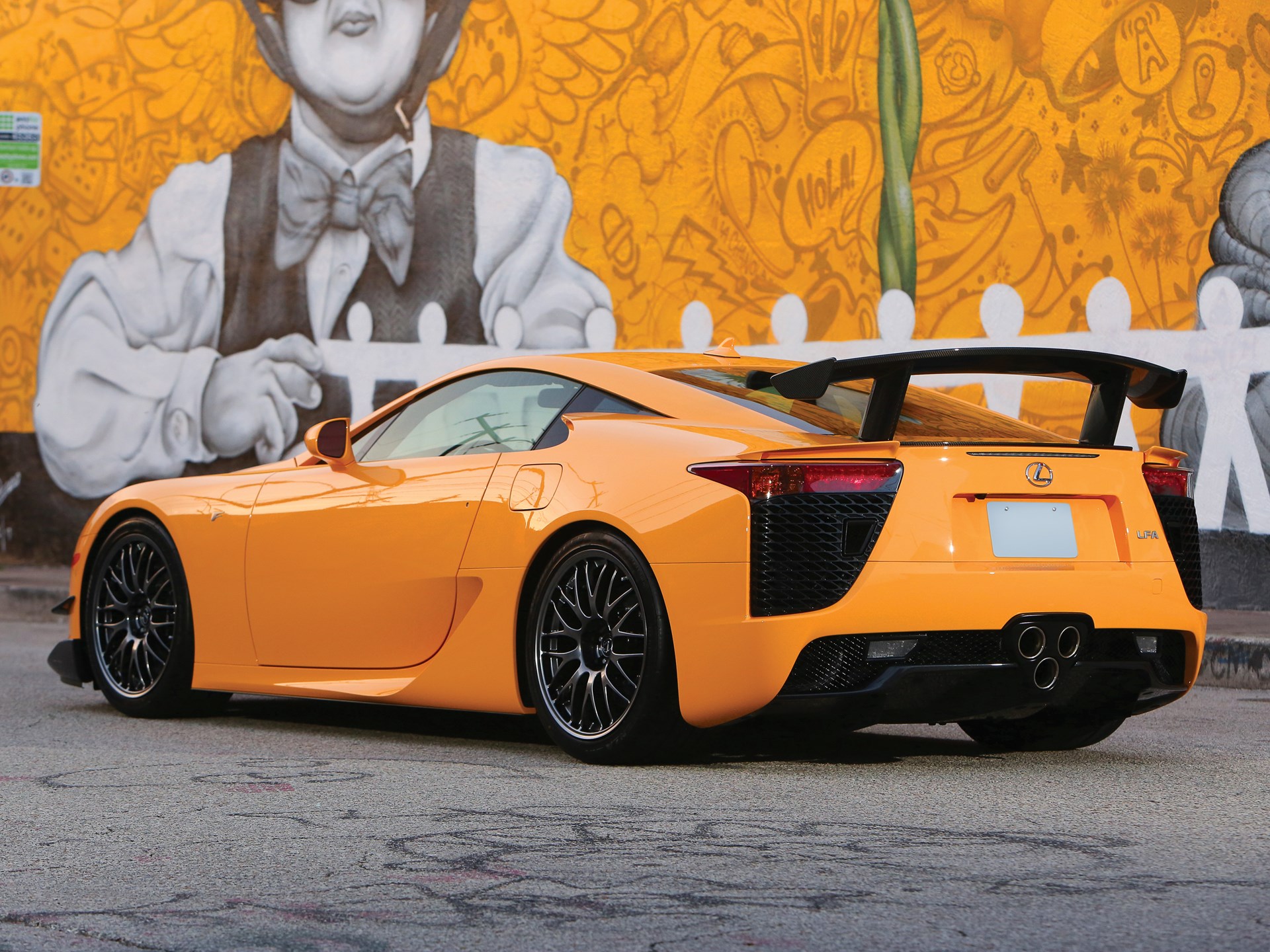 While standard LFAs have held their value and traded in the general neighborhood of the car's original $376,000 base price, the rare Nurburgring Package models are commanding serious coin as of late. Lexus made just 50 examples of the LFA Nurburgring out the total 500-car production run. In the last 14 months, four such cars have sold for more than $800,000—a monster leap from the $445,000 MSRP.
Just last week at the Amelia Island auctions, an orange LFA Nurburgring sold for $912,500, nearly equaling the all-time record of $918,500 reached at the 2019 Scottsdale auctions. Pretty soon, these could be million-dollar cars. So what's all the hype about, and what's so special about the Nurburgring Package?
For starters, there's 10 more horsepower on tap as well as quicker shift times from the six-speed automated manual transaxle, but that's just gravy. The package's real benefit is its handling, where stiffer suspension, unique magnesium BBS wheels and tires, and a comprehensive carbon fiber downforce kit make the LFA Nurburgring worthy of the name. Body add-ons include a bigger front splitter, winglets for the nose, and a fixed rear wing. Available colors included black, matte black, white, and orange.
The car that sold at RM on Amelia Island last week looks the part of a wicked exotic with its orange paint and full black Alcantara interior. Of the 50 worldwide Nurburgring LFAs, only 15 were allocated for U.S. sale, making them rare finds on our shores. Among the four such cars that sold in the last 14 months, this one had the most miles at 1615, but that clearly didn't discourage a big sale. White Nurburgring LFAs seem to be commanding less of a premium, but we've yet to see any matte black cars come to auction recently—that finish was a gnarly $20K option from the factory, and was the least popular of the four paint choices.
At this point, it doesn't really matter if the LFA is better than the Ferrari 599 GTB or any other high-performance exotic contemporary. This car represents the absolute pinnacle of Toyota performance in the modern era, and it was so over the top (down to the almost entirely bespoke interior) that Toyota lost a chunk of money on every example it sold. For fans of Japanese performance and Toyota diehards alike, the LFA Nurburgring is a truly one-of-a-kind machine. Nothing sounds quite like that V-10, either.