Your definitive 1994-1996 Impala SS buyers guide
In retrospect, it wasn't a good idea. It was brilliant. A stroke of genius. Looking back it's amazing the 1994 Impala SS ever happened.
In the early 1990s, family-sized rear-wheel drive muscle was dead at GM. The Monte Carlo SS and Buick Grand National were long gone and families didn't fit in a Camaro or Corvette. Then in 1992 Jim Perkins, a car-guy and the man in charge of Chevrolet, asked Jon Moss to make a hot rod out of the homely and slow-selling Caprice, a full size rear-wheel drive sedan bought by taxi companies, police, and women over the age of 90.
Moss was the engineer in charge of GM's Special Vehicle group, or as some called it, "The Toy Box". His team built the cool stuff. The What ifs. Prototypes like big-block Camaros and other one-offs to excite the media and the enthusiast public. Some have said Moss, a muscle car freak, had the best job a GM at the time.
His skunkworks finished the Impala SS Concept just in time for the 1992 SEMA Show. Moss' team took a black Caprice with the 9C1 Police Package, added five-spoke wheels, dropped in the LT1 V8 from the Corvette, dressed it with Impala SS badges (a legendary name GM hadn't used since 1969), and created an instant classic.
Over the years, most Moss creations never made it to production, and they were never meant to. But Perkins knew the Impala SS was too good to pass up. The fact that it was the first Impala SS with 4-doors didn't bother anyone. The production version launched in 1994 with a sticker price of $22,495 and dealers couldn't keep them in stock. Chevy sold 69,758 over three years and then killed the platform to use its Arlington, Texas assembly plant to build SUVs.
Today, the cars are more than 20 years old and continue to rise in value. Here we cover what buyers need to look for, what to avoid and what to pay.
What the Critics Said
These cars were big and heavy but they were fast for their day. Despite a tall 3.08 rear end gear, the Impala could run to 60 mph in 7.5 seconds, which was as quick as Ford's much smaller, front-wheel drive Taurus SHO. Its LT1 was slightly different than the Corvettes 300 hp version, with 2-bolt mains, cast-iron cylinder heads and a different camshaft. It was rated 260 hp in the Impala with 330 lb-ft of torque. With beefy anti-roll bars, large 17-inch tires and big 12-inch disc brakes they also handled and stopped incredibly well for their bulk. The same media that had been bashing the Caprice had only praise for the full-size muscle car, from its performance to the comfort of its front bucket seats.
"At the drag strip, our Impala SS made its forebears proud. Meaty BFGoodrich Comp T/As (size 255/50ZR-17) put the Impala's power right to the ground, per­mitting a quarter-mile of 15.0 seconds at 92 mph. That puts the 4221-pound crash-worthy, dual-airbagged, smog-lite 1994 Impala SS just a second behind its dirty, unsafe, 3750-pound SS 409 progenitor. Accompanying the terrific pressure a gal­loping LT1 applies to one's backside is a V-8 growl that sounds as lusty as a big-block with dual quads."—Car and Driver
"The Impala costs $65,803 less than our Mercedes-Benz S500. Yet it out-handled, out-accelerated the Mercedes, and equaled the big Benz's remarking braking performance."—Popular Mechanics
"You'll hear raves about Impala's 5.7-liter, 260-horsepower V-8 and how it gives vitality to the four-door sedan. Little sport coupes idling at the line next to the family cruiser will wheeze exhaust fumes when they fail to pay respect to the Impala SS. The V-8, lifted from the Vette, is a needed injection from the fountain of youth for the big family sedan. Acceleration is smooth and upbeat, without any hesitation or lag time. There's no pausing for a gulp of breath when you step on the pedal. The 5.7 wants to run.
But it's the suspension that really sets apart Impala. The front suspension, with its steel-alloy springs and anti-roll bar, is the same as that in the Caprice. But the rear suspension, with its gas shocks, steel springs and anti-roll bar, is lifted from Chevy's police package. It's the suspension that makes Impala a sure-footed machine not prone to fumbling or stumbling."—Chicago Tribune
Changes from Year to Year
In 1994 Chevy sold 6,303 SS Impalas. They were all black with a gray interior and a column shifted 4-speed automatic. By 1995 word was out and Chevy offered two new colors, Cherry and Dark Green. Sales climbed to 21,434, but black was still the most popular color with 9,858 sold. Buyers also bought 7,134 in Cherry and 4,442 in Dark Green.
In 1995 Chevy also redesigned the exterior mirrors, moving them from the doors to the corners of the side glass for a cleaner look and retooled the sedan's bodywork to improve the design at the C-pillar. Moss' original prototype covered the rear corner of the glass, which ended in a sharp point on the Caprice, with a small piece of trim, giving the Impala SS a "Hofmeister Kink" ala BMW. In 1995 Chevy ditched the small piece of plastic and made the pillar design part of the panel stamping.
In its final year, the Impala SS also received meaningful improvements, most notably a floor-mounted T-handle shifter and full analog instrumentation including a tachometer. There wasn't a rev counter in 1994 and 1995 and the digital speedometer was unloved.
The changes drove sales. Plus, everyone knew the model was doomed and they better get theirs now before it was too late. In 1996 Chevy sold 41,941, with 19,085 leaving the factory in black. 12,180 buyers chose Cherry and 10,676 went with the Dark Green.
What To Look Out For
These cars are not rare, so hold out for a "good one". Also watch out for clones or replicas. Check the SPID (Service Parts Identification) label in the trunk and make sure the VIN matches the VIN on the dash. Look for the code WX3 on the label. If it's there it's an Impala. There should also be a decal on the drivers side cowl, below the hood hinge just behind the front fender. It should also have the code WX3. If you see BU4 in either location it's a Caprice. Also, look under the dash by the pedal mounts for the original color and the driver's door sticker should specify 17-inch wheels and 255/50R17 tires.
Look for rust in the usual places, especially behind the rear tires at the bottom of the quarter panels. These are body-on-frame cars so also check the frame rails.
The powertrain is robust, as the engine and 4L60E transmission are good for well over 100,000 miles, but some forums say the transmissions start to have problems north of 120,000. The engine's Opti-spark ignition can have problems with moisture, so look for leaks from the water pump other seals close the system on the front of the engine. Depending on who you ask, the Opti-spark distributor is good for anywhere from 70,000 to indefinite miles, but it's an expensive and labor-intensive part to replace (and the water pump is typically replaced at the same time). A recent service will save you trouble and money.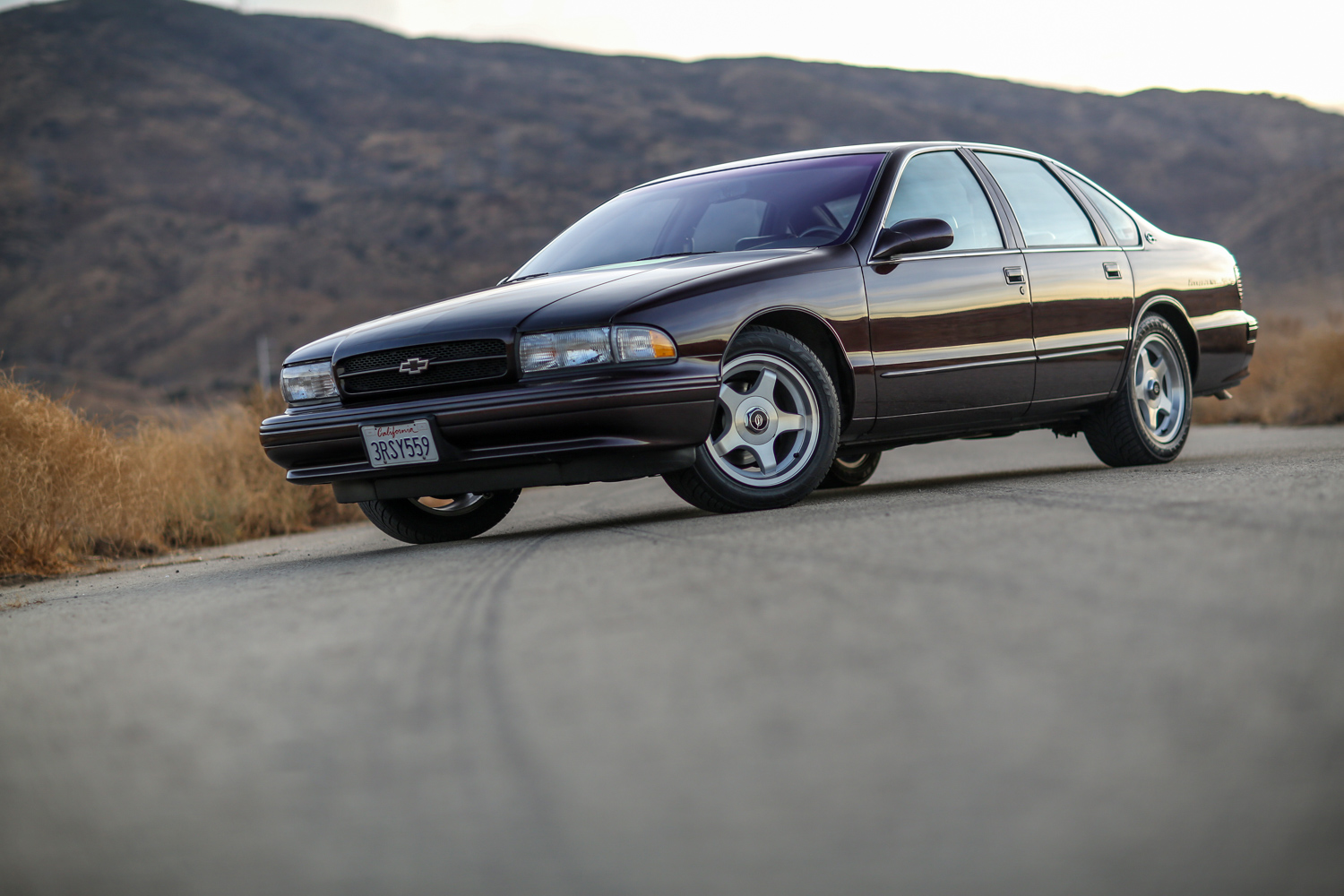 Exhaust gas recirculation valves are also known to go bad, as well as the fuel pump and sending units. Some also say the odometers can be fragile, so if the cars condition doesn't seem to match its mileage be suspicious. The interior plastics, especially around the window switches on the door panel, are known not to age well.
Lastly, many of these cars have been modified. Some radically with engine swaps and manual transmissions. A few mild mods, like aftermarket wheels and gauges, are nothing to worry about, but well-preserved stock examples are still bringing the most money.
Where to Get More Information
These cars have had a rabid following since they were new, and there's a thriving community devoted to them including clubs, events, forums and parts availability. Here's a short list of eight worthwhile web addresses we recommend you check out before and after you buy.
https://shop.classicindustries.com/1958-1996_chevrolet_impala_and_full_size_chevrolet_parts?_ga=2.43971181.995876470.1534370516-1302694952.1534370516
https://www.caranddriver.com/archives/1994-chevrolet-impala-ss-archived-instrumented-test
What They're Selling For
According to the Hagerty Valuation Tool the current value of these Chevys does not vary from model year to model year. This is surprising. Usually the first year would be more valuable, especially with the lower volume sold in 1994. And in this case you may expect a premium for the 1996 model, with its desirable floor shifter and redesigned gauges.
As of this writing prices of low mileage, stock examples in #1 Concourse condition have risen over 30 percent in the last three years, with the best cars fast approaching $40,000. Cars in #2 Excellent condition, have also gone up radically over that time period with average selling prices climbing from about $16,000 to $23,500.
Impalas in #3 Good condition, which may include clean examples with a few light modifications, are worth an average of $15,500. And cars in #4 Fair condition, can still be bought for less than $10,000.