Thirty years of filth for $2 million; price includes ultra-rare alloy body Ferrari 365 GTB/4 Daytona
More and more sensational barn-find stories are cropping up as an older, buy-and-hide generation passes on. The latest to come to auction is a one-of-one Ferrari, a road-going alloy-body 1969 365 GTB/4 Daytona coupe that sat for three decades in an open corrugated-tin-roof shed in Japan wedged amid old tires, used paint cans, a set of drums, and piles of random Japanese trash. Wearing a heavy coat of dust and possibly desiccated chicken poo, the special lightweight Daytona is headed to RM Sotheby's "Leggenda-e-Passione" Ferrari mega-auction in Maranello, Italy on Sept. 9, where it's expected to bring €1.4–€1.7 million ($1.7–$2 million). It isn't clear whether cleaning it will help or hurt its value.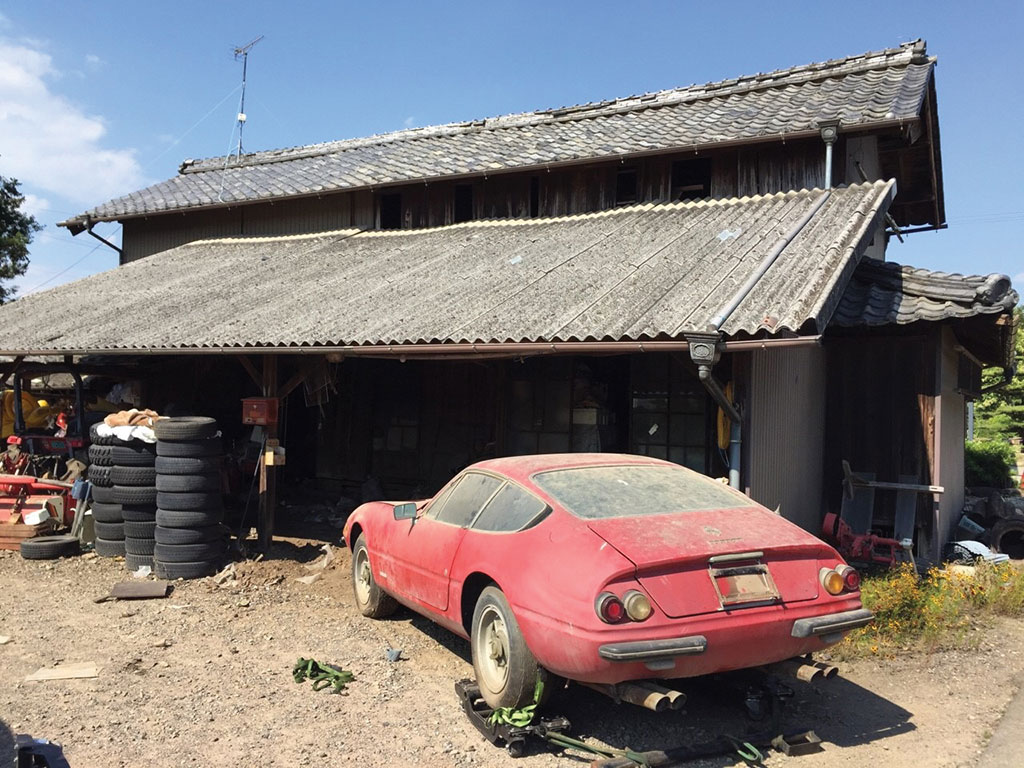 Ferrari produced more than 1,400 of the Pininfarina-designed Daytona coupes from 1968–73, making it one of the more common vintage Ferraris, normally trading for $400,000–$700,000, according to our Hagerty Valuation Tool. Besides the 4,390-cc Colombo V-12, the common element uniting almost all Daytonas is their steel bodies. Well, except for five lightweight alloy-bodied 365s built early in the Daytona's production life and intended for competition use by customers. In addition to those five cars, Ferrari's body supplier, Scaglietti, also constructed one aluminum-bodied car in June 1969, chassis number 12653, fully trimmed for road use.
It is thought that this early car, complete with Plexiglas headlamp covers and power windows, was just the 30th Daytona produced, and it belonged to a series of Italian owners and car brokers before going to Japan in 1971, where it again ran through a few owners before landing in the hands of Makoto Takai in 1980. Still largely original, with a trunk stuffed full of vintage Ferrari tools, the 365 disappeared into the barn from which it was plucked for nearly 40 years, showing what is thought to be an original 36,390 km (22,612 miles) on the odometer.
According to RM Sothebys, a well-regarded Ferrari expert has combed through the car and determined its numbers to be matching and correct, which makes this 365 GTB/4 a prized item of rescued Ferrari history. The fact that this car is being sold with no reserve speaks to the confidence in the auction house's estimated value. Stay tuned for the next dazzling barn find, as more are surely coming.