Lowest-mileage McLaren F1 in existence expected to fetch outrageous price
Gordon Murray designed the McLaren F1 to be the ultimate driver's car, and many people would agree that he succeeded. But judging from the unconscionable, factory-testing-only miles on one Japanese owner's 1997 F1, he hasn't even had the pleasure of letting the legend loose. Original factory wrapping abounds, protecting perhaps the world's most treasured supercar from grubby human hands. It's a 20-year itch that remains unscratched.
This is essentially the last brand-spanking-new McLaren F1 in existence, even if it is technically over 20 years old. UK-based dealer Tom Hartley Jr., who has reportedly sold two other McLaren F1s this year alone, is presenting it for sale.
The car, chassis 048060, presents with just 239 kilometers (148 miles) on the odometer, all racked up during factory testing. That makes it the lowest mileage F1 in existence, and it has never even been registered. It still has the factory plastic covers over the interior with only the shift knob, instrument panel and pedal box sticking out conspicuously from the white wrapping and blue tape. All of the accessories are there, too, all in the same like-new and unused condition as the car itself. They include the leather-bound manuals (which include beautiful hand-drawn illustrations), full set of matching luggage, original tool roll with tools made out of titanium, Facom tool chest, and even the special TAG Heuer watch engraved with the car's chassis number. The car also features an LM-style exhaust and a GTR-style removable suede-wrapped steering wheel. It doesn't get more original than this, folks.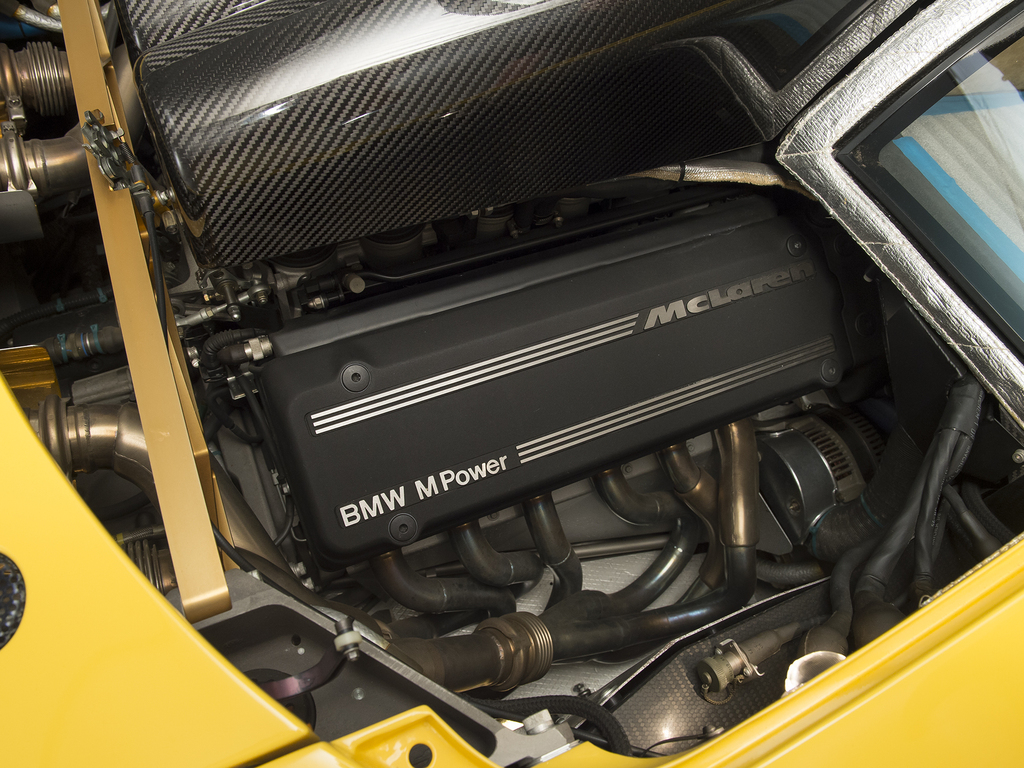 Outrageously preserved condition aside, the McLaren F1 hardly needs an introduction. It was a quantum leap in terms of technology and performance, bearing the first carbon-fiber monocoque fitted to a road car. Its 240-mph made it the fastest car in the world (eclipsing the Jaguar XJ220), and it remains the world's fastest normally aspirated production automobile. With all its achievements on both road and track, along with its rarity and desirability (106 built, including 64 road versions), the F1 is often called the Ferrari 250 GTO of our time. It is poised to only get more valuable in the future.
As for the price, this is one of those "if you have to ask, you can't afford it" kind of things. As it stands, any McLaren F1 is an eight-figure car these days, and even a twice-crashed 41,000-mile example owned by Rowan Atkinson sold for $12 million back in 2015. The last F1 to change hands publicly did so at the Bonhams Quail Lodge auction in August of this year for $15.62 million, which is the current record for the model at auction. While it was both a one-owner car and the first U.S.-market example, it also had almost 10,000 miles on the clock. This fresh-in-the-wrapper, almost totally untouched car can likely expect to fetch a premium, but the next owner will have some serious decisions to make.
"One of the most appealing things about F1 ownership is getting to drive it with other F1 owners, and the buyer of this car will have a real dilemma," says Brian Rabold, Hagerty Vice President of Valuation Services. "On one hand, you could keep it purely as an investment vehicle and keep it as the lowest mileage example in existence. On the other hand, you could drive it as it was designed to be and use it to its fullest potential."
At this point, even the wrapping on the seats of this car is like a piece of McLaren history, and driving the car would erase its identity as the last "brand-new" example. That might be hard to live with, and perhaps even an affront to those would give an arm and leg to drive an 12 feet in a McLaren F1. Then again, the F1 Owners Club is quite active and the the car enjoys considerable factory support. If the new owner just can't resist the temptation to fire up the F1's 6.1-liter BMW-sourced V-12 and take it for a spirited drive, that person will also find that McLaren is committed to keeping these cars on the road. Woking has the software and the parts to keep an F1 running, and a technician will even fly out to service a broken car. Many of the people wrenching on F1s today were working at the factory back when it was new.
"To drive or not to drive my delivery-mile McLaren F1?" Not a bad problem to have.