eBay Find of the Week: 1983 Volkswagen Rabbit
To be clear, this is NOT a GTI. It's a normal, everyday 1983 Volkswagen Rabbit LS with flares and wheels. So why are we lifting our eyes to a 75-horsepower, front-wheel-drive compact car from the tail-end of the malaise era?
First, it is a historically significant car for VW. The Giugiaro-designed Rabbit (aka Golf in the rest of the world) had an enormous job on its hands. Replacing the evergreen, popular, and fully-amortized air-cooled Beetle was a daunting task. The Rabbit's clean and wedgy two-box shape managed to look like the complete opposite of the Beetle. It delivered exponentially more interior and cargo space and allowed the German car maker to meet increasingly stringent emissions, safety, and noise regulations. This would have been nearly impossible with the older 1930s-era air-cooled car.
Second, while VW didn't invent the basic two-box front-wheel-drive shape (credit the British Mini), it did optimize it and it became the archetype for millions of cars. The photos of this 1983 Rabbit highlight that it still looks modern, fresh, and attractive and is a credit to Giorgetto Giugiaro's design.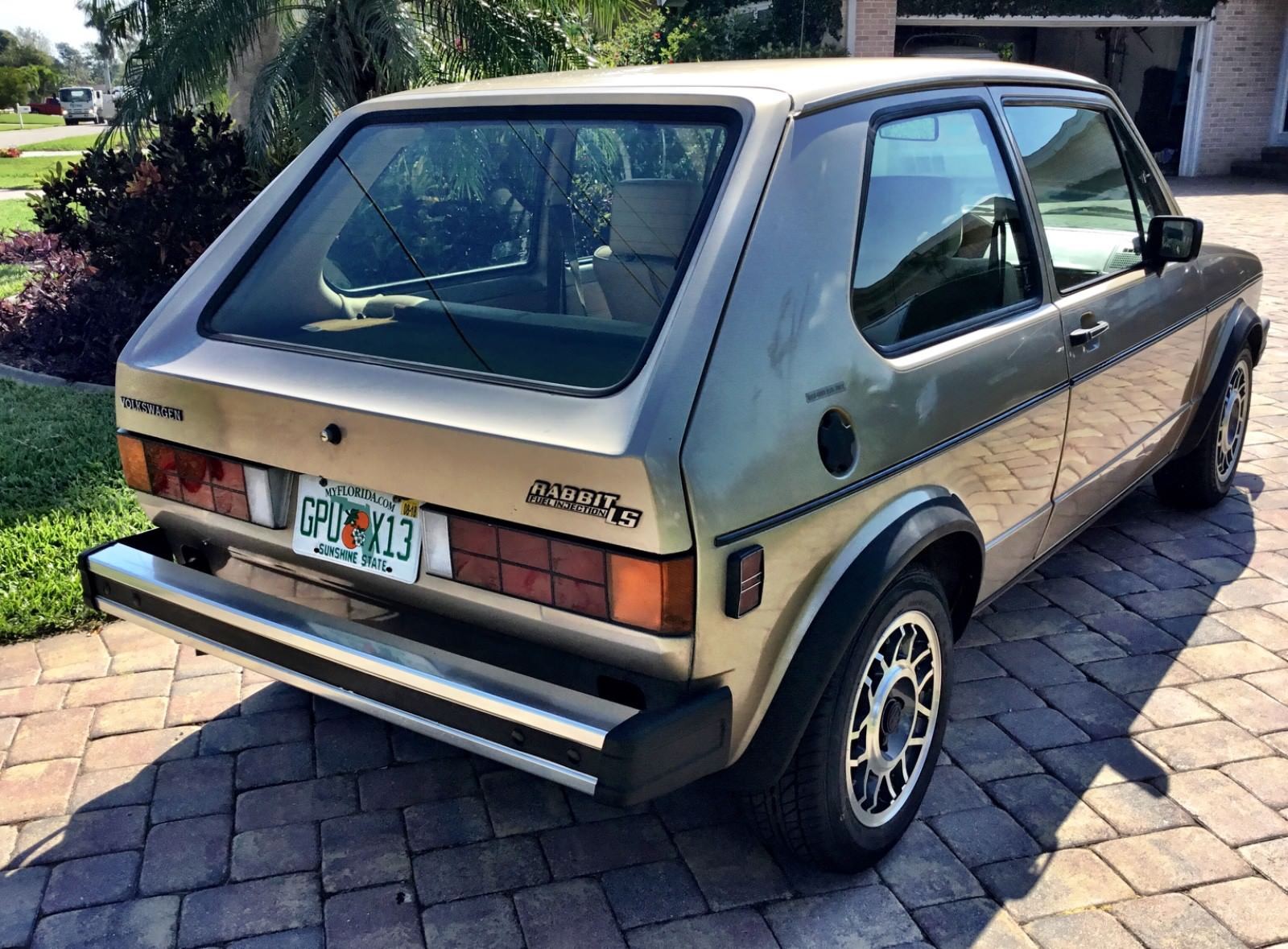 Third, nice examples are incredibly rare. These were efficient and inexpensive cars when new and few people thought to preserve them rather than use them. Rust prevention was also not a strong suit back in the day. This one claims to have around 120,000 original miles and be a rust-free original-paint example from the Pacific Northwest (although it is now located in Florida). We'd hazard to guess that pulling up to any local cars and coffee in this car will generate Ferrari levels of looks and attention.
The seller of this car is the same person who restored a VW Rabbit pickup truck that we featured last year. We applaud his choice of original VW 14-inch snowflake wheels and ability to restore these cars to look like something one might have done in-period or could have come from the factory if VW had been more adventurous.
This Rabbit has been listed a few times and the Buy-It-Now price has fallen a bit to its current $6,995 asking price. While base-model Rabbits are not listed in Hagerty Valuation Tools, we have seen increasing interest in first-generation GTIs, and this asking price is about mid-way between a #2 and #3-condition hot hatch. We challenge you to find one and make it look this good for less.