Here's your definitive 1964–68 Sunbeam Tiger buyer's guide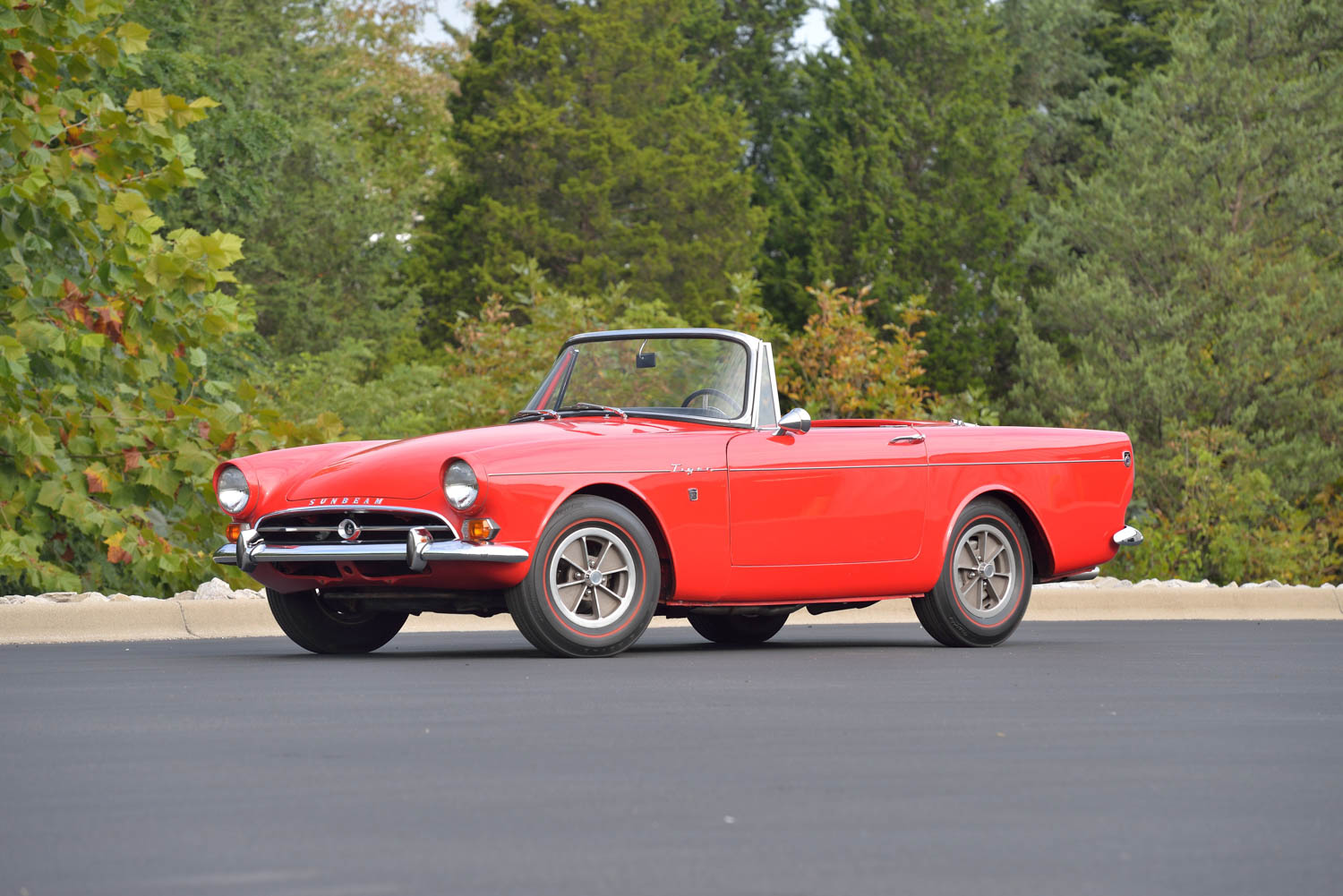 The Sunbeam Tiger combined the power of a Ford V-8 with the sporting heritage of a British roadster in a car as adept at touring as it was racing.
The Tiger was a high-performance riff on the Alpine, a lovely four-cylinder roadster built by the Rootes Group, a boutique British automaker that got its start in 1928. U.S. West Coast sales manager Ian Garrad came up with the idea of swapping a 260-cubic-inch Ford V-8 for the 1.7-liter four in the Alpine to punch up sales. Legend has it he dispatched his service manager to nearby dealerships with a yardstick to find a V-8 engine that would fit. The Ford V-8 was the winner, and Garrad discussed the idea with his father Norman, who led Rootes Competition, along with racing driver Ken Miles and engineer Carroll Shelby. Then the work started.
Garrad had his team relieve an Alpine of its four-banger, then sent it to Shelby's shop in Venice, California, so he could build a prototype Tiger. Miles also built one, using a 260 Ford and an automatic gearbox. After thoroughly testing both vehicles, Garrad sent Shelby's Tiger to England for further development by Rootes.
Lord Rootes himself approved production of the Tiger after a convincing test drive. The company farmed out the stamping and painting of bodies to Pressed Steel, which sent the shells to Jensen Motors for assembly with imported Ford V-8 powertrains purchased through Ford's Industrial Division. Shelby was initially hopeful that he would get the contract to build the cars but was instead paid a royalty on each Tiger built.
Tiger production was split into two phases. MK1 and MK1A cars were built from 1964-66 and MK2 through 1967, with any remaining Tigers sold through 1968. There were detail changes along the way; MK1 and MK1A Tigers transitioned through the more complicated rounded corners on the doors, boot, and bonnet to simpler square corners, and MK2 Tigers were factory equipped with a 200-hp 289-cubic-inch Ford V-8 for a performance improvement over the 164-hp, 260-cubic-inch V-8.
Tiger prices are on a downward trend following a peak a few Monterey summers ago when exceptional #1-condition Concours-quality examples sold for upwards of $200,000. Driveable MK1 Tigers perhaps missing the original voltage regulator or hose clamps but otherwise sorted hover in the $50-70,000 range. Considerably lower production numbers and Ford 289-cid power means MK2 Tigers command higher prices but are a more likely target for an Alpine-based cloning.
Los Angeles Tiger
Boosting Sunbeam Tiger performance and style was as easy as opening the Los Angeles Tiger catalog. The LAT, as it was known, offered everything from camshaft kits and limited slip differentials to racing jackets and lapel pins. Anything ordered from the catalog was installed once the cars arrived in Long Beach or Long Island. (Garrad attempted to convince the SCCA that his International Automobiles facility was an extension of factory production without success.)
The LAT offered plenty of options geared toward road use, but others, like a finned aluminum pan and scatter shield, were designed for road racing or the quarter-mile. The LAT-1 was a particularly attractive upgrade; it swapped the stock Autolite two-barrel carburetor for a Holley four-barrel bolted to an Edelbrock intake manifold. Reproduction LAT parts are readily available, and many of the original speed merchants who produced them are still around.
Mostly road, some track
Although the Tiger and the Shelby Cobra follow the same general blueprint of stuffing a big American V-8 into a small British roadster, they are entirely different animals, a point Road & Track noted in its November 1964 issue.
The Tiger's more comfortable interior appointments, which include deep-cushioned low back bucket seats with adjustable backs, roll–up windows, and an adjustable steering wheel, gave the Sunbeam a level of refinement and luxury you didn't get in the more raucous Cobra. The magazine also praised the 164-horsepower Ford for its performance and driveability, noting that the small-block engine could propel the 2,565-pound car to 60 mph in 7.8 seconds and a top speed of 118—while returning 20 mpg.
The magazine also tested a 245-horsepower Tiger and said the optional traction bars addressed the traction hop that upset an otherwise well-balanced chassis, suspension, and brake package.
Today you'll find Tigers with any number of engines under the hood, but the cars left the factory with a 260-cubic-inch Ford that made 164 horsepower with a two-barrel carburetor until 1966. The MK2 Tiger got a 289 good for 200 horsepower when it appeared in 1967.
The first 56 or so Tigers used a four-speed Ford sideloader also known as the Borg-Warner T-10. Those gave way to close-ratio Ford T-170 toploaders, while the MK2 cars got a wide-ratio version of that gearbox. Whatever the drivetrain, every Tiger used a solid rear axle and Dana 44 dropout differential produced at the Salisbury Division in England. The LAT catalog offered a limited-slip setup in a selection of gear ratios from 3:07 to 3:73 to step up the stock 2:88 set. Modern limited-slip conversions and gear sets are readily available.
Production peaked in 1965 when Rootes Group built 3,020 Tigers, or nearly half of all first-generation cars sold. The company built significantly fewer second-generation cars, although the exact number remains the subject of debate.
Norman Miller said Rootes produced 532 MK2 cars. He ought to know, as he is the caretaker of the Sunbeam Tiger Registry and a founding member of the Tiger Authentication Committee. He also wrote the definitive guide to the car, a book called, appropriately, The Book of Norman.
"People want to argue about that number," he said. "Half came to the East Coast, and half went to the West Coast. My survivor list is at about 375 cars. You could say there are probably 400 of those cars floating around."
Given the rarity and the bigger engine, Miller doesn't hesitate to offer his preference. "The money car was the MK2," he said. "There just aren't any."
Alpines to Algers
The first thing you want to do when considering a Tiger is make sure you're actually looking at a Tiger. It's not unusual to see Alpines fitted with a V-8 engine, a combination called an Alger.
Rising values, combined with the growing number of reproduction body and trim parts available in the past five to 10 years, have led to a proliferation of these cars. "Back when I used to wrench on cars, in order to build a clone you needed another Tiger," Miller said.
Given the increasing prevalence of clones, the Tiger Authentication Committee has expanded its reach to confirm authenticity on an international level with dozens of TAC inspectors spanning the globe from Maryland to Australia. Inspections are offered to owners on an individual basis and in conjunction with annual Tiger United events.
Three TAC inspectors, one of whom has to be a senior, must unanimously agree on their conclusions before a Certificate of Authenticity is issued. Some determining factors remain shrouded in secrecy to prevent replication by counterfeiters. "Inspectors are sworn to not reveal the information they're using to authenticate," Miller said.
Tigers only
A wider and lower transmission tunnel fitted at Jensen, lockout shifter, and larger diameter instrumentation are some interior differences that set the Tiger apart from the Alpine, but the big clues to Tiger authenticity start under the hood. Jensen reshaped the MK1 passenger side fender well for generator clearance that left a shovel-shaped depression and pair of telltale holes where the shaping tool was mounted. MK2 cars were outfitted with an alternator that did not require the depression, but neither did an Alpine. Jensen reinforced the upper strut tower mounts with additional steel. Look for inline stick welds around the fenderwell "top hats."
Alpines were fitted with a spot welded battery box and die-stamped access door behind the passenger seat. As the Tiger dual exhaust would not clear the battery box and there was no room for the stock Ford V-8 mechanical fuel pump, the MK1 Tiger battery was relocated to the trunk and an SU electric fuel pump was fitted underneath the access door in place of the battery box. MK2 Tigers were not die-stamped for the access door as the fuel pump was relocated to the trunk. Removal of the spot welded Alpine battery box can leave scars. Look for the factory die-stamped door and evidence of battery box removal in both cases.
Corrosion is common. Tiger trunk-mount batteries were factory fitted with vent tube caps but vent failure and acid buildup often leaves corrosion behind. Seam sealer failure behind the front wheels can result in moisture and debris getting inside the rocker panels. As the rocker panels are seven layers of stamped steel thick, rust can compromise unit body strength. Dual exhaust chassis alterations are a Tiger-only feature. Look for hammer clearanced sections for the exhaust while inspecting for corrosion. The x-frame was cut, shaped with precision hammering, and then welded shut at Jensen to make room for the dual exhaust.
Stock or mod
Performance and driveability upgrades can blur distinctions between stock and modified. Most Tiger-specific LAT catalog items are available as reproductions and pieces like the Holley 4-bbl carburetor never went out of production. Chassis and body reinforcements added most of the 280-pound gain to the 2,565-pound Tiger over the Alpine, but the V-8 didn't weigh much more than the four-cylinder it replaced. It's a Ford, which means the entire powertrain is relatively cheap and easy to maintain and modify, and Tiger aficionados long ago sorted out things like five-speed gearbox swaps, clutch upgrades, and other improvements.
The Tiger rode on a coil-and-arm independent front suspension carried over from the Alpine, but used a rack-and-pinion steering rack mounted on the front of the engine crossmember—actually the same unit you'd find in an MG MGA. Leaf springs and a panhard rod keep the Tiger's rear axle planted, and many owners installed the LAT option Traction-Master bars to prevent axle hop. With the exception of a few competition specials, all original and LAT wheels were 13-inch diameter, but given the dearth of performance rubber in that size, you often see Tigers with larger wheels. LAT-style reproductions can be found in larger diameters.
Buy of the Tiger
Given their rarity and increased performance, MK2 Tigers command higher prices than the earlier MK1 and MK1A versions. That said, overall values peaked in 2016-17 with Concours-condition MK1 cars at $129,000, MK1A at $150,000, and a few pristine MK2 reaching $200,000. They've since come down a little.
Norman suspects that the recent drop is the result of older owners selling their cars, creating a relative glut in the market. "There are lots of cars entering that have been tucked away," he said. "We had that little spate where MK2s sold at Monterey in the $200K range. Today those cars are asking $130-150K and not selling."
Cars in lesser condition can be more affordable, but anyone considering a project or a car needing full restoration should look for the best, most complete car they can find. Several parts, including the wood steering wheel, washer bottle, fan shroud, expansion tank, and trunk items were unique to the Tiger and difficult to find. Original tool rolls sell for thousands, and genuine trim pieces for the MK2 can be impossible to find. "If you don't have all of the MK2, you don't have a MK2," Norman said. "The trim is worth 50 grand."
Sunbeam Tiger restoration specialist and authentication committee member Paul Reisentz said he's seen parts reach stratospheric prices in the 25-plus years he's been in business. The problem is especially acute for the MK2, which uses an alternator bracket, oil cooler and hoses, aluminum carburetor spacer plate, and trim unique to the model. "Years ago we used to joke that if you want any one of the MK2 pieces it's $1200, no matter what it was," Reisentz said. "Now, a wheel arch molding, any one of them is worth 5 grand."
Modified Tigers typically command lower prices at auction, and a car with, say, fuel injection and a five-speed can provide a better driving experience at a lower cost. That said, Reisentz said he's seen the trend move away from resto-mods to restorations in recent years. "It was about a 15-year period from about 1995 to about 2010 that every car that I did had a 5.0-liter Ford and five-speed transmission in it," he said.
The Tiger marked the beginning of the end to the Rootes story, as Chrysler bought the company and brought production to a close at the end of 1967. Chrysler had no interest in bolting its 273 cubic-inch small-block into the car but did offer its own British-American mashup, the Plymouth Cricket, a rebadged Rootes Group Hillman Avenger. It wasn't nearly as ferocious as the Tiger.
CLUBS
Tigers United Club Directory
http://www.tigersunited.com/info/clubs.asp
The International Registry Of Sunbeam Tigers
http://www.rootes1.com/
Sunbeam Tiger Owner's Association
http://www.sunbeamtiger.org
Classic Tiger
http://www.classictiger.com/
PARTS AND RESTORATION
Reisentz Restorations
http://www.reisentzrestorations.com/
Rootes Group Depot
http://www.rootesgroupdepot.net/
Classic Sunbeam
http://classicsunbeam.com/
Sunbeam Specialties
http://www.rootes.com/
Sunbeam Spares
http://sunbeamspares.com/shop/