What you need to know about buying a 1970–74 De Tomaso Pantera
The De Tomaso Pantera is by any measure an exotic, a sleek wedge of pure sex that surely confused the hell out of customers who saw it alongside the Comets and Cougars and Continentals in Lincoln-Mercury showrooms. Yet it doesn't get nearly the same love as the Ferraris and Lamborghinis and other Italian supercars of the early 1970s.
That's a shame, because the Pantera is far more affordable than anything else that rolled out of Maranello or Sant'Agata Bolognese. It's just as much fun, too. What you'll pay for a Pantera depends on what kind of car you want. Top-quality cars are up twofold in value over the last decade, while more driver-quality examples are—albeit less rapidly—also climbing. An unrestored original-condition Pantera GTS on its factory Goodyear Arriva tires can grab six figures at auction, but bringing that same car back to roadworthy condition can cost an equal amount. Highly modified Panteras hold less value than parts and labor invested but can be cheaper to make your own, especially if corrosion was repaired. Realistically, a well-sorted driver should run about $85,000.
The De Tomaso Mangusta already used the Ford 351 Cleveland engine when the two companies forged an agreement that introduced the Italian supercar to the American market in 1971. The Italian-American mid-engine exotic featured a gorgeous body designed by Tom Tjaarda at Ghia, a monocoque chassis engineered by Gian Paolo Dallara, and an entirely new 300-plus horsepower V-8 bolted to a five-speed ZF transaxle.
Panteras rolled into Lincoln-Mercury dealerships with independent unequal length A-arm suspension, rack-and-pinion steering, four-wheel disc brakes, staggered Campagnolo magnesium alloy wheels, and air-conditioning.
Like many exotics of its day, the Pantera often suffered from lackluster engineering and quality control, but Ford helped more as time went by and most of the problems were long ago sorted out. Yet it remains hobbled by a reputation for corrosion, fussy electrics, inadequate cooling, and unforgiving ergonomics—traits many collectors happily overlook in the Pantera's contemporaries.
It's always been that way. The car never really found its place among consumers who expected the fit, finish, and comfort of an American car. Never mind that the Pantera, when new, provided enthusiasts with solid performance and exceptional design as an affordable alternative to the mid-engine Ferrari Dino and Lamborghini Miura. On the used market, they remained a deal compared to the Ferrari 512BB and Lamborghini Countach.
Car and Driver noted this in 1971 when it wrote, "The double standard in question applies almost exclusively to sports cars priced from $7000 on up to infinity and has two fundamental axioms. First: Excitement is directly proportional to price—the more you spend, the zoomier the car. Which makes sense. Second: Goodness is inversely proportional to the price—the more you spend, the less likely you are to get a carefully engineered machine, one that is dependable in the way the multitudes demand. Instead, you get hand craftsmanship, which is not the same thing."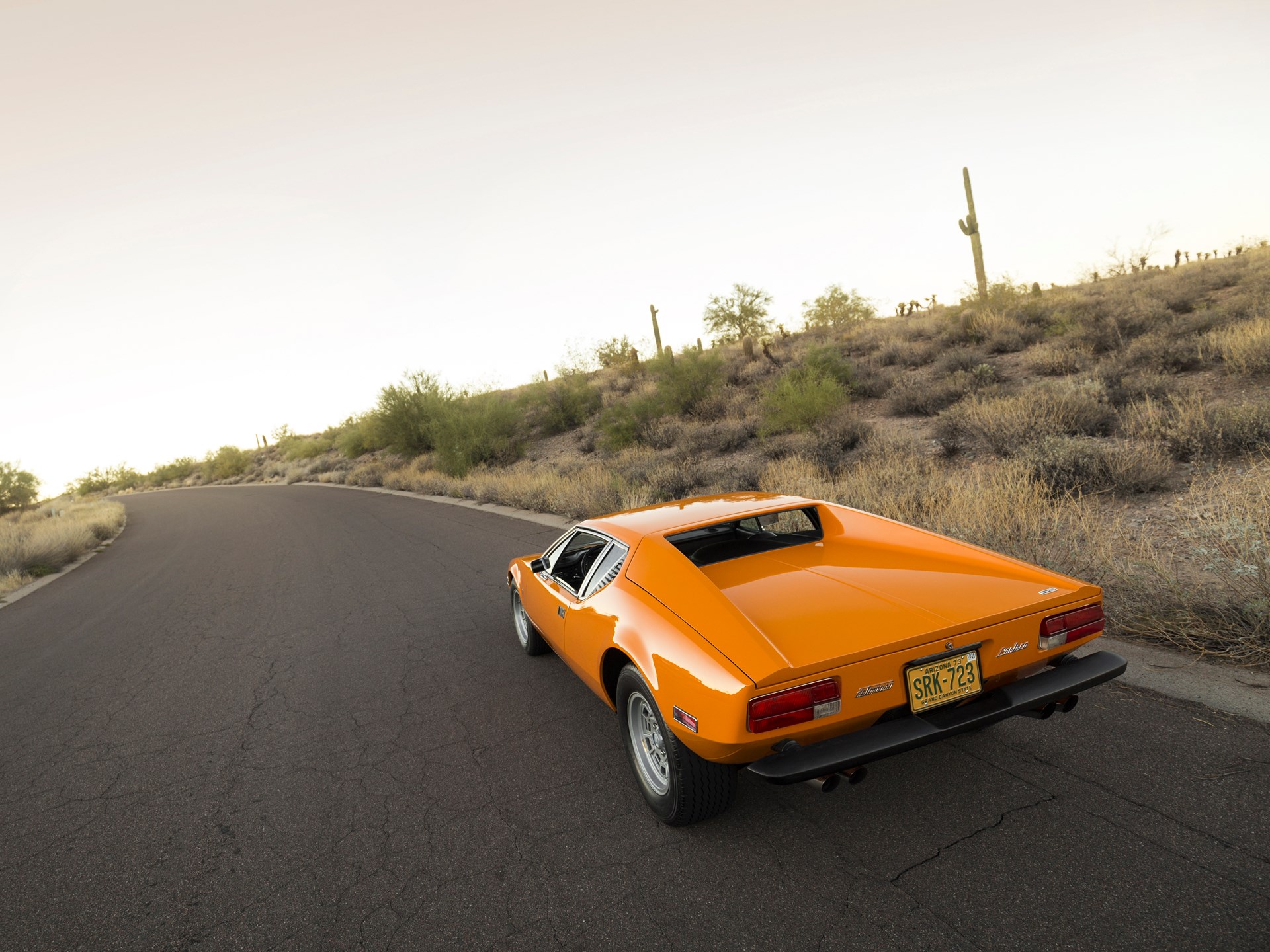 Anyone willing to accept that, the magazine noted, would be rewarded. "There is little point in judging a Pantera on conventional production car standards. If, on the other hand, you compare it to the world's sparse population of mid-engine GT cars, you find that the Pantera is a meritorious automobile. And if you compare it to de Tomaso's last effort, the Mangusta, you will conclude that it is one of the modern-day wonders of the world."
Autocar rendered a similar verdict. It acknowledged the car's lackluster fit and finish in its December, 1972, issue but praised the 351 Cleveland for its good manners, commendable fuel economy and impressive performance. "Everything connected with the Pantera is suggestive of power, and on the road it lives up to its promise. Top speed proved to be a resounding 159 mph at an engine speed of just 6050 rpm."
Early Panteras with split bumpers and push-button door handles from the Mangusta parts bin gave way in 1972 to the Lusso, or L-cars, fitted with federal bumpers that added 100 pounds. Ford lowered the compression ratio and made up the difference with factory performance parts, but a change in measuring standards made the change from 310 gross to 266 net horsepower appear far worse than the real-world performance provided. The Pantera could hit 60 mph in 5.5 seconds and roll through the quarter mile in 13 seconds on the way its 150 mph top speed.
First-generation Pantera production culminated in 1974 with the GTS model that was effectively an appearance for American-market Pantera GTS that came with Campagnolo wheels one-inch wider than stock, a blacked-out hood and rear deck, rivet-mounted flares, a sport steering wheel, and GTS graphics. The European-market GTS also got a performance suspension and a 351 Cleveland V-8 with high-compression pistons and solid lifter camshaft good for 350 horsepower. American Pantera GTS had a GT stamped into the VIN.
Ran when parked
Ford ended its partnership with De Tomaso in 1974 as emissions and safety standards spelled trouble for the mid-engine exotic. Just how many were built under the partnership is an open question; Ford says 6091 while De Tomaso claims 5286. Don Byars of Full Throttle Panteras has restored more than 250 Panteras during the past 30-odd years and believes there are around 5000 in the U.S., with a growing number of them hitting the road again after years of dormancy. "It could have been a multitude of things why they just let the cars sit," Byars says. "The people that bought them way back when were the baby boomers. They're starting to retire."
With prices steadily rising, many of the people sitting on an old Pantera are deciding it's a good time to sell. Just how many are awaiting discovery is uncertain, but remember, project cars with low prices can represent false economy. Byars pegs the cost of restoring a neglected or "barn-find" Pantera at $80,000–$90,000. Don added that metallic paint, often used to obscure Bondo, is a danger sign. Even refreshing mechanical and rubber parts ruined from decades of dormancy on a good condition car can add up to untold thousands, a figure confirmed by Gerry Romack, president of the Pantera Owners Club of America.
"I would rather buy a car with 100,000 miles on it than a car that's got 5000 miles and been sitting in a garage for 35 years," Romack says. "The transmission could have rusty gears. You know the brake caliper pistons are going to be seized in the bores. The seals on the clutch master and slave will go out in the first three months you own the car. I guarantee you."
V-8 powertrain amidships
Pantera-spec Cleveland engines were initially rated for 310 gross horsepower and then 266 net horsepower after 1972. Most, if not all, of them have over the years been modified or rebuilt with aftermarket parts, from high-compression pistons to throttle body fuel injection carburetor replacements. Byars can build you a well-behaved engine with something more than 350 horsepower at the wheels. Improved fans and radiators address the car's tendency to overheat.
The purpose-built ZF five-speed manual transaxles have proven durable, although the second gear synchros tend to wear out. Be sure to have it checked when you have the seals replaced, and get the ring and pinion safety wired if that job hasn't been done yet. The half-shaft U-joints can seize from rust and lack of use; suss them out by raising the car and turning the wheel by hand. Replacing them is straightforward, and CV axles are an easy upgrade.
ZF sold the manufacturing rights to RBT Transmission, which in addition to offering parts and rebuild services, also sells replacement gearboxes and a six-speed transaxle.
Corrosion of conformity
Like most cars of the era, corrosion can make a mess of that gorgeous monocoque steel body. Setting things right can be so expensive that cars with damage to structural components like the shock towers often get junked. "Pretty much from the shock towers down. They usually don't turn into a parts car until there is nothing left and everything's gone on the bottom," Byars says.
"There's not that many of them so you really have to really cherry pick what you're going to trash."
Given that anecdotal evidence suggests some Panteras left the factory with exposed steel and arrived in showrooms with rust, don't be surprised to find rust where you might typically be surprised to find rust. You can find used and even new replacement panels, but the new stuff tends to be handmade (read, expensive). Hall Pantera offers new parts, and its floor plan is particularly popular because it replaces rusty bits while providing 2 or 3 inches more headroom. "It just drops the seat," Tara McGill says. "There's not very much room in there if you're over 6 feet."
Suspension to wheels
The straightforward independent suspension uses unequal length A-arms, coilovers, stabilizer bars, and manual rack and pinion steering. Replacing worn bushings can restore the handling, and switching to an electric rack and pinion steering system makes life easier. The Girling power-assist brakes evolved through the production run with solid discs giving way to ventilated units. Everything you need to overhaul the braking system is readily available, as are aftermarket upgrades if you want a little more whoa.
De Tomaso offered Borrani wire wheels as an option to the gorgeous Campagnolos. The Pantera and Lamborghini Countach ride on the same side tires, and factory-spec reproduction Z-spec rubber can run $2500 shipped from the sole supplier in Europe. Bolting on a set of larger, wider repro Campy wheels gives you a whole lot of tires options while retaining the original look.
Italian-esque cabin
You'd be well advised to get into a Pantera and see how it feels before deciding whether to buy. There isn't much headroom if you're 6 feet or taller, and replacing those tired seat cushions could make it a tighter fit. As if that weren't bad enough, front wheel well intrusion moves the pedal box toward the center of the car. The good news is a tired interior is relatively easily refreshed, as replacement upholstery parts and pieces are readily available.
The Pantera cabin is period-perfect '70s Italian exotic with its gated shifter, Veglia gauges, and forest of toggle switches. Anything electric was temperamental in the '70s and probably unruly by now. Electric window regulators were never terribly efficient, the car's propensity for overheating could have damaged wiring, and the fuse box has been known to literally crumble. Replacement components and upgrades are relatively inexpensive, especially of you look parts that are interchangeable with the Alfa Romeo Montreal and other cars.
Appreciated drivers
Given the car's Detroit powerplant, most Panteras have seen engine upgrades ranging from subtle tweaks to improve driveability to twin-turbo Boss 429 swaps. But as the cars appreciate, the trend has moved away from big mods toward originality or tasteful resto-mods. The same goes for body modifications. "Back in the '80s people were putting big wings and flare kits on them and now they're going back to stock," McGill says.
The V-8 connection to the American muscle car, a vast marketplace of restoration and performance parts, relative affordability among Italian mid-engine exotics of the same era, and a strong enthusiast community gives the Pantera a unique appeal. Rising yet still reasonable values combined with a healthy percentage of regularly driven Panteras presents a best-of-both-worlds situation. Collectors can rely on an unrestored or all-original Pantera appreciating over time and enthusiasts can enjoy driving an Italian exotic with an amidships American V-8 backed up an extensive catalog of available equipment and a strong community.
MORE INFORMATION
CLUBS:
Pantera Owners Club of America POCA
Pasadena, California
626-414-7135
www.poca.com
Pantera International
Ventura, California
www.panterainternational.org
805-648-6464
SPECIALISTS:
Full Throttle Panteras
Restoration, Parts, and Service
Lake Elsinore, California
http://fullthrottlepanteras.com
951-245-7300
Hall Pantera, Inc.
Pantera Parts since 1976
Paramount, California
www.hallpantera.com
562-531-2629
Performance Automotive Technology
Parts and Performance
Tyngsboro, Massachusetts
978-649-2211
www.patsauto.com
Panteras by Wilkinson
Genuine De Tomaso Parts
Paramount, California
http://www.panterasbywilkinson.com
Pantera Parts Connection
New and Used Parts
Carson City, Nevada
800-338-6627
http://www.panteraparts.com
Precision Performance
Parts and Service
Chino Hills, California
562-691-2526
www.precisionproformance.com
RBT Transmissions
Transaxle Parts, Replacement and Rebuilds
Anaheim, California
www.rbttrans.com
714-630-2450
Pantera Miami
Sales, Parts, Service
Miami, Florida
305-322-9108
www.panteramiami.com