Forget 300-mph Bugattis—this AWD 16-cylinder machine runs 450 mph and you can actually buy it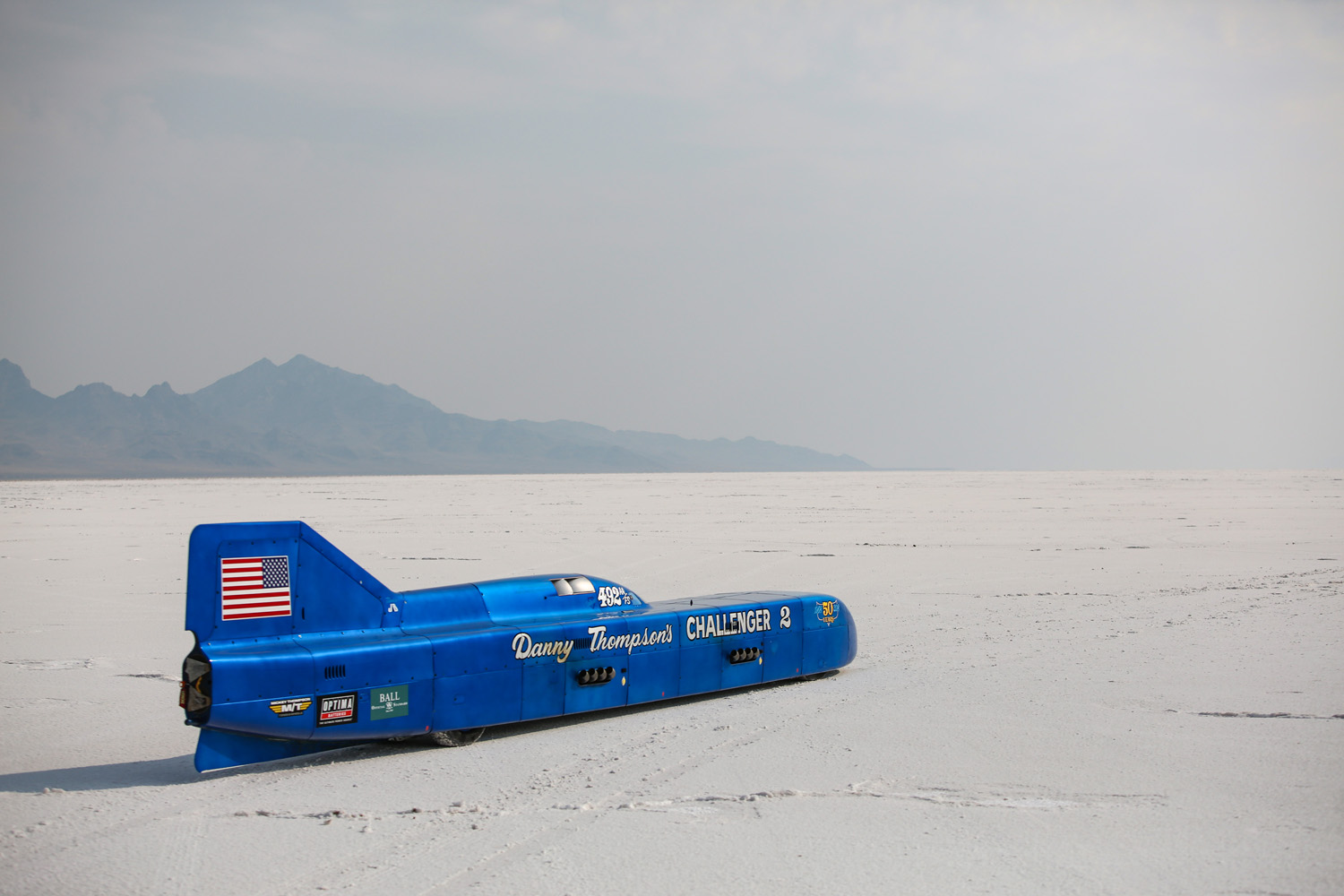 In 2016, Danny Thompson drove the Challenger 2 on the Bonneville Salt Flats to a two-way average of 406.769 mph. In doing so he finished what his father, Mickey Thompson, had started with the quad-engine Challenger all the way back in 1959. In 2018 Danny made it happen again—this time with a little more cooperation from the salt—and upped his own record to 448.757 mph to claim the unofficial title of world's fastest piston-powered car. Danny retired the car after that and it has spent its time since in various racing museums. Next year, in 2020, it's going up for sale at Mecum's Kissimmee auction.
Like the prototype Bugatti Chiron that recently ran 304 mph, the Challenger 2 is an all-wheel-drive, 16-cylinder, modified pre-production car. Unlike the streamlined, luxurious Bugatti, however, you can actually buy the Challenger 2. No, you can't exactly drive to dinner in a land-speed racer, but at least it didn't need four turbochargers to set its records. No wonder Bugatti got out of the top speed game.
The original Challenger ran 406 mph way back in 1959 powered by four Pontiac V-8 engines, but Mickey never was able to back the record up. Mickey and a team of talented fabricators instead designed and built the Challenger 2 in 1968 to be just 34 inches wide, and with much less air resistance than its predecessor. Powered by a pair of SOHC Ford big-blocks, and with one of them supercharged, it was poised to take on the salt and get Mickey into the record books when Ford pulled its sponsorship.
Challenger 2 languished, but Mickey wanted to get it back on the salt one day. After Mickey's passing, Danny picked up the cause and reengineered the car over the course of several years. Most of the original bodywork remained, but it was stretched a bit for better aerodynamics and the SOHC Ford engines were replaced by 500-cubic-inch Brad Anderson Hemis that produce 2500 horsepower each, all naturally aspirated. After the thorough rebuild, Danny began the process of test runs that led up to 2016's record-breaking passes and 2018's phenomenal success.
If you were to purchase the Challenger 2, you'd be getting a huge head start on your way into the 400-mph club, an exclusive group that contains just 16 members and includes Craig Breedlove, Art Arfons, Dave Spangler, and George Poteet. You'd just have to wait for ideal conditions at the Bonneville Salt Flats, which happens every few years or so. Then you'd have to assemble a team, get them and the car to the salt, and manage the throttle on the nitro-swilling engines against the ever-changing conditions of the salt without the aid of traction control to run a full mile in excess of 448.757 mph and qualify for Danny's existing AA Fuel Streamliner record he set in 2018. Then you'd have to do it all again the following day and make sure you go fast enough on the same measured mile as your qualifying run.
Piece of cake, right?