The 10 coolest oddballs you can buy at the 2019 Scottsdale auctions
With more than a half-dozen auctions going on in Scottsdale each year, there are bound to be some strange cars mixed in with all the Corvettes, Mustangs, and Ferraris. This year is no different. We've combed through the consignments for the most unusual cars you're not likely to find anywhere else. Some of them are just rare and others are truly one-of-a-kind, but they're all out of the ordinary.
1946 Fiat 1100C Spider by Frua
Estimate: $650,000–$850,000
Maseratis, ACs, Lamborghinis, Jaguars, OSCAs, and Rolls-Royces have Pietro Frua to thank for truly stunning bodywork. He was forward-thinking enough to buy a bombed-out factory in 1944 and came right out of the postwar gate with this car, based on relatively humble Fiat 1100 underpinnings. Nevertheless, it arrived with gorgeous, swooping spider bodywork that was very modern for 1946. The car was restored within the past couple of years and already has a few concours appearances under its belt.
1947 Crosley Pickup
Estimate: N/A
Plucky carmaker Crosley made all sorts of small automobiles in the early postwar years and was a pioneer in things like overhead camshaft engines and disc brakes. Crosleys were often cute, sometimes odd, and always tiny. Crosley pickups, which look like one of those blobby deep-sea fish you see on Blue Planet, fall more into the "odd" camp, but they sure are distinctive, especially in two-tone '50s colors like this one at Barrett-Jackson.
Estimate: $125,000–$150,000
Once upon a time, Ferrari intended to build a smaller and less expensive car to complement the range of big 12-cylinder GTs. A four-cylinder overhead-cam engine derived from the 250-Series V-12 was developed, a prototype completed, and the project nicknamed "Ferrarina." Eventually Ferrari sold the design to a company called ASA (Autocostruzioni Società per Azioni), to build the car. Ex-Ferrari engineer Giotto Bizzarini did some of the final development work on the chassis.
The ASA 1000 GT's 1.0-liter engine makes nearly 100 hp, and it wears handsome Bertone bodywork. Autosport called it the car to "meet a demand amongst connoisseurs for a small-capacity sporting car, built to the engineering standards of Ferrari." In the end, though, people just didn't want to pay more than Corvette money for a car with less than 100 hp, no matter how nice it was, and the ASA flopped. Most came to the United States, but less than 100 were built in total. This one has been to auction three times, last selling in 2006 for $81,400 in Monterey.
1964 Citroën DS 19 Décapotable
Estimate: $150,000–$200,000
The Citroën DS still looks like it came from the future even though it's over 60 years old, and everything about the car from the single-spoke steering wheel to the hydropneumatic suspension and aerodynamic shape is funky-fresh. While the sedan is the most well-known model, there were also "Safari" wagons and "Decapotable" convertibles. The two-door open cars by Henri Chapron, are particularly desirable.
They were expensive when new, with just 1365 sold over an 11-year run, and they're expensive now. Even rough ones are six-figure cars. Bonhams sold this one for more than $200,000 in Paris back in 2011, but these are particularly desirable on their home turf and the lower estimate here still seems reasonable.
1954 Aston Martin DB2/4 Coupe by Bertone
Estimate: $600,000–$800,000
Aston Martin is as British as cricket and rainy weather, but there's a long history of Italian connections, from special Zagato-bodied models over the years to the Touring Superleggera bodies on the DB4, DB5 and DB6. Less well known are the Bertone-bodied Astons commissioned by American distributor Stanley H. "Wacky" Arnolt in the 1950s. Seven were built with bodywork by Franco Scaglione for Bertone. Six of them were spiders, making this the one and only coupe.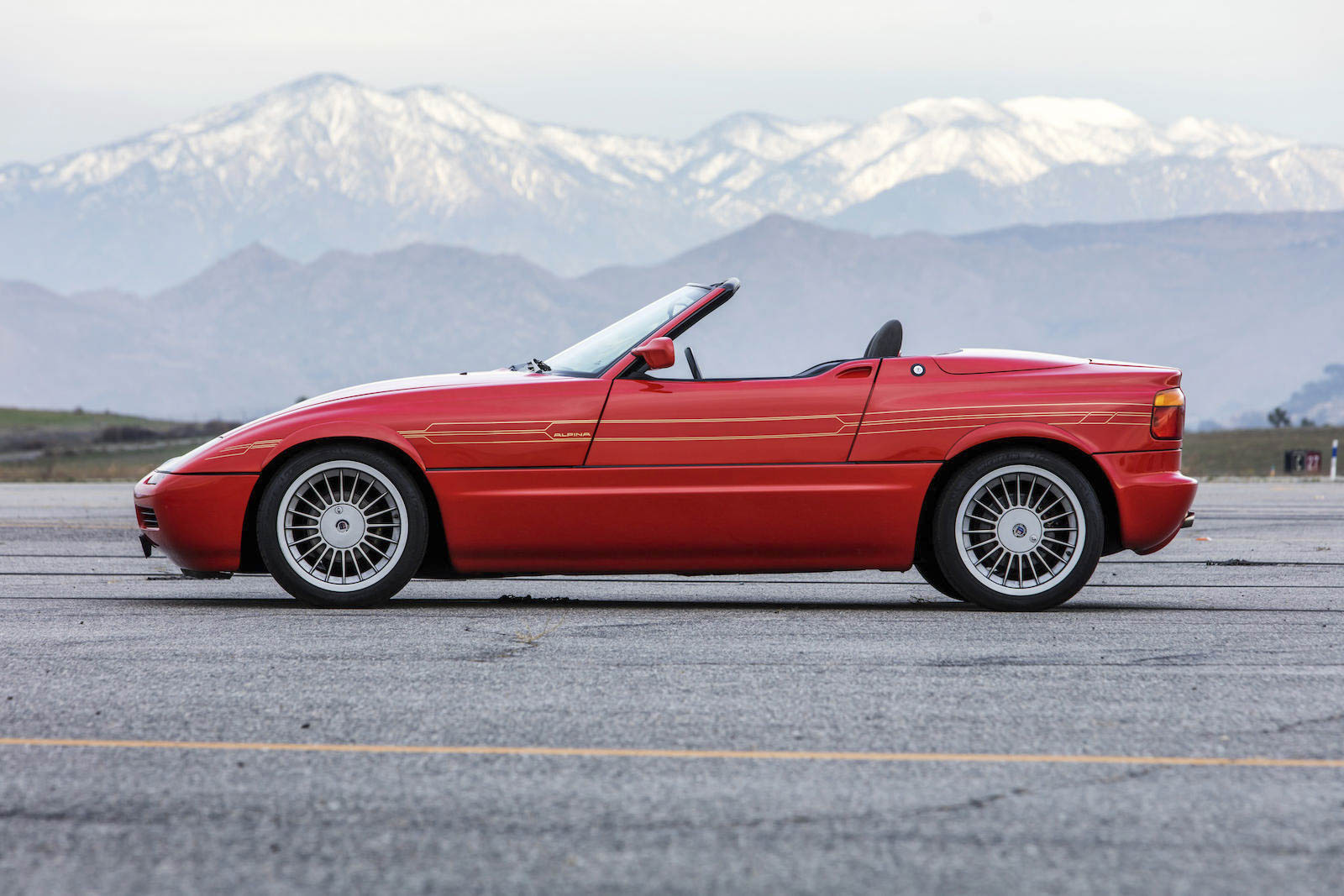 Estimate: $140,000–$180,000
The BMW Z1 is weird enough in its own right with that doorstop styling and power-operated downward-sliding doors, but the little-known Alpina version is even more of a standout. It's also more of a performer, with 30 extra horsepower, slightly stiffer springs, and larger alloy wheels. Only 66 were built, and Bonhams' example is the 63rd. Bonuses include the 12,000 kilometers on the odometer and the awesome optional camouflage leather seats.
You can probably count the number of Alpinas in this country on one hand, or even one finger. We've never seen one at a North American auction before, but Bonhams sold a standard Z1 for $101,750 in 2016.
1991 Bentley Turbo RL Empress II Coupe by Hooper
Estimate: $200,000–$300,000
Hooper & Co. was best known for building distinctive and swoopy (if not exactly elegant) bodies, usually for Rolls-Royces, Daimlers, and Bentleys. Hooper stopped making bodies at the end of the 1950s, but there was a revival years later. Once again, the cars were interesting but not pretty. The Empress was one offering, and while it looks like it was drawn on an Etch-a-Sketch just like the standard Bentley Turbo RL, the bodywork is a completely new design. Hooper sold just five of these angular coupes.
For reference, RM's low estimate is about 10 times what a regular 1991 Turbo R in near-perfect condition is worth. But for the extra cash, the new owner of this rolling ascot will get a cocktail cabinet with Asprey silver vanity set, a glass sunshine roof, and lots of curious looks.
Estimate: $45,000–$55,000
If you've ever wanted an MG that's lighter, faster, better-looking, and rarer, then you need look no further than the Courier. Elva (taken from the French elle va—"she goes") was one of the dozens of small British cottage industry racers in the 1950s and '60s, but was one of the more successful ones. The Courier was its production road car, powered by either Ford, MG, or Climax engines. Lots of Couriers were used in competition, and Mark Donohue won his first race in one.
The Courier is one of those cars that's rare but not super valuable, so the presale estimate for this MGA-powered one seems ambitious, especially since Mecum sold the same car for $35,200 in 2016. Then again, it's not often you see one of these little Elvas at a high-profile auction like this.
1955 Moretti 1200 Sport Spider
Estimate: $750,000–$850,000
While Moretti built all sorts of vehicles, the Turin-based company is best known for its diminutive 1950s sports cars. This handsome blue spider is the only one with this odd but elegant bodywork by prominent stylist Giovanni Michelotti, and features a 1200-cc version of Moretti's own twin-cam four. It was restored in the 2000s and has a FIVA Passport, which opens it up to a lot of great events. The word "unique" gets thrown around a lot in the car world, but this is one of those cars that really is one of a kind.
1989 Rolls-Royce Silver Spirit I Emperor State Landaulet
Estimate: $275,000–$350,000
The whole 1980s nostalgia thing is in right now, and this car has eau-de-'80s-elite in spades, along with plenty of other just plain nifty features. Converted from a standard Silver Spirit by Hooper, the car had its chassis extended by three feet and the body built in old-school landaulet style (meaning there is a soft top but only over the rear seats). It's great for parades.
Inside there are original and seemingly very well-kept electronics like a Toshiba laptop, a Philips LCD color TV, and even a printer. There is also a set of crystal as well as a refrigerator. It's enough to put any old Town Car limo to shame. According to RM Sotheby's, the car spent most of its life in Europe and Australia, so why it's flying a Rwandan flag on its left front fender is a mystery. Diplomat, maybe?
Like the Hooper-bodied Bentley, this car has a low estimate of about 10 times what a perfect Silver Spirit is worth. But you don't get to play Third World dictator, fool around with '80s laptops, and sip Champagne for cheap, now do you?