Citroën is auctioning off its beautiful and odd automotive treasures
In a secret warehouse in Citroën's Aulnay-sous-Bois factory, 11 miles northeast of the heart of Paris, lies a treasure trove. Citroën's Conservatoire has been taking care of the company's historic gems, but it is now opening the doors to clear out some space. This weekend only, it will host an auction of all things Citroën, a dizzying array of cars and automobilia.
Alongside 64 lots of four-wheeled ephemera—pristine time machines, restoration projects, engine-less mock-ups—will be such treasures as Jacky Ickx's uniform from the 1991 Paris-Dakar rally (where Ari Vatanen won for the third year in a row in a Citroën ZX), brochures, sketches, bicycles, a Xsara hood from Sebastian Loeb's 2002 WRC car, a four-cylinder diesel engine on a pallet, and a bronze bust of André Citroën, should you wish to inspire baffling questions from your house guests during fancy dinner parties.
Here are some of the vehicular highlights. To browse the full catalog of French amazement, check out Leclere Maison de Ventes (Leclere Auction House).
Presale estimates: €2,000–€10,000 ($2,350–$11,760)
There are three examples of the rugged, boxy Mehari for sale, in varying states of decrepitude, although given its utilitarian nature, who can tell? Designed by World War II flying ace Roland de La Poype, it features plastic body panels, hood-mounted spare, a tubular frame (you know, like a race car), and a rudimentary soft-top more resembling loose trash bags. All three auction examples are equipped with 4×4, perfect for driving flower-dressed hippies to the beach for an afternoon of yé-yé music and snogging. There's also a brochure for sale showing the Mehari surrounded by go-go-booted jeune filles, in case you need to remember what a pristine example looks like.
Our Hagerty valuation team has limited data on the Citroën market, as there aren't that many on this side of the pond. In the case of the Mehari, there was a high-dollar Bonhams sale two years ago, which prompted us to raise values across the board. Interest in boutique-y open-air things, Fiat Jollys and Mini Mokes, combined with the greater interest with trucks and SUVs, should result in greater interest for the Mehari in coming years.
Citroën ECO 2000
Presale estimate: €8,000–€12,000 ($9,410–$14,120)
If you like oddball 1980s concepts with three-cylinder engines, here's your ride. In 1981, Citroën and the French government launched the ECO 2000 project: an automobile that can hit 95 miles per gallon, still futuristic by today's standards and well past the year 2000. Four concepts were built. This is the third in the series, packing some impressive future-tech: a 0.22 drag coefficient, hydro-pneumatic self-levelling rear suspension, and curb weight less than 1000 pounds. With all of 35 horsepower, the 750cc Fiat-derived engine could propel this little shoebox up to 90 kph. It missed its target but still achieved 88.7 mpg. Not bad at all. Its younger sibling, the Eco 2000 SL 10, is also up for grabs. Collect them all!
Citroën Xenia concept
Presale estimate: €15,000–€25,000 ($17,650–$29,410)
In 1980, Trevor Fiore succeeded the legendary Robert Opron as head of Citroën design, and that same year he created something truly spectacular. The pyramid-shaped Karin is not only worthy of the company's avant garde reputation, it also ranks as one of the strangest concept cars ever. A year later, Fiore toned it down, but not by much, with this: the three-door Xenia concept, a GT foreseeing the year 2000. The Xenia combined the roominess of a minivan, the sporting nature of a two-door coupe, the butterfly doors of any worthy concept car, and the aesthetics of a Macintosh mouse. Bid on this and you'll receive a clay model, which according the catalog is "a work of art totally unique and steeped in history. Futuristic, technological, and aesthetic."
Pretty much a giant paperweight, this and other clay models in the auction are destined be garage décor, basically. People would be clamoring for something like this with widespread appeal, like a Porsche or a Mustang, but Citroën people are a little eccentric, and few and far between. That could mean it will sell cheap, since it is prized by only a few, or there will be a bidding war beyond rational explanation. The former is far more likely.
Citroën Rosalie 10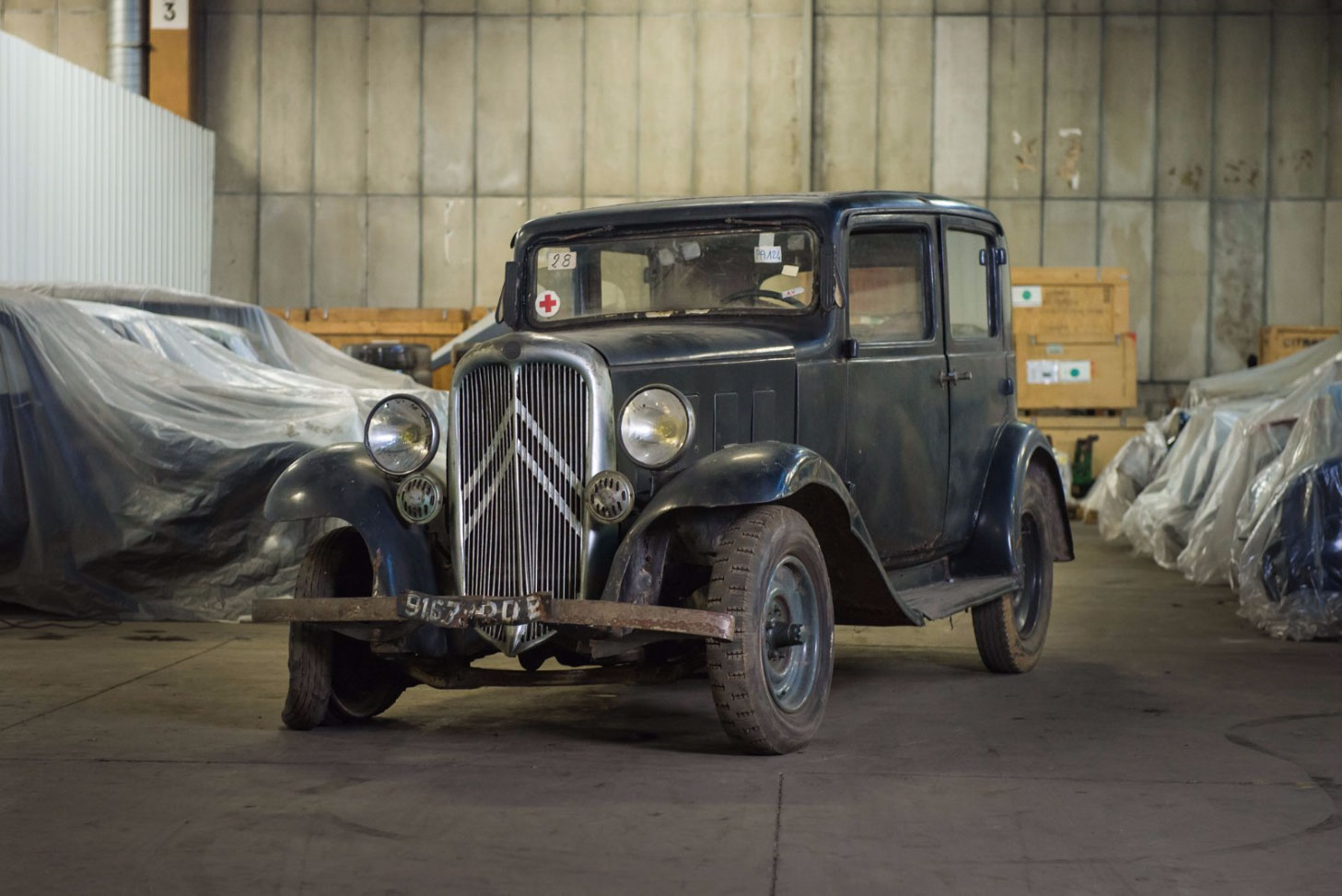 Presale estimates: €2,000–€6,000 ($2,350–$7,060)
There are a few very early Citroëns on offer in this auction, and they are either truly historic or truly decrepit. The two Rosalie 10 models on offer (one L, one NH) are both. Flaminio Bertoni updated Citroën's Rosalie range in 1933, giving it a sleeker look, new fenders, and backwards-leaning grille. It was the first restyle in the young company's history. Citroën called the result the Nouvel Habillage, literally "New Clothing." Bertoni would go on to pen some of Citroën's greatest hits. That same year the Rosalie would sell alongside, and eventually be replaced by, nothing less than the earth-shattering Traction Avant—designed by Bertoni.
Citroën BX GTI
Presale estimate: €6,000–€10,000 ($7,060–$11,760)
The tank-like BX was one of the last truly weird Citroëns, and the GTI trim is one of the fastest. With 125 horsepower, the GTI was a legitimate hot hatch, much like that other GTI you've probably heard of (and the Peugeot GTi you may have heard of). But no other '80s hatch packed a hydro-pneumatic suspension. And probably no other BX GTI, or the later 16-valve models with 160 horsepower, is in as nice shape as this. Peep that cool GTI logo! If those four-spoke wheels were any chunkier, they'd be square. And for a starting estimate of around $7,000, this is as cool as it gets for the price.
We're seeing more and more interest in cars that were never sold in the U.S. that can now be brought over due to the 25-year import rule. The overwhelming majority of activity with Hagerty members is for Japanese vehicles—less so for European and British brands. French cars are even smaller on our radar, so this is another oddball pick that could be rarest car at your cars and coffee.
Citroën Jumpy "Atlante des Nieges"
Presale estimate: €15,000–€20,000 ($17,650–$23,530)
This goofy Arctic bus was built to shuttle you from the hotel to the ski slopes. Feel the wind in your hair, feel the warmth of your hot chocolate as you dodge snowmaking machines—all in open-air style. Built by Sbarro, the weird Swiss coachbuilder (not the mediocre pizza chain), you "get in from behind like in an American school bus," according to the oddly specific auction listing, in French. Fortunately, it goes on to reassure us that the four-wheel-drive, diesel-powered, manual-transmission-equipped Jumpy also excels on the beach, or on dirt, or places where there are no chairlifts.
Presale estimate: €5,000–€7,000 ($5,880–$8,230)
This Traction Avant is rough around the edges, but it's also steeped in provenance: how many people can say they own one of Citroën's most important cars and got it directly from Citroën itself? Let's try to remember why the Traction Avant is so stunning: it nearly bankrupted the company, its development nearly killed its founder, it was driven off a cliff to test crashworthiness, its double-helical gears were inspired by fish bones (and also gave the company its logo), and it had an independent front suspension, unibody construction, and suicide doors. Oh, and it was the first mass-produced front-wheel-drive car. Citroën deemed it so worthy that it built the car for 20 years.
These cars are rare on our side of the Atlantic, so it's difficult to estimate price. But this rough example is predicted to sell below our #4 condition price of $8,200. In the past two years there are only three sales in our valuation database. One of those sales was a highly restored example that went for $40,000.
Citroën AX Electrique
Presale estimate: €1,500–€3,500 ($1,760–$4,120)
It might not be remembered, or even heard of on U.S. shores, but Citroën debuted one of the first mass-produced electric cars in 1993: the AX Electrique, beating GM's EV1 by three years. This red example is just one of 374. Even if it was just a regular AX, we'd be all over it for the ultra-'90s seats themselves. The fact that these early electric cars are both bizarre and cool, and bidding starts at less than $2,000, seals the deal.
Citroën Citela
Presale estimate: €10,000–€12,000 ($11,760–$14,120)
This weird red egg could be the most '90s concept car. Here's why. First: it's electric, in an age when mass-market electric propulsion was supposedly just around the corner. Second: "convert-able" cars were all the rage back then. The Citela transforms from a minivan-egg to a pickup truck to a convertible. Third: its narrow rear wheels are like shopping cart casters, saving room. (What's more, the doors both slide, something the Dodge Caravan didn't do until 1996. Every '90s concept had weird doors.) And fourth: look again at the seats. According to Citroën at the time, the powertrain—minus the big-ass nickel-cadmium batteries—is good for a whopping 625,000-mile lifespan, though hitting that mark would take an eternity considering a full charge only covers 130 miles at a time.
Citroën C2 Super 1600 Ogier 2008
Presale estimate: €8,000–€14,000 ($9,410–$16,470)
In 2008, then-25-year-old Sébastien Ogier won the Junior World Rally Championship behind the wheel of a Citroën C2, launching one of the most successful careers in WRC history with five championships (albeit coming after his two years in WRC with Citroën). To celebrate the Junior title, Citroën built this show car based on the C2 rally cars. Sadly, when the auction listing says show car, it means show car. "This car has no engine, for reasons of confidentiality," it reads, before optimistically suggesting, "but it is ideal for decorating a dealer's showroom or an amateur's garage!" It would also look great in your humble author's living room, should you feel inspired to start a GoFundMe.
Citroën Tubyk
Presale estimate: €20,000–€30,000 ($23,530–$35,290)
Resembling an iconic Citroën H-Van updated for the Hunger Games, the Tubik concept debuted at the 2011 Frankfurt Auto Show as a gigantic, "pig's nose," gullwing-doored lounge on wheels. This retro space van is 16 feet long, seats nine total across three rows, and features something called the "cyclotron," which boggles our minds beyond the scope of this auction preview. How many vans have four-wheel Brembo brakes? Sadly, you'll never use them—this is just a painted mock-up. Swing those doors open and play backgammon with your friends.