8 amazing rides you can buy from Carroll Shelby's private collection
Carroll Shelby wasn't just a builder of famous (and often great) cars, he was also an avid collector, assembling a fascinating stable of vehicles. Not only is the breadth of his taste extensive, his collection includes historic selections from Ford, Mopar, and Shelby history. Of the 23 cars that will be offered at Bonham's Greenwich auction on June 3, we've pulled the eight we'd most want to take home.
1983 Dodge Shelby Ram Prototype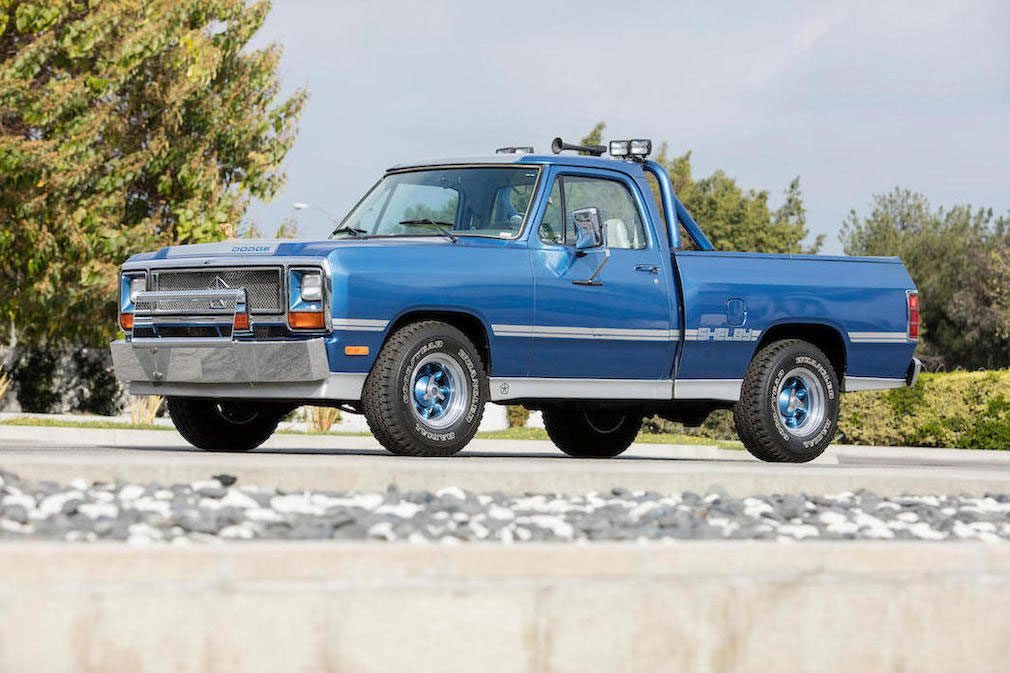 Estimate: $10,000–$15,000
Constructed as a styling exercise inspired by the earlier Shelby Charger prototype, this Ram D150 has the perfect Santa Blue and Radiant Silver paint scheme to reflect its origin story. It comes complete with a fiberglass tonneau cover, off-road lighting, roll bar, and body kit. Instead of a stock 318 engine, the prototype truck benefits from a 360-cubic-inch V-8 with 10:1 pistons and an upgraded camshaft and a Holley carburetor. For a Shelby flair on a pickup, this ticks all the right boxes.
1935 Chrysler Airflow
Estimate: $30,000–$40,000
Although it wasn't a huge success in its time, there's no doubt that the streamlined design was decades ahead of its time. The aircraft-inspired interior still stuns today, and the odometer shows just 59,000 miles on the car's 323-cu-in L-head straight-eight engine. If you want to get your Art Deco on, this is perhaps the classiest way to do it.
1982 Dodge Shelby Charger Prototype
Estimate: $10,000–$15,000
The first Mopar fruit to bear from Shelby's partnership with Lee Iacocca was this hot-rodded Charger, which involved tweaking the 2.2-liter inline-four and adding a close-ratio five-speed transaxle. But Shelby's main role was upping the handling capabilities of the car with stiffer springs, a faster power steering setup, better brakes, and lower-profile tires. Doesn't look too bad, either, in Shelby's signature paint scheme.
Estimate: $80,000–$100,000
As if it needed any introduction, the Shelby GT350 Mustang is the perhaps the quintessential high-output pony car of the mid- to late 1960s. This example is beefed up with a hotter version of the 302 Windsor V-8, including a Holley four-barrel carb, shortened connecting rods, bigger valves, and a longer-duration cam. And, of course, the driver is fully in charge of cog-swapping thanks to a four-speed manual gearbox.
1999 Shelby Series 1
Estimate: $100,000–$125,000
When Motor Trend tested the Series 1 in 1998, the magazine declared it the most significant car Carroll Shelby had ever turned out. And that includes the Cobra. History has not been so kind, but there's no denying this ambitious monster is impressive. It is the first of 249 built, complete with a prototype supercharger for its 244-cu-in DOHC Aurora V-8 engine, yielding 600 hp. Did we mention it weighs only 2650 pounds?
1988 Dodge Shelby Dakota Prototype
Estimate: $10,000–$15,000
This Dakota came five years after the Shelby Ram Prototype and was later offered as a limited-production model in 1989. It means business with its 5.2-liter V-8, limited-slip differential, trans cooler, and kitted-out body. This prototype also shows a one-off modified suspension that render it a little more slammed than the later production car.
1965 Shelby 427 Continuation Series Cobra
Estimate: $100,000–$125,000
Much ink has been spilled over the greatness that is the Shelby Cobra, and its legacy is inextricably tied to Carroll Shelby's never-say-die ambition to dominate racing. This 427-equipped example was Shelby's own personal Continuation Series car, desirable for its aluminum body, 428-cu-in V-8, and exceptionally low 974 miles on the odometer. There's nothing like the sound of this pure sports car around a race track.
1997 Shelby Aurora V8 Can-Am
Estimate: $20,000–$25,000
Shelby's Can-Am spec race car in the '90s came with a 3.3-liter Dodge V-6, but this Oldsmobile DOHC L47 Aurora V-8 version (the same engine as in the Series 1) was built as a concept for an uprated 500-hp version that never saw production. Bonhams says the car hasn't seen any real action outside of a bit of testing at the track at Willow Springs, but we imagine this race car would be an unspeakable thrill to harness.