Collector Motorcycles: Buy Original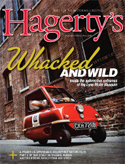 Know what you want before you look to buy. If you want only an original bike, go for one with few previous owners and a history that can be documented from new. With proper care and feeding, even a 50-year-old classic can present beautifully. If you're after total perfection, a restored machine makes sense, but make sure that you're really getting what you think you are.
Mix-and-match "bitsas" (i.e., "a bit of this and a bit of that") may look gorgeous, but you may soon discover their dubious history. The safest route is to invest in the most original machine you can find (a well-preserved example or a properly restored original bike). This way there are no questions about its authenticity.
And be ready to spend fairly for the right bike. It's better to pay for the right machine once, than for the wrong machine twice.
Visit hagerty.com/motorcyclesales to see a slideshow of significant motorcycle sales at auction.
***
To see this article in its original format, view the pdf version of the Fall 2009 issue of Hagerty magazine.