Big-block Sting Ray wagon is America's Breadvan
Many of us here at Hagerty have soft spots for wagons. A couple of us even have them as daily drivers, and plenty of us are Corvette fans. Combine the two and we're going to pay attention, as was the case of this custom 1968 model that just wrapped up on Bring a Trailer.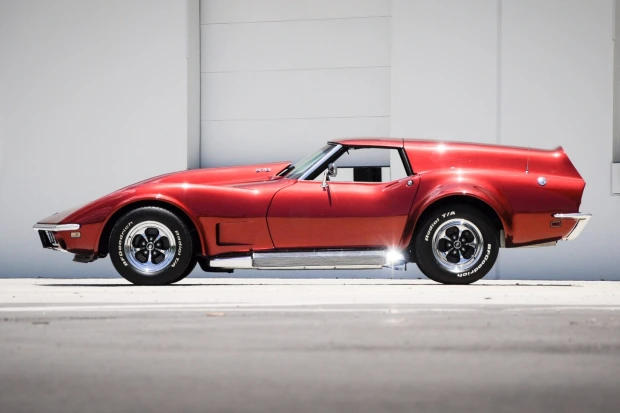 While the fastback roof and curved rear glass help the C2 look fabulous in coupe form, C3 Corvettes—early models in particular—look great as convertibles. The owner of this '68 Sting Ray thought there was one more body style worth considering as it was the recipient of an Eckler's sports wagon conversion, turning the meager luggage compartment behind the rear seats into an expansive cargo area and adding a removable targa top. The slightly sloping roof looks like it allows for luggage for two, but the rear glass appears to be fixed in place rather than a hatch. Not quite as practical as it first appears, but the bread van look works perfectly in our opinion, especially with that coppery red paint, KeyStone Klassic wheels, and sidepipes.
With its original body significantly modified aft of the front doors, the front end was next on the docket. The pop-up headlights were deleted and lights were added under the thin chrome front bumper. Aside from the new roof, a tall cowl-induction hood also drastically changes the profile, but it was certainly necessary. Under that tall hood is a tall-deck big-block V-8 topped by a single plane intake and a massive air cleaner. The 572-cubic-inch crate engine was rated at 720 hp from Chevrolet Performance and runs on race fuel thanks to its 12:1 compression ratio that would turn its nose up at ordinary pump fuel. It's linked to a Richmond five-speed manual.
This car sold for $22,000 at a Barrett-Jackson sale earlier this spring but failed to sell at a Bring a Trailer auction that was bid to $22,500. That purchase was one heck of a deal, as the crate engine alone sells for nearly $20,000.We admit that the monster big block, better suited for drag racing, is a strange match for a shooting brake that seems like it's built for grand touring. The car would be a blast to take on a road trip, no doubt, although we'd flinch at the thought of feeding an engine that size over any significant distance.
We've seen plenty of modified C2s bringing big money at auction. Maybe C3 buyers are sticklers for being original, or perhaps this one just wasn't the right kind of modified. Either way, we'd expect it to sell for more than the price of its engine.