The 8 best bargain buys at auction in 2019
It's no secret that 2019 will go down as the year the collector car market changed dramatically. Weak sales over the course of the year, especially at Monterey, have been top of mind as the decade comes to a close. Prices at the top end of the market have been coming down, and there have certainly been deals to be had compared to previous years.
Those can be chalked up to a changing market, but regardless, we scoured sales from the past year and found some true gems that people scored. Here are eight great buys from 2019.
Sold for $415,000
Hagerty Price Guide: $875,000–$1,500,000
The idea of a bargain Shelby Cobra is foreign to most of us, but in 2019, a Cobra for $415,000 is a steal. Hear me out. These days, it is an accepted fact of life that a good 289 Cobra will set you back at least $1 million. This sort of dough is out of reach for the majority of collectors, and while $415,000 is also high, there are a lot more people who can afford that kind of purchase than compared to $1M.
This example, CSX2445, was in a major crash in 1969 that required straightening of the frame, extensive body work, and replacement of components. The paint was old and the car was well worn when it appeared at Mecum's Monterey sale, so needless to say, this car wasn't exactly in show condition. That said, if you want a real-deal Cobra to rip around the local back roads on a Saturday, this car is great. It's a perfect example of how a story can affect value, but for someone on the hunt for a car to enjoy as intended, you can't be beat this deal.
Sold for $99,000
Hagerty Price Guide: $84,300–$200,000
One of the more sought-after Chevrolets has to be the 1969 COPO Camaro. For the uninitiated, COPO stands for Central Office Production Order. This program was used to order special options that otherwise would have not been available. This was common practice for ordering special color combinations or equipment packages. Where the COPO program gained fame was where the program was used to circumvent GM's 400-cubic-inch engine limit on midsize and smaller cars, meaning that if you were savvy and knew the right people, you could get a '69 Camaro with a 425-hp 427-cu-in V-8.
These cars are legendary for their performance and are highly coveted amongst Chevy enthusiasts. Unfortunately, for most they are way out of reach. However, this example offered this summer at Mecum sold for a bargain $99,000. What makes this car a deal is the fact that it is an older concours restoration and comes from the well-known Otis Chandler collection. Think of it this way: The car was bought for likely what it cost to restore it. For someone in the market for a COPO Camaro, this is a screaming deal.
Sold for $42,350
Hagerty Price Guide: $35,500–$107,000
The Ram Air IV GTO is likely at the top of Pontiac fans' favorite cars list. Even with the inclusion of the 455 in the GTO platform in 1970, the Ram Air IV 400 was the engine to have. Pontiac was able to squeeze every last bit of power out of the 400 by using heads with massive ports and valves, a high-lift cam, and—for that extra margin of safety—a fully forged rotating assembly.
Due to their reputation of being fast cars, Ram Air IV GTOs have rightfully been expensive cars. To pick up a decent example, $60,000 is about the minimum someone would expect to pay. That is, unless we're talking about a documented car, with what is believed to be 7100 miles, that sells for $42,350.
The first question that comes to mind is, what is wrong with the car? There were none of the usual caveats in the description to lead a reasonable buyer to believe that the GTO isn't what it was advertised to be. Given the relatively good condition, the sale price is a steal, even if there were originality questions. Best to chalk this one up to a savvy buyer in the right place at the right time.
Sold for $67,100
Hagerty Price Guide: $43,000–$111,000
Dodge's entry to the Trans Am Series in 1970 was with the all-new Challenger; the T/A was introduced to the line as a way of homologating the platform for racing. Unlike Ford and Chevrolet, which offered detuned version of their 302-cu-in race engines, Dodge chose to drop in a Six Pack equipped 340 under the hood and offer it with an optional automatic transmission for drivability.
Aesthetically, these looked the most like the race cars, with the tall hood scoop and side exit exhaust. Like their Chevy and Ford counterparts, good examples run from $60,000–$100,000, which makes this $67,100 example quite a deal when you consider it had a body off restoration completed—from the looks of it, fairly recently. For a car that is documented and underwent a restoration that likely cost at least as much as the sale price, this is a good deal for a smart buyer.
Sold for $34,100
Hagerty Price Guide: $41,700–$88,100
Born out of the desire to race in the Trans Am Series, the Z/28 Camaro was built to homologate the Camaro for the series. The cars got a high-revving 302 V-8 to meet the 5.0-liter displacement requirements, as well as a heavy-duty suspension and close-ratio four-speed transmission. A few lucky individuals even managed to snag four-wheel disc brakes on their cars. Of the early Z/28s, the 1969 is not only considered to be the best looking but it is also the most numerous.
For quite some time, these cars have commanded prices in the neighborhood of $70,000–$100,000 for anything presentable. However, a collection of undriven cars in a wide variety of conditions came up for sale at Mecum's Chicago sale via the Petrozzini collection. In particular, a decent-looking Z/28 was offered with a cautionary note that it hadn't been run in at least six months. Despite the risk of having mechanical needs, this is a tempting deal. The car looks good and ran a few months ago. Even if additional work is required to make it roadworthy, the potential investment needed is bound to be far less than just buying a car that's good to go.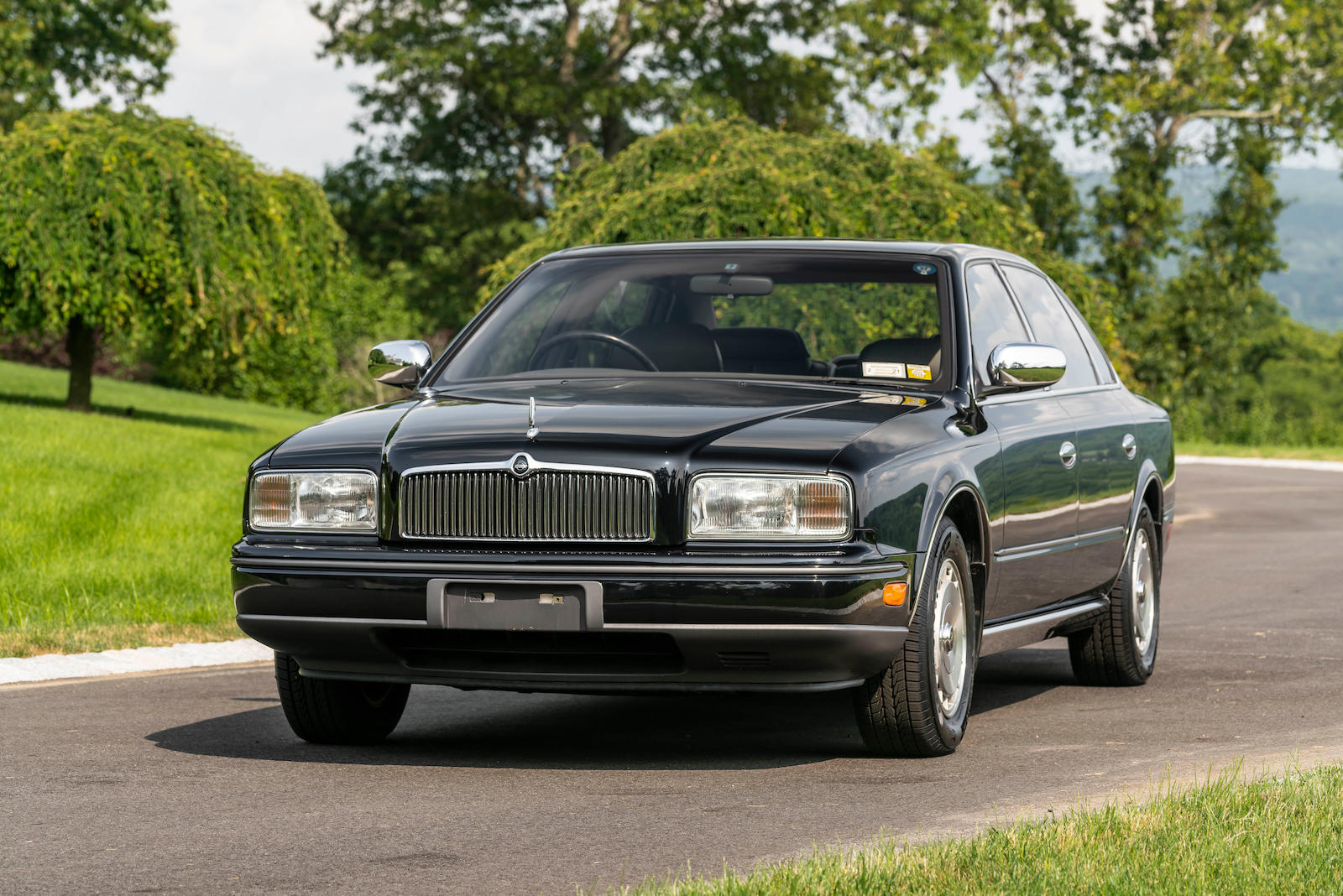 Sold for $5600
Hagerty Price Guide: N/A
In terms of luxury cars, the Nissan President is probably not a car that comes to mind. In fact, the Nissan brand is not one that conjures thoughts of exclusivity. In Japan, however, the Nissan President is indeed a car that exudes comfort and class.
Nissan offered high-end options on the President sedan, such as a hydraulic active suspension, Connolly leather seats, and power everything, which could be controlled from a hidden console in the rear armrest. Power was delivered from a VH45DE V-8 engine for smooth acceleration and overtaking. Until recently, the only cars that offered this level of comfort and exclusivity have been Rolls-Royce and Bentley.
While those cars are still considered the gold standard for luxury, the Japanese offerings coming into the country the past few years, such as the President and the Toyota Crown, have offered an attractive alternative. Presidents typically go for $10,000 or more in the U.S. market, so this car was a steal amongst Presidents and an even bigger deal when you consider its contemporaries.
Sold for $110,000
Hagerty Price Guide: $100,000–$165,000
Dodge took the horsepower wars up several notches when it launched the Demon for 2018. In one of the most highly anticipated car releases in quite some time, Dodge nuked the competition by announcing a car capable of 840 horsepower and advertised sub 3-second 0–60 times. With 3300 planned for production, these weren't exactly going to be rare cars, but with an MSRP of $85,000 and dealer markups highly discouraged by Dodge, they had an appeal and price point for the masses. Many people were quickly selling theirs for $100K or more to individuals who missed out on the dealer's allotment.
For some time now, examples with only test miles on the odometer have reliably been $140,000–$160,000 cars. That is, until this fall. At Barrett-Jackson's Las Vegas sale, someone managed to drive away in a 36-mile example for $110,000. That is still a small profit compared to MSRP, but nothing compared to where these cars were, which begs the question, has the market become too saturated with these or have buyers simply moved on? With the Kissimmee and Scottsdale auctions only weeks away, we should have our answer soon enough.
Sold for $78,400
Hagerty Price Guide: $37,800–$178,000
Jaguar E-Types are amazingly pretty cars and have been appreciating over the past few years. Even the Series III cars, which are considered to be "less pretty" than the earlier cars (with the big bumpers, open headlights, and big grille) are still among the most iconic of any British automobile. While earlier versions of the E-Type have experienced more volatile values, the Series III has been on a steady rise since 2014, with current values being the highest they've ever been.
It was surprising when a beautiful red-over-tan example crossed the block at Bonhams Quail Lodge sale in August and mustered only $78,400. Having been subject to a recent restoration, the Jag sold for well under what one would expect for a recently restored car. Whether it is just the weak overall Monterey sales or a sleepy crowd, someone managed to snag a great car under market, even if it isn't considered to be the E-Type variant you're supposed to want.