7 stone-cold bargains from Scottsdale 2018
A lot of amazing cars come to Scottsdale every year, and there are always plenty of enthusiastic buyers who make the trek to Arizona. Most cars bring market-appropriate results, and some bring bigger money than they probably deserve, but with more than 3000 vehicles crossing the block over a full week, a few inevitably slip through the cracks and go to a new home at a bargain price. The cars below aren't all necessarily affordable, but all were serious bargains relative to their condition.
Sold for $22,000 at Bonhams
Average condition #3 value: $65,900
Silver Cloud prices can vary wildly based on condition, given that it costs an absolute fortune to put a bad car right. At a hammer bid of 20 grand for the car at Bonhams, you would think the car bought would be a real dog, but that was not the case. Honestly advertised as being in driver-quality condition, it was far from a show car but still a tidy and well-maintained Cloud from a dry western climate. Even with the value knock for right-hand drive, this was a great deal and a cheap (for now) entry into Rolls-Royce ownership and endless Grey Poupon jokes.
Sold for $75,900 at Barrett-Jackson
Average condition #3 value: $93,600
The later Ionia-built Shelby Mustangs aren't as collectible as the early cars, sure, but a good '70 GT500 is still a six-figure car. Or at least it should be. This GT500 SportsRoof was a solid restored example in #2 condition, but it sold for project car money, even accounting for the C6 automatic transmission.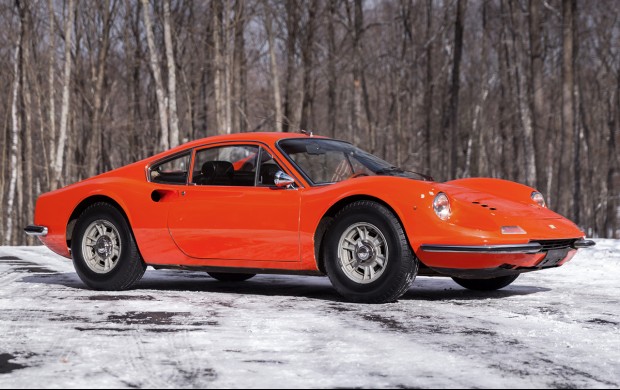 Sold for $368,500 at Gooding & Company
Average condition #3 value: $650,000
More than a third of a million dollars for a ratty old Dino sure doesn't sound like a bargain at first. Look closely, though, and you'll notice that this is an alloy-bodied 206 car, one of just 153 built. Almost totally original, it was in project-car condition and has lengthy, expensive restoration bills ahead of it. But since the "barn find premium" didn't apply here, at this price the new owner has several hundred grand to work with.
Sold for $27,500 at Barrett-Jackson
Average condition #3 value: $42,500
This first-year GTO was in #3 driver condition and its Tri-Power wasn't factory original, but it moved for basically project-car money needing nothing immediately.
Sold for $29,700 at Russo and Steele
Average condition #3 value: $36,400
With the GT package, Pony interior, Rally gauges, and air conditioning, this '66 convertible had a lot of appeal, especially in these colors. It was a driver in #3 condition and bought for #4 condition money. Even with the roughly 10-percent discount applied for the automatic transmission, it's a solid deal for a handsome, well-equipped weekend cruiser.
Sold for $24,200 at Barrett-Jackson
Average condition #3 value: $29,200
On Saturday, Barrett-Jackson sold a like-new 1996 Grand Sport Convertible for $62,700, which makes this coupe look like a near steal. It had almost 30,000 miles and an aftermarket exhaust, but it was very well kept otherwise. Surely a stock-condition #2 car with no issues. On Tuesday, day two of the auction, it managed to fly under the radar.
Sold at RM Sotheby's for $58,240
Average condition #3 value: $99,500
The Chrysler Town & Country got a redesign for 1949 that included more modern styling along with ash doors that no longer formed part of the frame. There was still plenty of wood to catch the eye, though, and the '49 cars aren't worth all that much less than the more attractive '47s and '48s. This example wasn't a show car, but why it commanded so little is something of a mystery.