Own the actual Ferrari F50 that was on your bedroom poster
If owning a famous, sought-after Ferrari F50 is on your list of New Year's resolutions, we've got good news: This fine example is headed to auction in Scottsdale in a few weeks, courtesy of Worldwide Auctioneers.
Between the screaming 60-valve, 4.7-liter V-12 engine, the stupid-light carbon-fiber chassis, and the trickle-down Formula 1 technology smattered throughout, it's not hard to see the appeal of the Ferrari F50. The F50 was the mid-'90s heir to the Ferrari throne, the successor to the vaunted F40, itself descended from the 288 GTO. These cars (and the Enzo and LaFerrari that followed them) represent the uppermost echelon of Ferrari's technical and performance offerings, and their pedigrees manifest the strongest ties to Ferrari's rich racing heritage.
This F50, chassis #99999, distinguishes itself from the 349 other road-going F50s in that it was a development prototype, media test car, and star of the promotional circuit. If you've drooled over any Ferrari promotional material or magazine article with an F50, there's a high likelihood that the F50 you admired was this exact car. According to the Worldwide listing, #99999's likeness was used not only for the stock press pictures in Ferrari sales literature, but also in dozens of books, nearly 100 magazines, and even postage stamps. Likewise, this F50 was also the basis for scale models from the world's best, like Tamiya, Burago, Revell, and others.
As a development prototype, this F50 was thrashed around Fiorano by Ferrari Formula 1 legends Niki Lauda and Gerhard Berger. When it wasn't on track, Ferrari dismantled and futzed with #99999 as various teams finalized the design and assembly features.
A note on that serial number: This F50 is the last of the five-digit Ferrari serial numbers. Being the first or the last of something can affect the value—think of how many "last-of" or "first-of" car models grab people's attention.
After a few hard years on the promotional circuit, including both the Geneva and Tokyo shows, #99999 was rebuilt by techs at the Maranello factory prior to its presentation to its first registered owner. In the spring of 2007 it was imported to the United States, where it has since made its home with four different owners. The sale includes the certificate of authenticity from Ferrari Classiche, as well as a completely documented provenance by marque expert Marcel Massini.
So what will it go for when the hammer drops?
That depends on who you ask. In 2016, this very car sold at Gooding & Co.'s Scottsdale sale for $2.4 million. At the time, that result was roughly 28 percent over our #1, Concours-condition value for a Ferrari F50. (Currently, our #1 value for an F50 hovers around an even $2.5M.)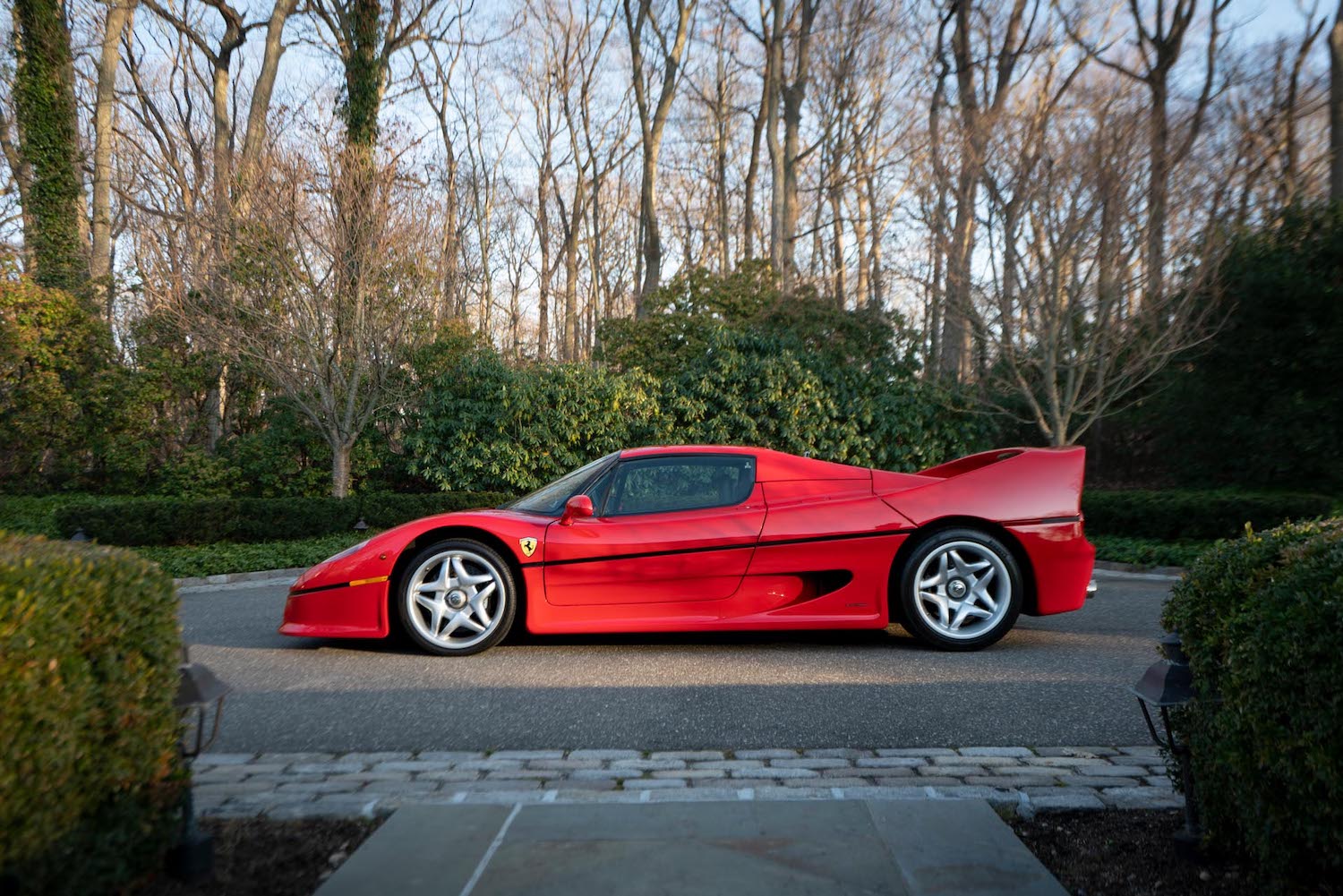 Despite this car's prestigious history and provenance, #99999 isn't immune to the changes of the larger Ferrari market. "The Ferrari market has been shaky since early last year," says Hagerty valuation expert Greg Ingold. "Over the past eight months, most Ferrari models in that price range that we track have lost value."
It's not all doom and gloom, though, Ingold concedes. "The F50 has fared much better than the earlier cars, such as the 250 Tour de France or the Daytona. F50s are very special and exclusive, which helps maintain their values. An F50 is pretty much the car to have if you're going to have a supercar collection. Demand is still up there."
Rod Egan, Worldwide's chief auctioneer, emphasizes the pedigree of this particular F50—"Other than an F50 LM, as far as street cars go, this is by far the most significant road-going F50"—but also marks its appeal to those outside of Ferrari cognoscenti. Egan thinks #99999 may also attract folks with prototype collections who may find this car particularly alluring. Crossover between buyer groups means more interest—and hopefully a higher final sale price.
The car's development prototype status does add a premium—but the exact numbers are up for grabs. Egan suspects that because this is a prototype, it will bring 30–50-percent more than its rough $2.5–$3M estimate; his estimate puts the final price well north of $3M.
Our valuation team offers an alternative perspective. Here's Ingold again: "When it last sold, this particular car sold for about 28 percent above its #1 value at the time. That's where, I think, [Worldwide] is getting its estimate. A 50-percent premium in this market feels optimistic; it'll likely bring a premium over a standard F50, but a 30-percent premium is more likely."
We won't have to wait long to see the final gavel blow—the car will cross the block next Wednesday at the Scottsdale 2020 auction. We're looking forward to following along. To find more Scottsdale-related coverage, click here.
Like this article? Check out Hagerty Insider, our e-magazine devoted to tracking trends in the collector car market.