Keep your garage weird with these 8 oddball cars
If you consider yourself a little eccentric, or people call you odd, you've probably got a thing for unconventional cars. Well you're in luck, because this weekend's RM Fort Lauderdale sale features more than enough oddballs to make anyone smile. Nash Rambler station wagon, anyone? How about a 1987 Nissan President Sovereign?
Not weird enough for you? Here are eight even more off-the-wall offerings.
Lot 3005
Pre-sale estimate: $35,000 – $45,000
If you consider the MG Midget small, behold the Rolux Baby. The name may bring to mind a knock-off luxury watch, but Rolux was a short-lived French auto and motorcycle manufacturer that opened in 1938 and closed just 14 years later. The Baby is truly Lilliputian, a wee car with a wee engine of just 125 or 175 cc. The company built about 400 of these cars, which look a lot like luxury convertibles that went through the dryer. That said, the Rolux Baby is a charming little thing—and popular with microcar collectors. The Bruce Weiner Microcar Museum sold this car for $48,875 in 2013.
Lot 1022
Pre-sale estimate: $30,000 – $35,000
With a name like Clenet and styling from the 1930s, you'd be forgiven for mistaking this for a pre-war car from France. But it was made in California in 1980, back when odd and ostentatious "neoclassics" were a thing. The Clenet is among the better-known of these oddballs, which tried to combine modern reliability and amenities with 1930s styling. Most Clenets used Ford/Mercury platforms and drivetrains, and Wayne Newton was among the celebrities who drove one (enough said). The cars went for $70,000 or more back in the day; this one is expected to fetch about half that.
Lot 3003
Pre-sale estimate: $15,000 – $25,000
If politics makes strange bedfellows, so too does the auto biz. Take, for example, Berkeley, an automaker born of a partnership between a designer and a caravan—that's British for camper—company. This unusual collaboration aside, Berkeley built fairly advanced machines for its day, with a transversely mounted engine, front-wheel drive, fiberglass bodywork and monocoque construction. Various motorcycle engines made them competitive in small-displacement racing classes, and the cars provided cheap, cheerful open-air motoring to customers on both sides of the Atlantic.
The SE328 was the company's second car. It used an 18-horsepower, 328-cc Excelsior twin engine, but we'd seriously consider swapping it for say, the 1300-cc four in a Suzuki Hayabusa. The company built less than 1300 of them, and this one sports an eye-popping vinyl wrap straight out of the Summer of Love.
Lot 1088
Pre-sale estimate: $20,000 – $30,000
Packard was living on borrowed time by 1957 and the Clipper was little more than a rebadged and retrimmed Studebaker President. Packard sold just 5000 Clippers in 1957, and the last Packard rolled off the line in 1958—a sad end to a great marque. Packard snobs might turn up their noses at the mere mention of this "Packardbaker" '57 Country Sedan, but it's a neat old wagon and that two-tone lilac and white paint is fantastically '50s. This one's been restored, with all those hard-to-find trim pieces buffed clean and shining.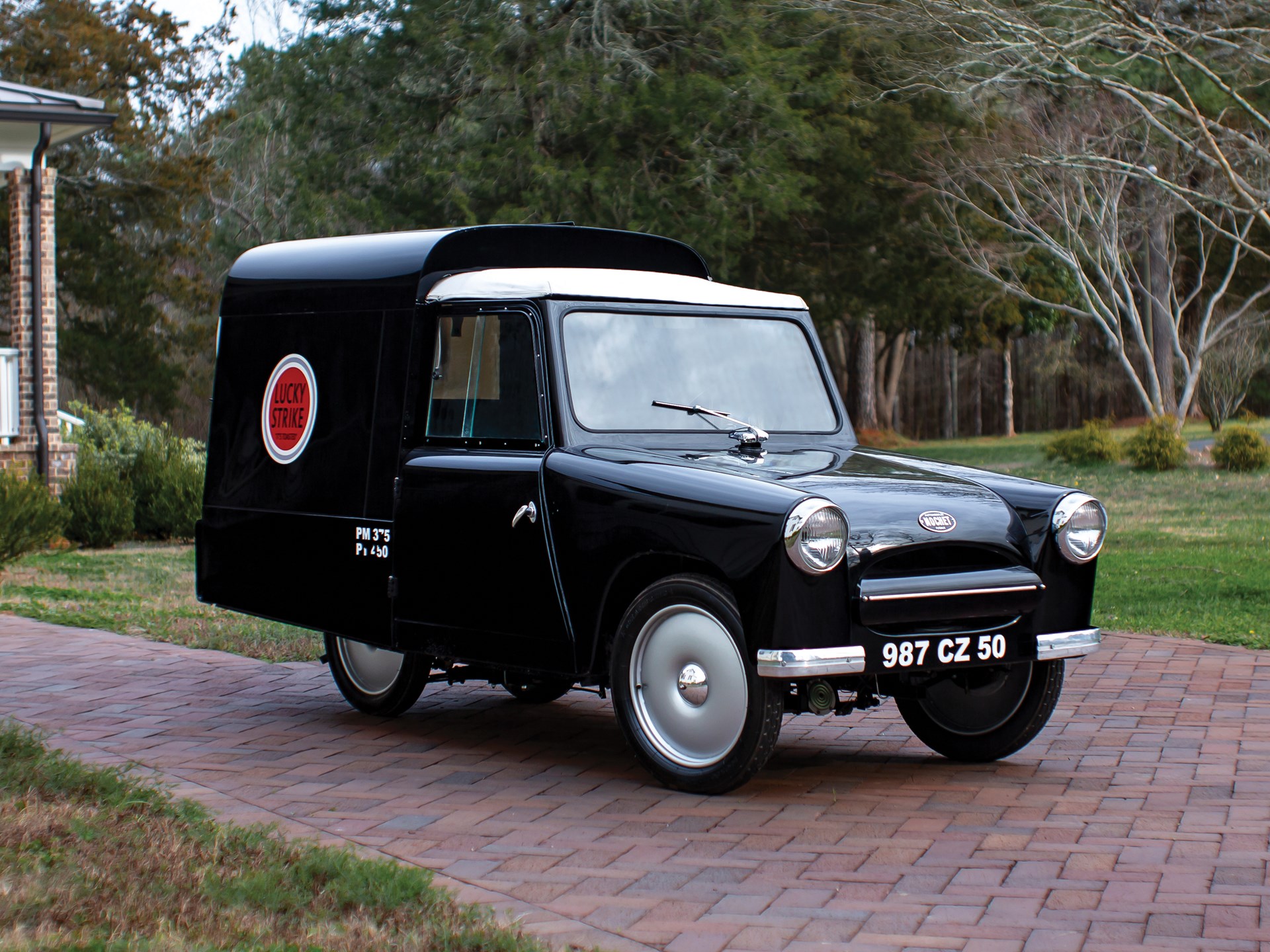 Lot 3002
Pre-sale estimate: $10,000 – $15,000
The small, simple, rugged Citroen 2CV is famous for conquering the rural parts of France without so much as breaking an egg, but the even smaller and simpler 125-cc Mochet was equally popular during the postwar years, when anything displacing 125 cc or less didn't require a driver's license. That rule changed to 50 cc in the 1950s, and Mochet quit building cars. This restored Camionette delivery version wears Lucky Strike livery, which seems appropriate given these things are just big enough to haul a few cartons of cigarettes along with some wine and cheese. It's expected to bring $10,000 to $15,000, which is a lot of charm per dollar. It also seems like a bargain, given this same car sold for $35,650 in 2013.
Lot 1123
Pre-sale estimate: $140,000 – $180,000
The Swallow Doretti looks and sounds at least part Italian, but it's about as Italian as an Olive Garden. The Doretti is mostly Triumph TR2, and the designer's real name was Frank Rainbow. (Yes, really.) Swallow Coachbuilding Company, an offshoot of the company started by Jaguar founder William Lyons, chose the name "Doretti" for marketing reasons. The car was aimed at affluent postwar sports car aficionados, but it didn't catch on: Swallow built just 276 of them. This one received a concours restoration, which explains the $140,000–$180,000 estimate.
Lot 3021
Pre-sale estimate: $45,000 – $65,000
A Studebaker Avanti is delightfully weird on its own, but this one turns the goofiness to 11 with an expertly executed targa conversion. Although you might consider it the result of a fever dream or hard drinking along with some cutting tools, there's some basis for this. Early sketches of the Avanti show the car with a removable roof panel (Porsche wouldn't coin the term "Targa" for another few years), and Studebaker boss Sherwood Egbert loved the idea. Alas, it wasn't to be, but this conversion hews closely to the original idea and is sure to be a conversation starter. The only thing that worries us is the Avanti's habit of losing its rear window at speed. We shudder to imagine what might happen with even more air battering the glass.
Lot 3126
Pre-sale estimate: $225,000 – $325,000
OK, so this is really all about the canary yellow color. Otherwise, it's a perfectly normal (which is to say, utterly extravagant) Phantom Drophead Coupe. Ordered new to personalized specs by famous designer Bijan Pakzad and often parked in front of his Rodeo Drive boutique (usually near his yellow Bugatti Veyron), this Phantom Drophead is "one of the most photographed cars in the world," at least according to RM. Rolls-Royce even put a separate "Bijan Edition" Phantom into production, with 25 sold starting at $1M—but this is the original. And for just the price of a decent house, it could be yours.