7 cars to watch at Hershey this week, from V-16s to minicars
RM Sotheby's Hershey auction is packed with great American iron and classic European sheetmetal from the brass era to today, and it's often hard to pick favorites. Because it's the next big auction after Pebble Beach, we're shifting our attention away from the pre-war European town cars and roadsters, casting a wide net that includes a sampling from the automotive spectrum. These cars caught our eye because of their rarity, style, or in one case, their name.
Estimate: $125,000–$150,000
With only 337 convertibles built, this is a rare piece, and a muscular one at that. While 1961 marked the final year for big fins on the Chrysler 300 letter cars, it was still early in era of Chrysler big-block muscle, and this drop-top is sporting one of the most visually appealing engines that team Mopar ever built.
The dual four-barrels on the 413-cubic-inch V-8 are practically in different area codes, as long runners from the cross-ram intake put them outboard of the valve covers. The unique engine design, no doubt inspired by the long runners on the High and Mighty drag racer built by the Ramchargers, lead to tremendous low-end torque. As if that were ever a problem with big-block displacement on tap. This example also includes rare factory air conditioning and looks ready to drive with its pivoting front buckets and one of the most interesting gauge clusters ever built.
1951 Monarch convertible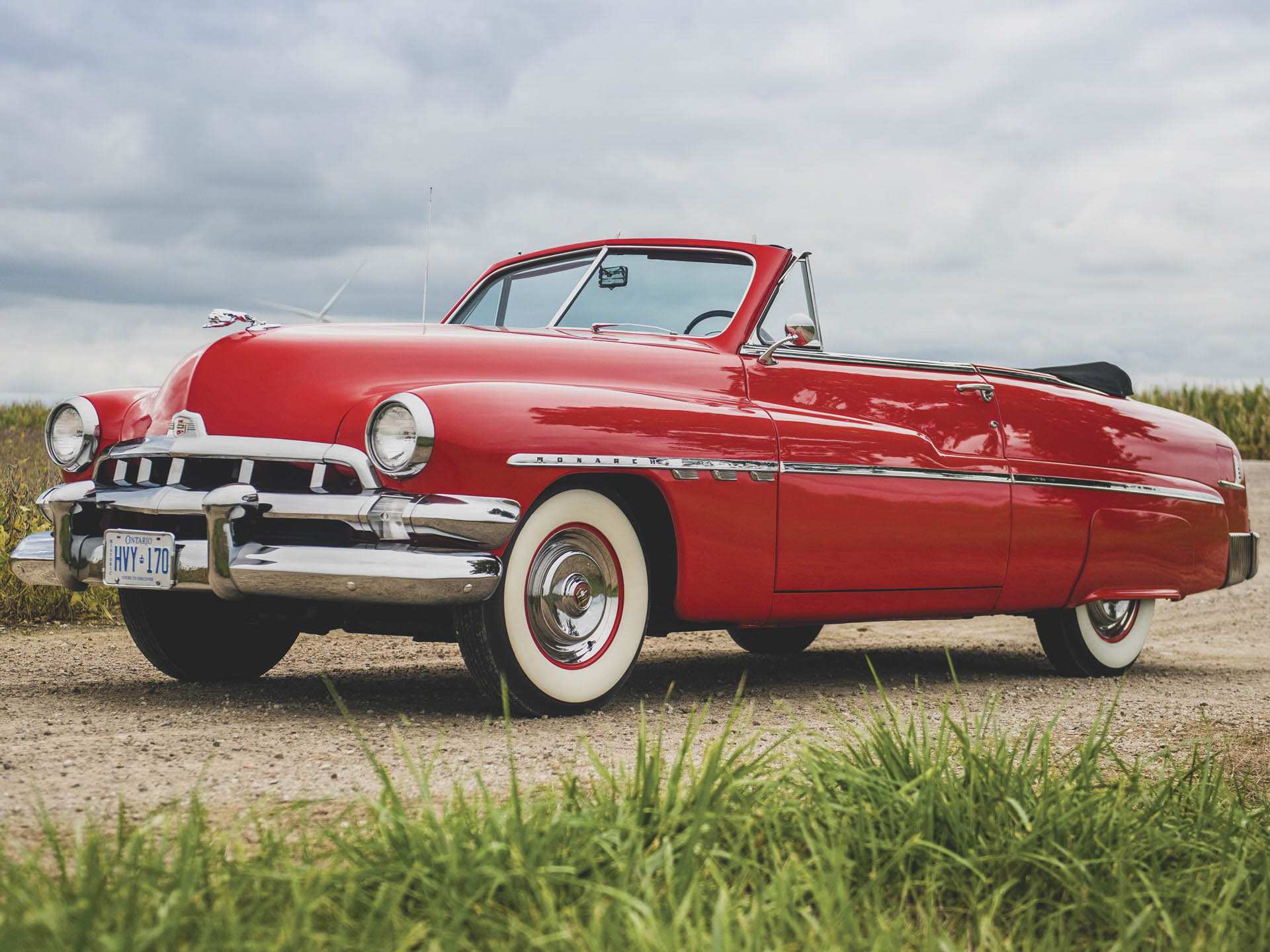 Estimate: $65,000–$75,000
Ford sold the Monarch in Canada only, and it's not much different from the Mercury sold south of the border, powered by the same Flathead V-8. It does have some unique trim, though. The leaping lion hood ornament is fantastic and the larger chrome grille is arguable more cohesive and more handsome than the Mercury sold in the States. This example has been restored and still looks quite fresh. As it's only one of four Monarch convertibles known to survive, it could be the best example of its kind at only 10,770 miles and a relatively low price for such exclusivity.
1909 Stanley Model Z Mountain Wagon
Estimate: $175,000–$225,000
This steam-powered beauty has two Great American Races under its belt, likely the only steam car to be able to make that claim. It comes complete with all the necessary hardware to convert it into a pickup truck and was fitted with a new boiler in 2009. It's a fine machine to behold, but with a name like "Mountain Wagon" it would have made the list even if it looked like a Dumpster. Just imagine heading out your front door and pausing, standing tall, arms akimbo, proclaiming, "I shall take the Mountain Wagon." Try it, you'll like it.
Estimate: $100,000–$125,000
The 1957 Chevrolet Bel Air is the quintessential American car, and the convertible even more so. Add to that the most desirable of 1957 Chevy small-blocks, the 283-horsepower, mechanically-fuel-injected 283-cu-in V-8, and you've got the kind of car that they write songs about. This beautiful Matador Red drop top has been recently restored and is ready to cruise, although you may be tempted to pop the hood at every opportunity to show off that unmistakable Rochester fuel injection.
Estimate: $55,000–$75,000
Looking like the early machinations of the Nash Metropolitan, the Playboy is a great example of the post-war boom in independent automakers. Unfortunately for Playboy, the hardtop-convertible city car never really got off the ground. With fewer than 100 models in existence, it's a rare beast and currently the only Playboy that's known to be for sale, and as far as we know, the first one to ever go to auction.
1972 Citroën SM Coupe
Estimate: $60,000–$70,000
Citroën combined unique styling and supple suspension with Maserati's lively V-6 to create a grand tourer like only a weird French automaker could. It's like a baguette-eating Espada except with half the engine and front-wheel drive. OK, so it's not like an Espada at all. But it's hard to resist the smooth, luxurious ride of Citroën's hydro-pneumatic suspension coupled with the growl of an Italian V-6.
1932 Marmon Sixteen Close-Coupled Sedan by LeBaron
Estimate: $250,000–$300,000
Cadillac V-16s have more notoriety, but the Marmon V-16 is rarer, and reportedly is the speedier of the two big American luxury bruisers, even out-muscling a contemporary Duesenberg Model J. Meticulously restored in 1982, the car still looks to be in fantastic shape, sporting its original body, chassis, and engine. Prices vary widely based on body style, but the last Marmon V-16 that sold went for more than $1 million at Amelia Island in 2018.