You know you need this barn-find Dodge Charger, or any of these other 426 Hemis
The 426 Hemi is at the top of Mopar's pantheon of muscle car engines. Its mystique was founded on its initial ban from NASCAR competition and perpetuated by its low production run, making a street Hemi a relatively rare sight. It also doesn't hurt the cool factor that its monstrous cylinder heads can't hide in any engine bay. You don't have to peek around for a relocated exhaust port casting number to know this is a special engine.
If you have a Hemi-sized vacancy in your garage and want gearheads to flock every time you pop your hood, one of these 15 Dodge and Plymouth muscle cars being offered at Mecum's Indianapolis auction on May 15–20 could be the right fit. Follow along with the auction action on your Apple device by using the Hagerty Insider app.
Hagerty Price Guide: $82,300–$126,000
Mecum estimate: $70,000–$90,000
The first year of Plymouth's upscale muscle car was available with either a 440-cubic-inch V-8 with 375 horsepower or the dual-quad, 425-hp Hemi.
Hagerty Price Guide: $203,000–$307,000
Mecum estimate: $300,000–$350,000
One of only 284 Hemi Cudas equipped with the four-speed in 1970, this car's B5 blue-on-white color scheme is perfect. Expect its four-speed transmission to add about 10 percent to its price compared to an automatic.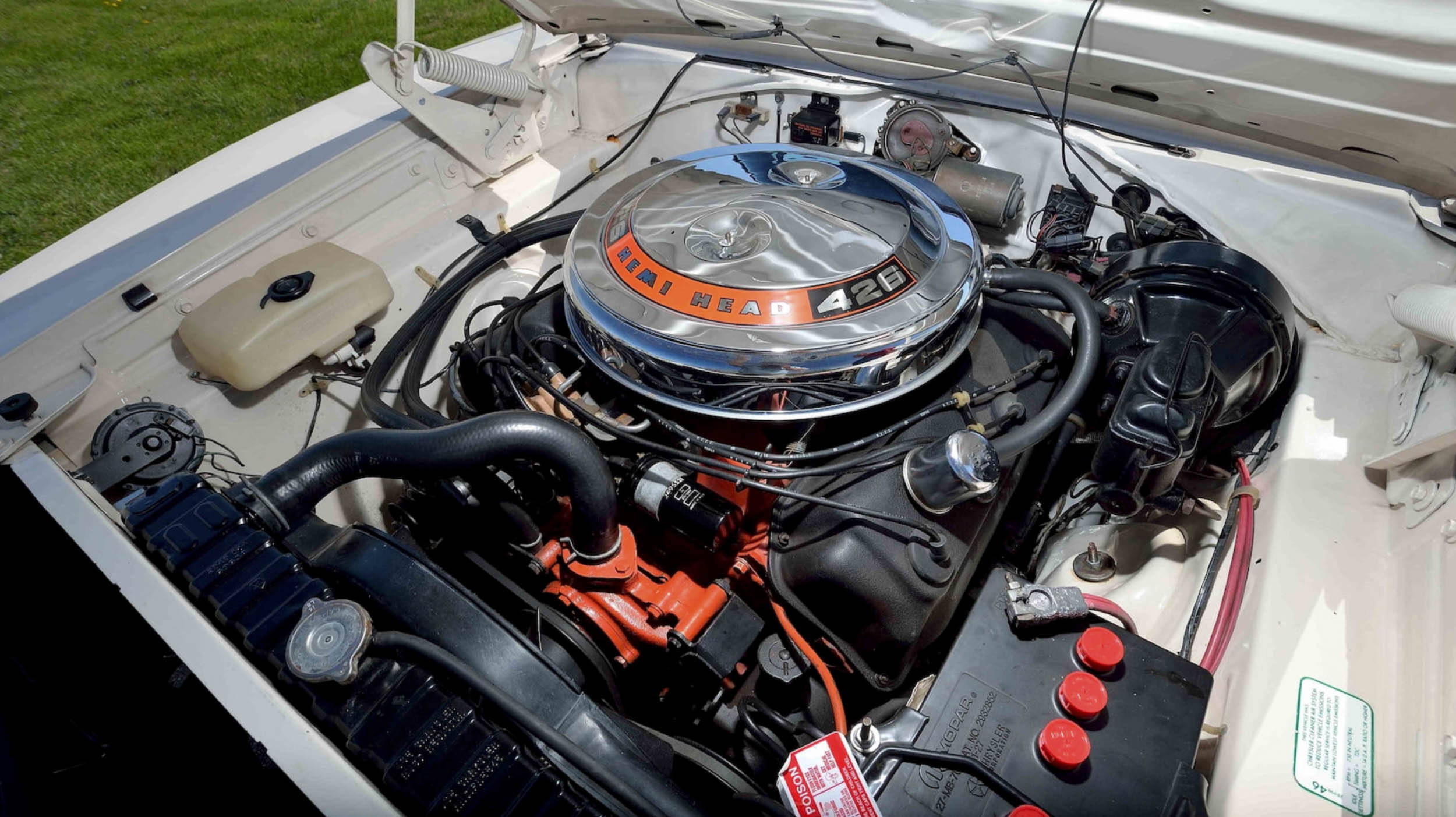 Hagerty Price Guide: $142,000–$263,000
Mecum estimate: $150,000–$200,000
Before the Charger Daytona, Dodge's effort to take on NASCAR's superspeedways was the aerodynamically improved Charger 500. With a flush grille and a reworked rear window, it's more handsome than its flamboyantly winged successor, although not as coveted. This one is equipped with a four-speed, which can add up to 20 percent to its value.
Hagerty Price Guide: $203,000–$307,000
Mecum estimate: $300,000–$325,000
This Hemi 'Cuda is fresh from a restoration and recently won Best in Class at the Portland Roadster show. All of its exterior, from its elastomeric bumpers to its shaker hood, is covered in dazzling red paint. With those lightweight bumpers and a Slap-Stik-shifted three-speed automatic, it's ready to prowl the dragstrip
Hagerty Price Guide: $203,000–$307,000
Mecum estimate: $175,000–$205,000
Sporting a sinister black-on-black color combo, this rare 'Cuda has loads of desirable options, including four-speed with pistol grip shifter and twin racing mirrors with driver remote.
Hagerty Price Guide: $143,000–$265,000
Mecum estimate: $300,000–$330,000
If you're wondering why our numbers and Mecum's estimates are so far apart, it's because this Challenger has both a four-speed transmission (+15%) and a Shaker hood (+20%), in addition to its Plum Crazy paint. Especially with Mopars, a desirable paint color can make a world of difference.
Hagerty Price Guide: $80,600–$123,000
Mecum estimate: $100,000–$125,000
Another nicely optioned example, this four-speed GTX also features outlandish Limelight Green paint that's actually a 1970 color. It's the one thing about this car that isn't factory correct, but it's so striking we can't blame anyone for picking a High Impact color.
Hagerty Price Guide: $107,000–$201,000
Mecum estimate: $125,000–$140,000
There's no vinyl top to get in the way of the amazing Coke-bottle lines that made the 1968–70 Charger famous. This black-on-black example was stripped to bare metal for a complete restoration.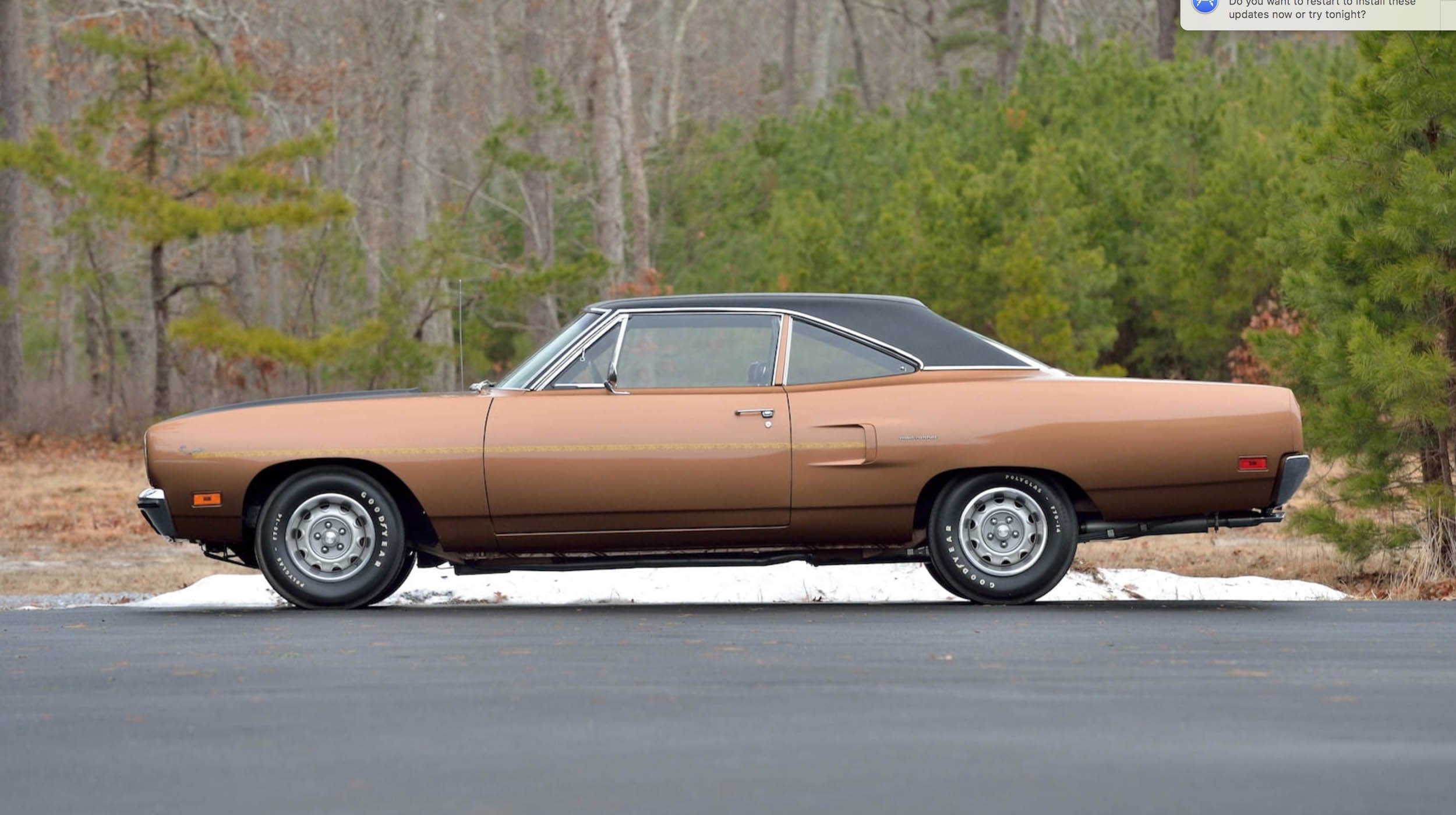 Hagerty Price Guide: $90,900–$149,000
Mecum estimate: $125,000–$140,000
We love the dichotomy of a brown car with a black vinyl top that also is adorned with a cartoon bird for a mascot and a toothy Air Grabber hood. What's not to adore about this numbers-matching Road Runner?
Hagerty Price Guide: $90,900–$149,000
Mecum estimate: $75,000–$90,000
The Plymouth Belvedere might not be the first muscle car that comes to mind, but it was available with the same dual-quad, forged-crank, 10.25:1 compression Hemi when the A102 engine option was selected, and it had the very same B-body chassis as the GTX, Road Runner, Coronet, and Charger. This one, with its column shifter and bench seat, would have been quite a sleeper if you missed the Hemi badges on the fender.
Hagerty Price Guide: $143,000–$265,000
Mecum estimate: $200,000–$250,000
This black-on-yellow Challenger has beautiful black graphics, a pistol-grip shifter, and the limited-production Shaker hood, giving it all the right options needed to make a big splash on the auction stage.
Hagerty Price Guide: $104,000–$197,000
Mecum estimate: $95,000–$115,000
This barn-find Hemi Charger is a one-owner car that was exported to Venezuela. That explains its 240-kilometer-per-hour speedometer. It could use a complete restoration, or at least a bit of a refresh, before it's enjoyed with its patina intact.
Hagerty Price Guide: $90,900–$149,000
Mecum estimate: $75,000–$100,000
The Plymouth Belvedere mentioned above is a Belvedere II, while this Belvedere I is a pillared two-door, yet it's still equipped with the 425-hp A102 engine option. This one also has a bench seat, as well as a floor-shifted four-speed manual.
Hagerty Price Guide: $47,600–$97,300
Mecum estimate: $400,000–$500,000
Street Hemi cars are rare, but there were only six factory altered-wheelbase Belvederes built in 1965 that feature acid-dipped body panels. This A/FX "Haulin Hemi II" drag racer was campaigned by Lee Smith and features his autograph on the dashboard. Far from streetable, this 426 Hemi uses mechanical fuel injection, aluminum heads, and a magnesium intake. That explains the huge discrepancy between the HPG value and Mecum's estimate.
Hagerty Price Guide: $87,000–$169,000
Mecum estimate: $160,000–$200,000
Professionally stripped and restored in F8 Ivy Green Metallic, this well-documented Road Runner has its numbers-matching Hemi and A833 four-speed transmission. It has its original broadcast sheet, window sticker, order sheet, owner's manual, and other documents.