28 cars to watch in Monterey, and why they matter
We asked automotive author and collector Colin Comer to help us wade through a library shelf full of auction catalogs for this week's collector car auctions in Monterey, California. Here are some of the cars he told us to keep an eye on, and why.
RM Sotheby's
Just 83 of these hairy-chested Anglo American beasts were ever made, and they rarely get proper credit for creating a genre. After all, if Carroll Shelby had never raced a J2X, would he have ever dreamt of building a British sports car with a big American V-8? This particular J2X has been significantly modified from stock, as many have, so while it may not be correct in many areas it certainly will offer all of the same scares as a concours correct one—and at a substantial discount, too.
OK, yes, I know it is estimated to sell at between $9 million and $12 million dollars. But the fact that it was third overall at LeMans at the hands of Ronnie Bucknum and Dick Hutcherson, and was also driven by, oh, A.J. Foyt, Mark Donohue, and Ken Miles, if a case can be made for any car being worth than many beans, this one certainly has it.
This highly anticipated GTO sale will shatter auction records if it sells within its $45M-$60M hammer price estimate. And, besides owning one of just 36 machines and one of four that was upgraded to GTO/64 bodywork by Ferrari in period, the new owner will also be a member of the one of the most exclusive car clubs in the world—that of a 250 GTO owner. But that isn't what does it for me. What I appreciate is the race history and how this incredibly iconic, legendary machine represents the ultimate incarnation of a true dual-purpose car, the likes of which we'll likely never see again.
If you don't feel like spending around $60M for an old race car, a far more affordable entry into the "1 of 36 produced factory competition car club" is this real-deal Shelby R Model. I've owned and raced a few of these myself and they are one of the few cars that actually live up to the hype. Stunningly magical machines, especially considering their pedestrian roots. Probably the ultimate vintage B/Production race and vintage road rally car, especially if you're deaf. Because if you aren't now, you will be.
1957 Alfa Romeo Giulietta SV Alleggerita
This lightweight Bertone-bodied Giulietta masterpiece is one of fewer than 200 ever produced. But better still is the fact that this potent little giant killer is a 1957, so it is eligible for events all over the planet, including the Mille Miglia Storica. Experience has taught me the best way to do the Mille Miglia is in an Italian car, and preferably with a roof. Besides me being an Alfa guy, it is the thought of piloting this for 1000 miles through Italy at high speeds that just pegs the "want" meter with this one.
Bonhams
1985 Lancia Delta S4 Stradale
"Twin-charged" with both a turbo and a supercharger making around 300 horsepower going to all four wheels. It's nutty. It is what 1980s Group B Rally Car dreams are made of.
The sole survivor of just three built, this stunning machine has an incredible competition history, including a third overall and first in class finish in the 1949 Mille Miglia. That history combined with it's looks make it hard to top.
A true 100-point, Ferrari Club of America Platinum winning SWB. I'd love the opportunity to be the guy who converts it into a high-80 point car after a few years of road rallies and early morning coffee shop runs!

This early 3.0L Turbo has a lot of things going against it, if we apply the standard rules of Porsche collecting. It has "high miles" at almost 90,000. It is finished in the "interesting" color combination of Desert Beige over a brown interior. But I have to say I love it for these reasons… It is a glimpse into the late-'70s supercar world. It isn't red and wasn't put on a shelf for safekeeping. It has also had just one owner for 40 years, proving that I'm not the only one who appreciates it. Cars with stories like this are worth their weight in gold. Or, in this case, beige and brown.
1958 Alfa Romeo Giulietta Veloce Spider
These short-wheel-base 750 series "F" (Veloce) spec Alfa Spiders are one of the most endearing, enjoyable, and undervalued post-war sports cars of all time. They punch so far above their weight it isn't funny— the reason most who have experienced a good one compare them to far more exotic cars. They are just that good. This one appears to have great history, as well as the right names involved with the restoration, and the color combo is fantastic. I've owned one of these for more than 25 years and it would be one of the last cars I'd ever sell.
Mecum
2017 Ford GT
We've seen this one before at Mecum Indy, where it caused quite a stir being the only new Ford GT in the world that has shown up at public auction. Why is that? Well, the purchase agreement included a clause barring the purchaser from selling the car for 24 months. Ford isn't too happy about all of this, and I get it. Mecum reports the buyer from their Indy sale is the consignor in Monterey. My bet is they are banking on a better audience outside of Indianapolis. We'll see if they are right.
This was the last year of the true woody wagon, and this one is equipped with the Marmon Harrington 4WD setup, adding all kinds of street cred. It has also been restored to an impressive level. Seems like just the thing to use for the trip to the Cut Your Own Christmas Tree Farm come December, doesn't it?
An unrestored, 10k-mile example of one of the finest road-going Ferraris of all time. I've owned and restored my fair share of 275 GTBs, but in my opinion this is the kind you want. A good, honest car that tells a story through every finish, and yes, even every flaw. It's a 7700 rpm, six-carb, four-cam version of your favorite baseball glove. Doesn't hurt that it isn't red, either.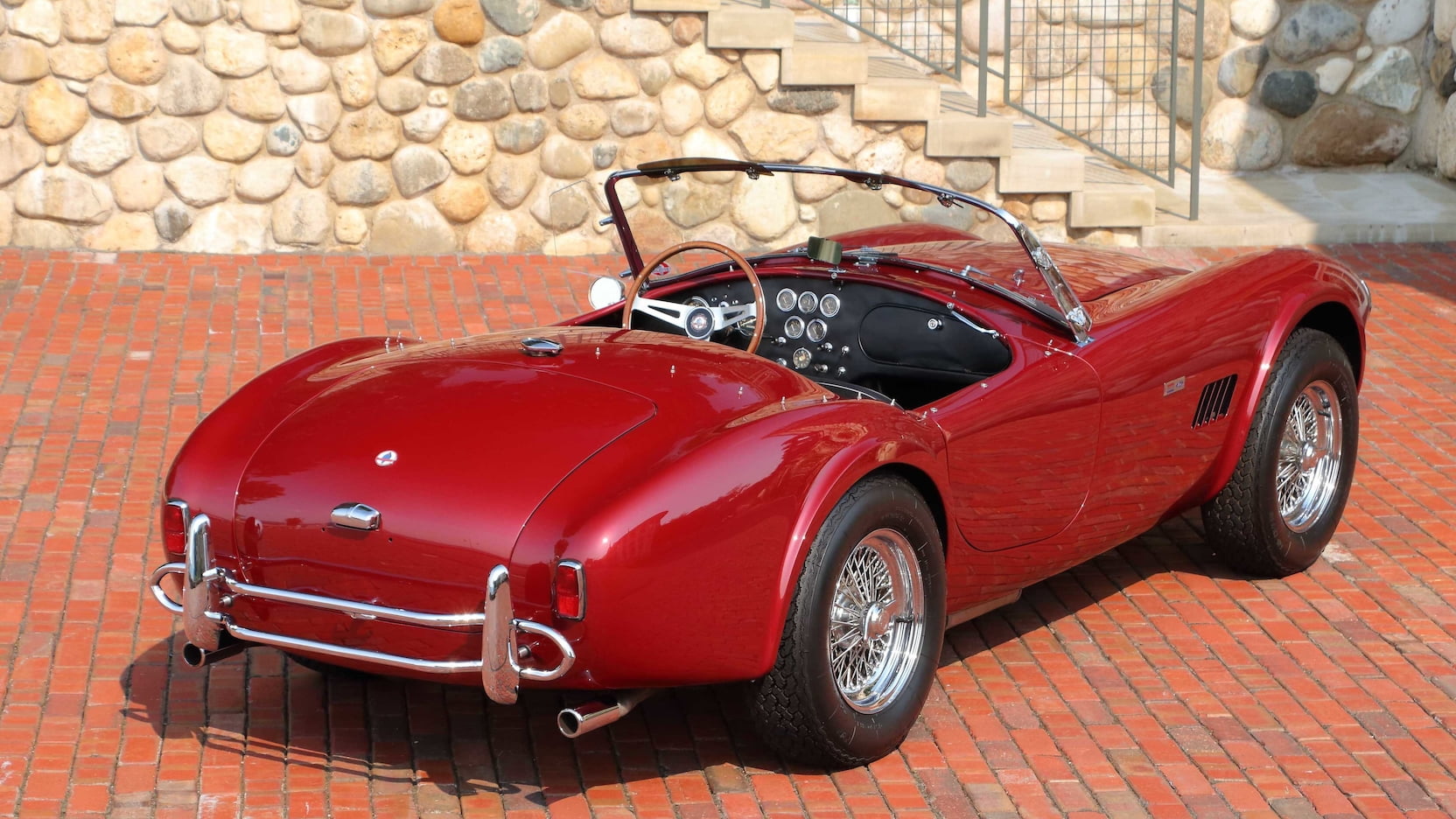 The last 289 Cobra ever sold to the public. As a former owner of this particular car, I know it well. Besides its significance as the last one sold (there was one built after it, CSX2589, that Carroll Shelby's trust still owns and will likely never sell), it is also just a great old Cobra. And that's a heck of a combo. Here's hoping it finds a good home in Monterey, and that its next caretaker will use and enjoy it at events such as the Copperstate 1000 and even the top secret annual Cobra Tour…
What's the next best thing to a good 289 Cobra? Many would argue a good Sunbeam Tiger, especially seeing as though they share some DNA. Full disclosure: This Tiger is my car, and I'm selling it here. But if I weren't I'd probably buy it all over again. Why? Because it is one of the best unrestored cars I've ever seen, right down to the paint, and if you've noticed a theme, I'm a big fan of that. But even better are the reams of paperwork that document the love story between this Tiger and its original owner Charlie Parsons, who choreographed it being delivered new to him in Europe, used it for a three-week vacation, then shipped it home to Oklahoma and kept it as his prized possession for the rest of his life—nearly 50 years. So yes, I'm having some early onset seller's remorse here.
Worldwide
1948 "Bob Estes Special" Indy Car
I like this old Indy car for a lot of reasons that have nothing to do with it winning the Indy 500. Because it didn't. In fact, this Estes Special tried to qualify for the Big Show three times in 1948, 1950, and 1951, but never made it. But that's just fine because the pluck demonstrated by Estes in the process means a lot more and speaks to the era when a small privateer, with a car he built, actually had a shot against the big name drivers and the dominant Offy power of the time. Same as he did when he ran this car at Pikes Peak in 1950 and '51. Or made it the first car to run a four-cam Ford engine at Indy (1951.) I also love the fact that the Estes family still owns the car and is selling it here. It's agreat story that gets geeks like me right in the feels.
Speaking of which, here is another heartwarming tale—the one of this XK120 that was owned by its original owner from 1952–2018. And by all appearances it is every bit the good, honest old car you'd expect, also making it the exceptional in the world of XK Jags, most of which didn't survive half as well. Oh yeah, let's not forget that few cars are better looking than the XK120 Roadster.
Long the red-headed step children of the Ferrari world, the "not a Ferrari" Dinos are now recognized as one of the best driving, and looking, Ferraris of all time. Which is good, because they are. I like this one for its great "Medium Green" over tan color combo, which really suits the lines of the car.
1931 Duesenberg Model J SWB Sport Convertible Sedan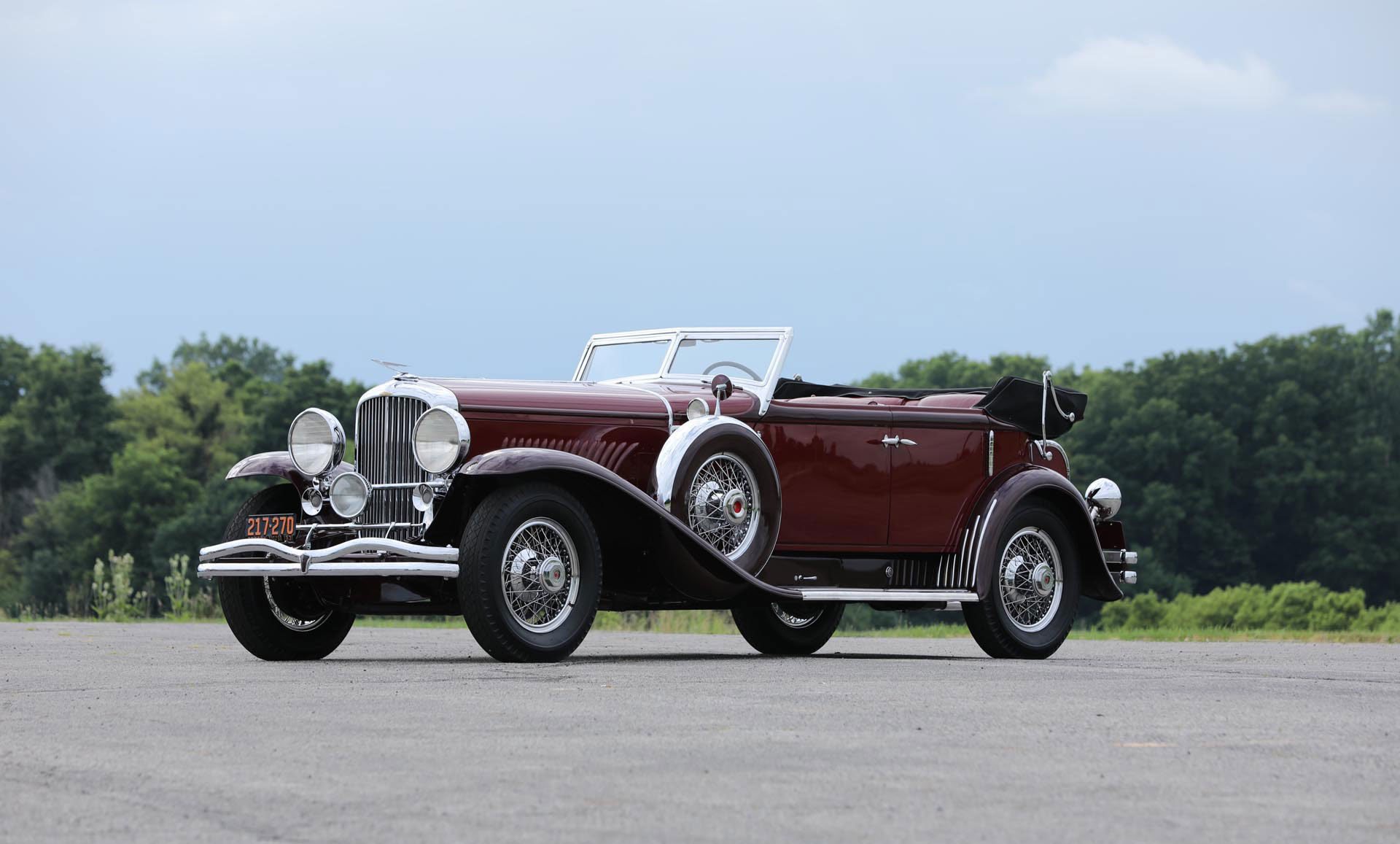 Say that three times fast. Anyway, I don't think I need to explain why a Duesy is important. But I will mention that I saw this and thought, "Man, what a great car to take for ice cream with the family." And then I read that it was sold new in Racine, Wisconsin, about 20 miles from where I live, to the Horlick family. That might not ring a bell, but the family invented… wait for it… Malted Milk. So I guess this Model J, and its 420-cubic-inch DOHC, 32-valve, straight-eight motivation would be equally suited to taking us all out for a round of malts.
Russo and Steele
2017 Ferrari F12 TDF
Modern cars are not typically my thing, but I drove one of these when they were launched and I have to admit I could deal with living with one of these front-engine V-12 bad boys.
1984 Lamborghini Countach 5000S
Maybe I watched Cannonball Run too many times, or maybe studied too many car magazines in the 1980s, but for those of us of a certain age—even those well aware of the danger that lurks within any Lamborghini—have a desire to walk out to the garage and find one of these sitting there, keys in the ignition, ready to go. And perhaps a chiropractor for afterwards, but let's not talk about that.
1974 Camaro IROC Race Car
This is a Penske-built Camaro driven in the IROC series by A.J. Foyt, Johnny Rutherford, James Hunt, Brian Redman, and other notables. One of 15 built, beautifully restored and prepared, this Camaro is eligible for some great vintage racing including the Monterey Historics. What's not to like?
A first-year example of a truly iconic design. Would it be wrong to strap some surfboards to this thing and head to the beach?
Gooding & Company
1955 Ferrari 500 Mondail Series II
Name your criteria for what makes a car significant and this thumping four-cylinder sports racing Ferrari has it in spades. Race history? Yes. Pebble Beach winner? Yes. Best in Show at Cavallino? Yes. And how about owner history, including the current one for 58 years? This is a really special car from every angle.
This isn't just any Ford Bronco—this one was sent new to Ford Engineering and then on to the legendary Holman-Moody/ Bill Stroppe and Associates to convert it into what it dubbed the "Bronco Hunter." Missing for years, I stumbled upon it in an Arizona Bronco junkyard in 2016 and couldn't believe my eyes when I saw that Holman Moody VIN on its original Holman Moody VIN tag. I quickly bought it, hauled it home and began an all-out restoration, later selling it to the current owner. It's one of the coolest Broncos out there, and I still get goosebumps thinking of its journey from the production line to Ford Engineering and then being given to the preeminent Bronco race team for conversion into this righteous machine.
1935 Duesenberg SSJ
This, right here, is the pre-war car of my dreams. Duesenberg built two of these short-wheel-base, supercharged, twin-carbureted hot rods. When new, Clark Gable was loaned one and Gary Cooper the other. At the end of this loan, Duesenberg offered both actors the chance to buy them for $5000 each—a third of their list price. Gable declined, but Cooper bought this very car. Later, in 1949, it was sold to Briggs Swift Cunningham, America's Sportsman, and remained in his collection until the entire lot was sold to Miles Collier in 1986, who has consigned the SSJ to auction. It is unrestored and, to me, absolutely perfect.
Just 31 of these road-going GT40 Mk. 1 "Road Coupes" were produced. Much like the new Ford GT of today, it was a race car converted for street use, versus the opposite which is the more popular formula. As such, this GT40 has race car character—hot, uncomfortable, full of fumes— and is magnificent for it. I tell you this because I lived with this car for some time and loved every minute of it.
Ask a Ferrari specialist what version of an F40 you should buy and the likely answer is a low-mileage, late-production, U.S. spec car. Which is great, if you don't want to experience what owning an F40 is really like. I would only want one I could drive, so I'm of the opinion that a "high mileage" (11k miles) European version like this is perhaps a better purchase. It will cost you less to buy, is prettier without the added U.S. "bumpers," and many think this version performs better. Sure, you'll get less money out when you sell it, but you're also paying around $500k less on the way in—and there is something to be said for that.