2020 Hagerty Bull Market selection: 1994–98 Ducati 916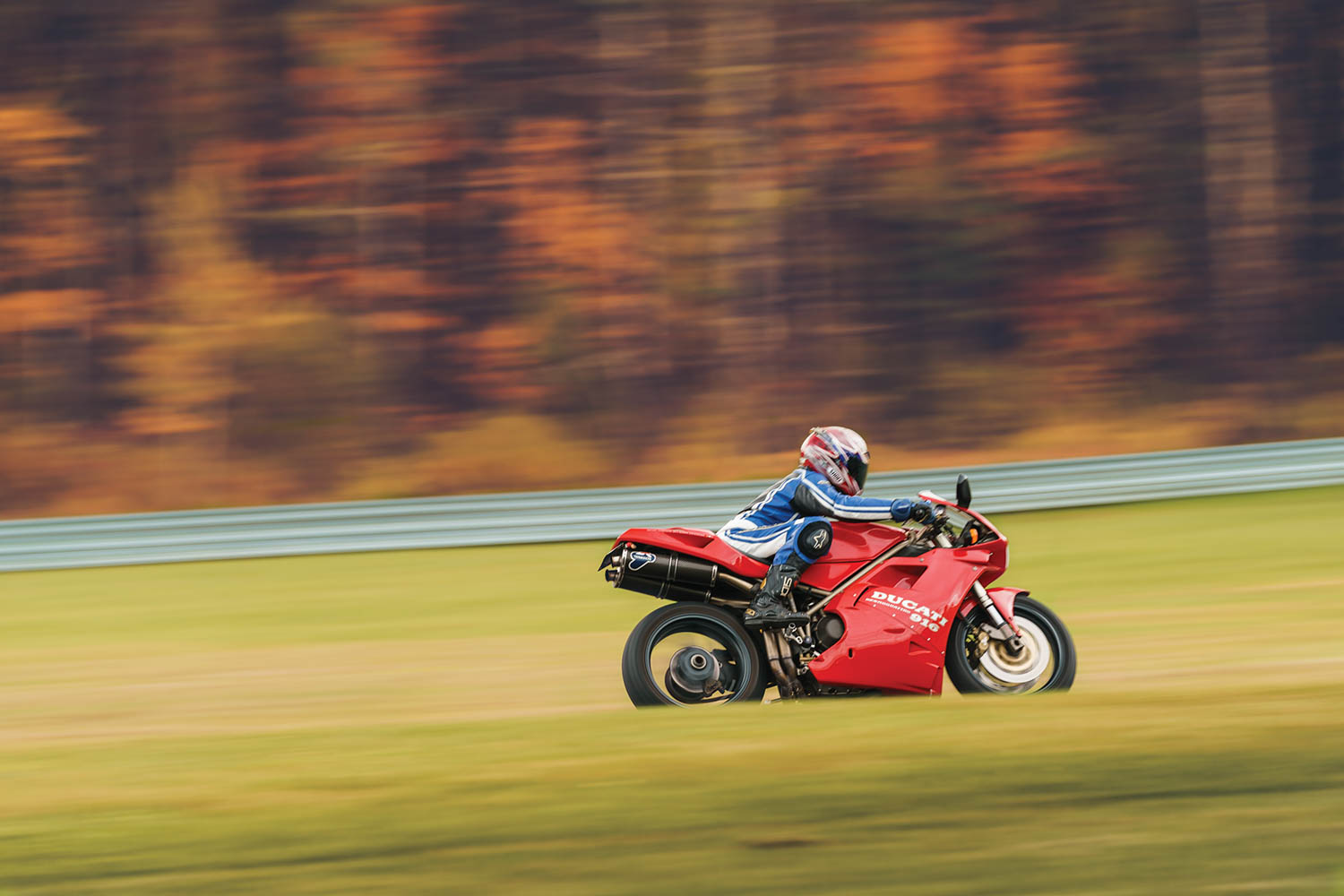 The 2020 Hagerty Bull Market list showcases the top vehicles that our valuation experts project will appreciate in the coming year. For the full list of 10 vehicles (and one motorcycle!) click here.
Hagerty's first ever Bull Market motorcycle is an undisputed Italian icon. It reversed the fortunes of a floundering company and set motorcycle design—indeed, to some extent, all industrial design—on its ear when it wheelied onto the scene in 1994.
Penned by the "Michelangelo of motorcycling," Massimo Tamburini, a one-time air-conditioning-duct maker who never went to college, the 916 ended the era of the plastic bullet by granting slit-skirt glimpses of the machinery within. It launched the modern trend of seminaked superbikes as cyberskeletal thrust rockets, the 916's sassy underslung tailpipes a brazen feature now relentlessly copied. The New York Times described Tamburini's curvaceous creation as "a winged Mercury crossed with a Gibson Girl," and the prestigious Solomon R. Guggenheim Museum made the 916 a centerpiece of its Frank Gehry–designed Art of the Motorcycle exhibit in 1998.
More important for struggling Ducati, the 916 attracted rich throttle jocks like flies to a watermelon and sold like mad despite its lofty price. It also brought Ducati four World Superbike titles, one for every year the bike was in production, and elevated the brand's stock so high that VW Group chairman Ferdinand Piëch ordered Audi to buy Ducati for the staggering sum of $1.12 billion in 2012.
Within its light and compact tubular-truss frame is suspended a 90-degree fuel-injected and water-cooled 916-cc V-twin featuring a "quattro desmodromic" valvetrain in which cam-driven rocker arms open and close the engine's eight valves, dispensing with traditional valve springs. Ah, the Italians, always doing something different. The flatter torque curve of the V-twin sets it apart from its four-cylinder Japanese rivals as much as its clattering dry clutch. Hagerty member Paul Montrone of Glen Rock, New Jersey, said of his '95 916, "It's loud, it's hot, it's uncomfortable, but it's great. You can't not have a smile on your face." Mostly a track rider before he had kids, Montrone let us saddle it for a few laps after repeatedly warning us of his bike's switch to a racing-style shifter, which reverses the street-shift pattern from one-down, four-up to one-up, four-down. As loud, hot, and uncomfortable as advertised, the 916 is also swift, supple, and ridiculously sexy. If you try it and don't want more, you might not have a pulse.
[+] A voluptuous Italian icon at an affordable price; props from the biker crowd wherever you go; the thrill of a Ferrari with none of the stultifying safety.
[–] Effectively a racing machine with heavy maintenance needs; very unhappy in the city; the spindly, spring-loaded side stand has caused a lot of tears.
1995 DUCATI 916
Engine: V-twin, 916 cc
Transmission: 6-speed manual
Power: 109 hp @ 9000 rpm
Torque: 67 lb-ft @ 6900 rpm
Weight: 429 lb
Power-to-weight: 3.9 lb/hp
Brakes F/R: disc/disc
Price when new: $14,495
Hagerty value: $10,700–$13,300
THE HAGERTY VALUATION TEAM SAYS:
Plastic fairings are becoming accepted in the collectible-motorcycle world, and which fairing would buyers want more than the red one gracing the Ducati 916? Motorcycle rider or not, buyers are moving on these for both aesthetics and pleasure.