2017 Monterey Auction Recap: 4 days, 6 auctions, 1,277 vehicles, $327 million
The 2017 Monterey classic car auctions have come to a close and we are pleased to share the preliminary final results. These results consist of what was witnessed during the live auctions but does not include any post-block sales not reported to us.
Preliminary results across four days, six auction companies, and 1,277 vehicles offered totals $327M. This falls short of 2016 by only 3% and exceeds Hagerty's initial forecast by 12% in large part thanks to the fact that most of the week's biggest consignments successfully sold. Sell-through rate was 58% and median price was $88,000—both similar to 2016's performance.
Coming into the 2017 Monterey auctions saw high hopes but tempered expectations. Upper-end cars had become tougher to sell and affordable cars were the ones seeing the most action—neither of which play well to this week's venue that is heavy on million-dollar cars and relatively light on entry level offerings. Throw in the fact there were fewer seven and eight-figure cars on offer this year versus 2016, and the question wasn't if sales would be down but by how much. The answer, it turns out, is only $11M.
A buoyant high-end market (cars valued above $250,000 had the highest sell-through rate of any other segment this week) and an increase in the quality of cars offered (a nearly 10% increase in the number of cars Hagerty graded as "excellent") both bolstered sales. And of the 23 lots in Monterey 2017 that had been at another auction previously over the past 12 months, 70% were bid to higher amounts and the average high bid was 16% percent higher.
By decade, cars from the 1980s and 1990s performed the best this week, with selections in this range being much more likely than other decades to be bid above condition-appropriate amounts. Standout cars from Saturday in this category include RM Sotheby's 1991 Ferrari F40 that sold for $1.54M and Gooding & Company's 1989 Porsche 911 Carrera Speedster that sold for $297,000. Ferrari Testarossas also did well by this measure.
Supercars had mixed results. The second highest sale of the week was Friday's record-setting $15.62M for a 1995 McLaren F1 and a pair of Ferrari F40s sold for approximately $1.5M each, which were both good sales. On the flip side, a 1985 Ferrari 288 GTO from Bonhams received the lowest bid for the model since January 2014, and a 1988 Porsche 959 sold by Gooding went for $1.056M, or more than $250,000 less than it sold for last year.
Generally speaking, short-wheelbase (1964-68) Porsche 911s struggled to hit market prices, while Turbo 930s also sold on the low side. Mercedes-Benz 190SLs, 1954-63 300SLs, and later 380SLs were also more likely than the rest of the cars offered this week to fall short of condition-appropriate prices. In broader terms, while top-tier cars did well, entry-level stock was slow to move.
What do we make of all this? At the moment, the market favors buyers, but prices have stabilized for most models and those sellers who are realistic with their expectations are receiving fair prices. Entry-level cars will likely bounce back as Monterey isn't reflective of that market, and we expect ultra high-end cars to continue to perform well. As for the big band of cars in the middle, results will vary.
Listed below are the raw results witnessed by Hagerty during the live auctions and may not factor in any post-sale deals that have not been reported. These numbers include the appropriate buyer's premiums.
Overall from all auction companies
Cumulative Total: $327.3M
745/1,277 lots sold: 58% sell-through rate
Average Sale Price: $439,361
Median Sale Price: $88,000
Prior year (2016) Results
Cumulative Total: $338.2M
723/1,260 lots sold: 57% sell-through rate
Average Sale Price: $467,698
Median Sale Price: $90,200
Overall Top 10 Sales from all auctions:
1956 Aston Martin DBR1 Roadster sold for $22,550,000 (RM Sotheby's)
1995 McLaren F1 Coupe sold for $15,620,000 (Bonhams)
1966 Ferrari 275 GTB/C Coupe sold for $14,520,000 (Gooding & Company)
1970 Porsche 917K Race Car sold for $14,080,000 (Gooding & Company)
1961 Ferrari 250 GT SWB Coupe sold for $8,305,000 (RM Sotheby's)
1963 Jaguar E-Type Lightweight Roadster sold for $8,000,000 (Bonhams)
1959 Aston Martin DB4GT Prototype Coupe sold for $6,765,000 (RM Sotheby's)
1955 Ferrari 121 LM Spider sold for $5,720,000 (RM Sotheby's)
1959 Ferrari 410 Superamerica Series III Coupe sold for $5,335,000 (RM Sotheby's)
1959 Ferrari 250 GT SI Cabriolet (open headlight) sold for $4,840,000 (Gooding & Company)
Individual results from each company
Bonhams
Overall total: $53.4M
83/109 lots sold: 76% sell-through rate
Average Sale Price: $643,842
Median Sale Price: $154,000
Overall Top 10 Sales:
1995 McLaren F1 Coupe sold for $15,620,000
1963 Jaguar E-Type Lightweight Roadster sold for $8,000,000
1965 Ferrari 275 GTB Alloy Coupe sold for $3,080,000
1967 Ferrari 275 GTB/4 Coupe sold for $2,519,000
2003 Ferrari Enzo Coupe sold for $2,040,500
1966 Ferrari 275 GTS Spider sold for $1,550,000
1990 Ferrari F40 Coupe sold for $1,457,500
1955 Lancia Aurelia B24 Spider America sold for $1,265,000
1956 Ferrari 250 GT Boano Coupe sold for $1,133,000
1964 Shelby Cobra 289 R&P Roadster sold for $1,089,000
Prior year (2016) results
Total: $34.6M
101/115 lots sold: 88% sell-through rate
Average Sale Price: $342,998
Median Sale Price: $121,000
Gooding & Company
Cumulative Total: $91.5M
107/132 lots sold: 81% sell-through rate
Average Sale Price: $854,669
Median Sale Price: $286,000
Overall Top 10 Sales:
1966 Ferrari 275 GTB/C Coupe sold for $14,520,000
1970 Porsche 917K sold for $14,080,000
1959 Ferrari 250 GT SI Cabriolet (open headlight) sold for $4,840,000
1956 Maserati A6G/54 Coupe sold for $4,400,000
2015 Ferrari LaFerrari Coupe sold for $3,520,000
1954 Ferrari 500 Mondial Spider sold for $3,162,500
1958 BMW 507 Roadster sold for $2,750,000
1965 Ferrari 275 GTB Coupe sold for $2,585,000
1966 Ferrari 275 GTS Spider sold for $1,700,000
1955 Mercedes-Benz 300SL Gullwing Coupe sold for $1,677,500
Prior year (2016) results
Total: $129.8M
114/137 lots sold: 83% sell-through rate
Average Sale Price: $1,138,429
Median Sale Price: $324,500
Mecum Auctions
Cumulative Total: $35.0M
297/645 lots sold: 46% sell-through rate
Average Sale Price: $117,743
Median Sale Price: $46,750
Overall Top 10 Sales:
2015 Ferrari LaFerrari Coupe sold for $3,795,000
2010 Koenigsegg CCXR Trevita Targa sold for $2,860,000
2015 Bugatti Veyron 16.4 Grand Sport Vitesse Coupe sold for $2,585,000
2017 Ferrari F12 TdF Coupe sold for $1,375,000
2004 Porsche Carrera GT Coupe sold for $1,083,500
1988 Porsche 959 Komfort Coupe sold for $1,045,000
2015 Ferrari 458 Speciale Aperta Spider sold for $682,000
1964 Rolls-Royce Silver Cloud III HJ Mulliner Drop Head Coupe sold for $671,000
2006 Ford GT Heritage Coupe sold for $462,000
1965 Shelby GT350 Fastback sold for $423,500
Prior year (2016) results
Total: $45.1M
308/680 lots sold: 45% sell-through rate
Average Sale Price: $146,450
Median Sale Price: $51,975
RM Sotheby's
Cumulative Total: $132.3M
103/116 lots sold: 89% sell-through rate
Average Sale Price: $1,284,533
Median Sale Price: $451,000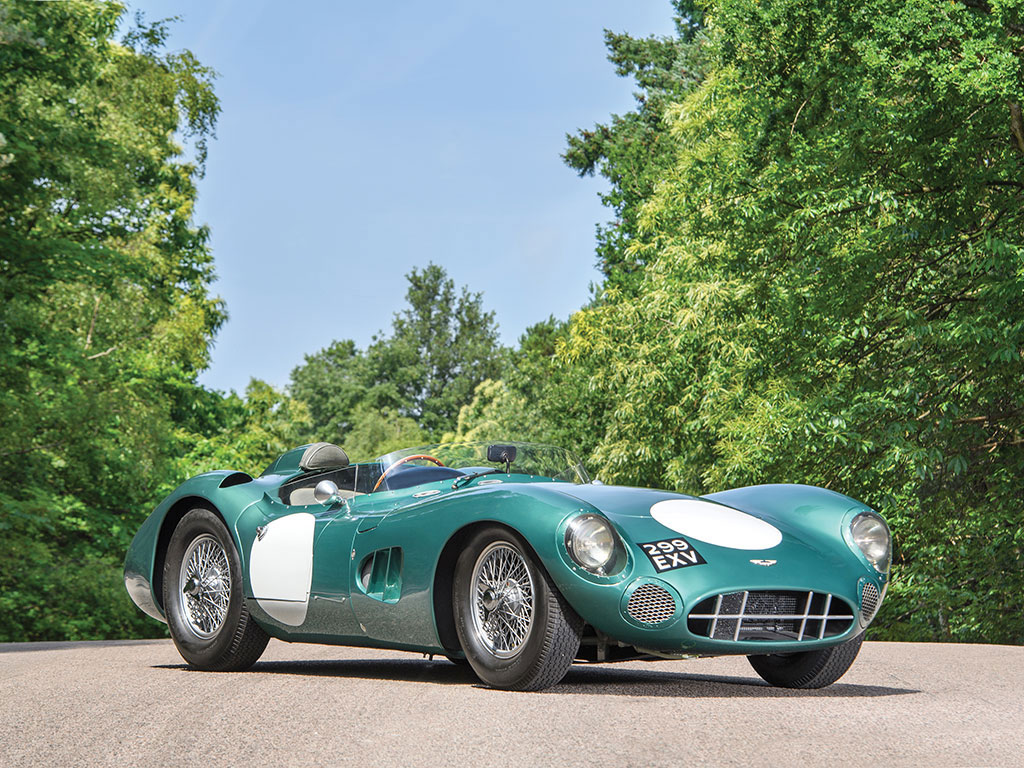 Overall Top 10 Sales:
1956 Aston Martin DBR1 Roadster sold for $22,550,000
1961 Ferrari 250 GT SWB Coupe sold for $8,305,000
1959 Aston Martin DB4GT Prototype Coupe sold for $6,765,000
1955 Ferrari 121 LM Spider sold for $5,720,000
1959 Ferrari 410 Superamerica Series III Coupe sold for $5,335,000
1950 Ferrari 166 MM Berlinetta sold for $4,510,000
1954 Ferrari 500 Mondial Spider sold for $3,850,000
1965 Ferrari 275 GTB Long Nose Alloy Coupe sold for $3,575,000
1970 Porsche 908/03 sold for $3,575,000
1930 Bentley 6 1/2 Litre Speed Six Coupe sold for $3,410,000
Prior year (2016) results
Total: $117.9M
82/100 lots sold: 82% sell-through rate
Average Sale Price: $1,438,110
Median Sale Price: $572,000
Russo and Steele
Cumulative Total: $8.2M
106/202 lots sold: 52% sell-through rate
Average Sale Price: $77,021
Median Sale Price: $42,350
Overall Top 10 Sales:
1961 Ferrari 250 Europa Coupe sold for $1,155,000
2005 Porsche Carrera GT Coupe sold for $671,000
2008 Mercedes-Benz SLR McLaren Convertible sold for $352,000
2005 Ford GT Coupe sold for $321,200
1966 Ford GT350 Fastback sold for $297,000
1983 Ferrari 512 BBi Coupe sold for $231,000
1992 Ferrari 512 TR Coupe sold for $214,500
2017 Dodge Viper ACR Coupe sold for $132,000
1964 Porsche 356C Coupe sold for $122,100
1971 Porsche 914/6 Targa sold for $115,500
1988 Porsche 911 Turbo 930 Coupe sold for $115,500
Prior year (2016) results
Total: $10.7M
118/228 lots sold: 22% sell-through rate
Average Sale Price: $90,593
Median Sale Price: $45,375

Worldwide Auctioneers
Total: $7.0M
49/73 lots sold: 67% sell-through rate
Average Sale Price: $142,746
Median Sale Price: $82,500
Top 10 Sales:
1940 BMW 328 Roadster sold for $605,000
1912 Fiat Tipo 56 Touring sold for $495,000
1937 Packard Twelve-Series 1507 Coupe Roadster sold for $467,500
1956 Dual-Ghia Hemi Convertible sold for $379,500
1963 Chevrolet Corvette Z06 (big tank) Split-Window Coupe sold for $357,500
1937 Jaguar SS100 2.5 Tourer sold for $330,000
1997 Porsche 911 Turbo S Coupe sold for $291,500
2006 Ford GT Coupe sold for $279,400
1961 Bentley S2 Continental Flying Spur James Young Sedan sold for $264,000
1948 Simca-Gordini Grand Prix Race Car sold for $242,000