Grab your silk bathrobe, there's a Miura on the block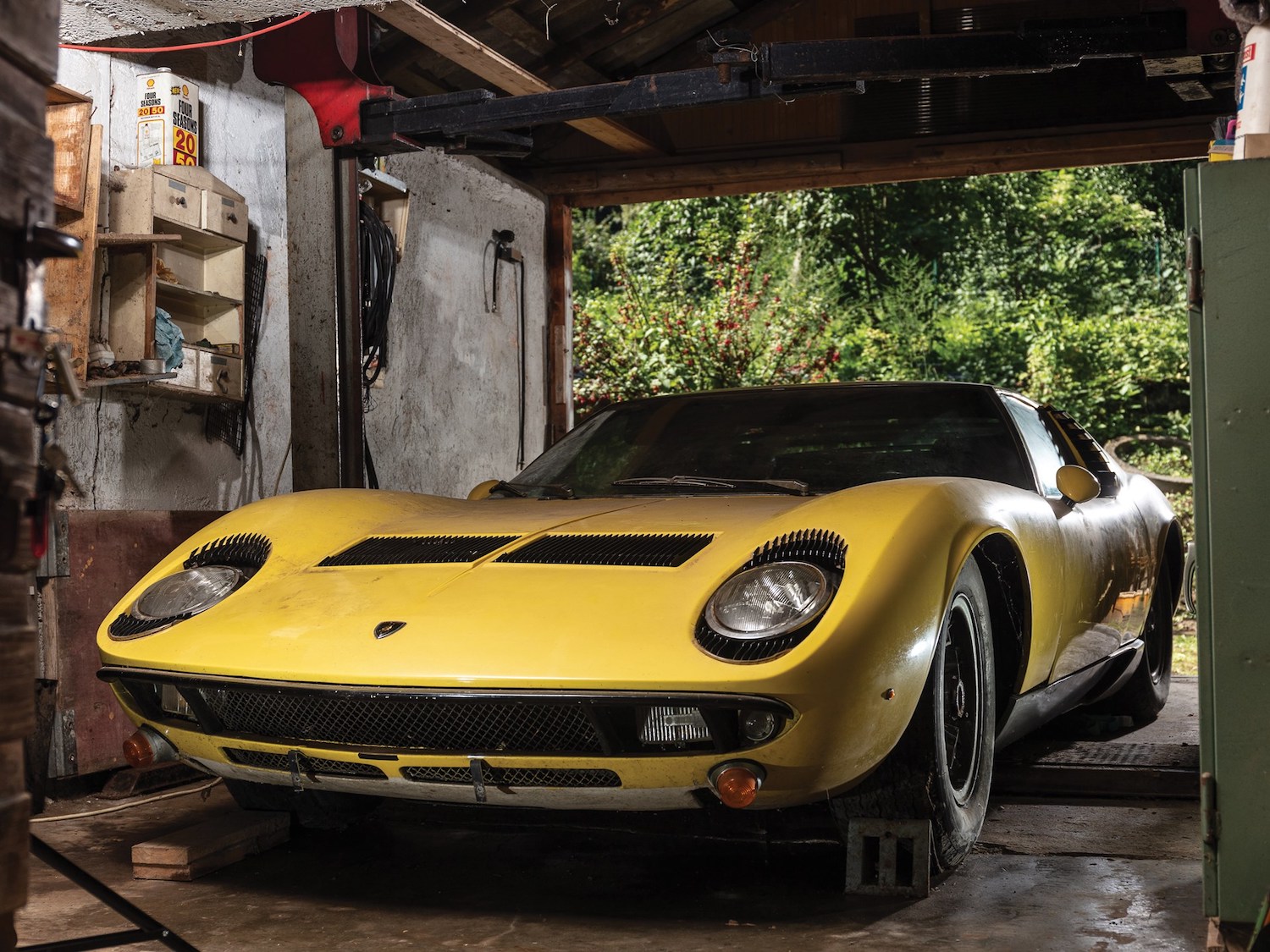 The Lamborghini Miura is such an extraordinary supercar that we didn't flinch when we learned that the first owner of this one was an "eccentric playboy" who just happened to be wearing a silk bathrobe when he sold it. Of course he was.
Though we don't recommend that particular regalia be worn to RM's London auction for the sale of this near-original 1969 Lamborghini Miura P400 S, anyone who's registered to bid can do whatever they damn well choose. Original owner Walter Becker certainly did (hey, the guy wore a silk robe), and so did owner #2 Hans Weber—right down to specifying that his dates should wear a bright yellow top and blue jeans to accent the colors of the car, Giallo Flay over Skay Bleu.
Before the Miura, Lamborghini built front-engined, V-12 grand tourers, as was appropriate for the time. In 1965, however, it teased a rolling chassis at Turin, and followed in '66 by one of the most gorgeous Bertone bodies ever to grace a road car. The Miura's beauty, power, and wow-factor defined the supercar as we know it today—both in mechanical arrangement and cultural image.
This 1969 Miura P400 S, chassis #4245, is one of 140 second-iteration Miuras. While final Miura SVs stripped off the eyelashes, and some separated transaxle and engine oil supplies, these "S" versions retained the shared oil system characteristic and ventilation fins. Compared to the original P400's 350 horsepower, the P400 S sported an extra 20 horsepower, teased from its transverse-mounted 3.9-liter V-12. If you can keep the Miura's nose close to the earth, those 370 horses and the P400 S's roughly 2800-pound weight make for 0–60 run somewhere below six seconds… which most original buyers were well aware of. However, this Miura lived a pretty good life between its two owners, and has been calmly resting in a barn since Weber took his last drive in 2015. It's no garage queen, but four years doesn't quite make this Miura a barn find, either. Still, the lucky buyer will have to put in some work to stir the V-12 from its slumber.
We just hope the Miura is reunited with a Porsche 911 in its new home, since, apparently, chassis #4245 frequently made public appearances with its more understated garage mates, a pair of 911s.
RM seems to weigh the extensive originality of the car heavily in its £800,000–1,000,000 presale estimate (roughly $1M–$1.2M). Originality usually does add a premium, and Mecum sold a survivor for $1.55M in 2018. Estimates aside, this Miura's patina is a romantic reminder of how well the design has aged. Fully restored cars, decades old, often seem surreal in their perfection; the accumulated dust and cracks are on this Miura lessen the time-warp by providing evidence of its incremental history.
Silk bathrobes may fade, but the Miura's panache lives forever.