11 eye-popping rides at RM Sotheby's Abu Dhabi sale
Abu Dhabi's collector car community could never be labeled as boring. On the contrary, if RM Sotheby's upcoming auction is any indication, the place is a heavenly meeting point for gearheads.
After scanning the incredible lineup of cars that will cross the block at the November 30 event, which will be held in conjunction with the season-ending Formula 1 Grand Prix at the Yas Marina Circuit, we struggled to narrow down our favorites. True, we were distracted by that amazing F1 slot car track, but nevertheless, we couldn't stick to a top 10. So, we've turned the volume up to 11. We figured you wouldn't mind.
2017 Pagani Zonda Aether
Estimate: $4.5M–$5.5M
This one-off 760-spec roadster is the 131st of 140 Zonda production road cars built by Horacio Pagani, who in 1982 moved from Argentina to Modena, Italy, and began working for Lamborghini before starting his own company in 1992.
Named after the pure air high above the clouds, the Aether is one of Pagani's finest creations. It features a carbo-titanium chassis, a 7.3-liter V-12 engine capable of 749 horsepower and 8000+ rpm, a desirable six-speed manual transmission, and a host of unique features—like leather pull-strap interior handles, large starter button in the center console, LED rev counter, extra oil gauges, and a gear selection read-out.
If the Aether meets low estimate, or sells close to it, it will be the most expensive Pagani sold at auction.
2002 Ferrari F2002
Estimate: $5.5M–$7.5M
Michael Schumacher has the Midas touch, which means there's no telling what this 2002 Ferrari F2002 will go for, no matter what the estimate says—especially since a portion of the proceeds will go to charity. Schumacher drove F2002 chassis #219 to wins in the San Marino, Austrian, and French Gran Prix en route to his fifth World Championship.
The car is the younger sibling of the 2001 Ferrari F2001 that Schumacher drove to victory in the Monaco Gran Prix the year before. That car sold for a record $7.5M at RM Sotheby's 2017 Contemporary Art Evening Auction in New York—$2M higher than its top estimate.
1992 Benetton B192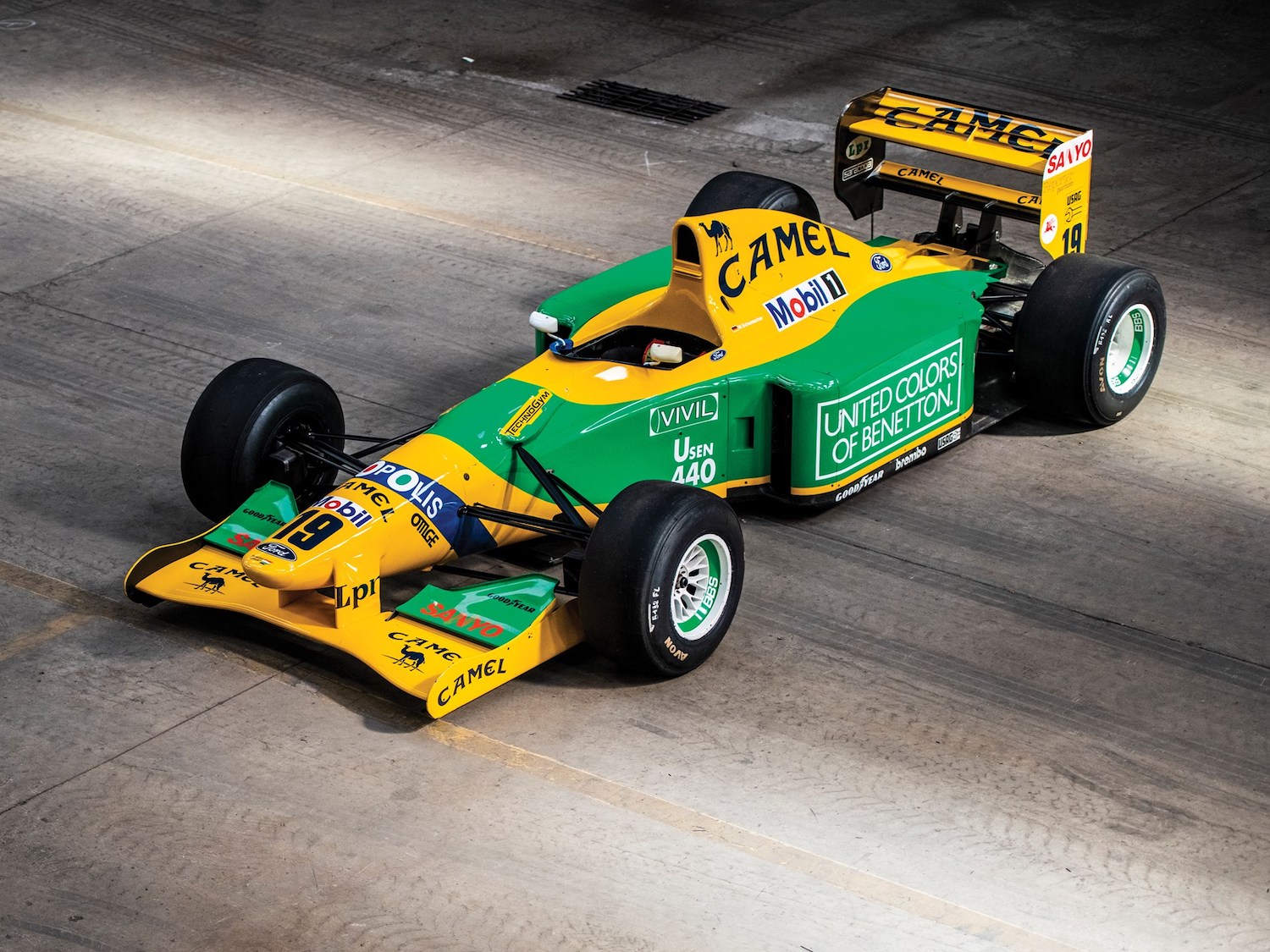 Estimate: $825K–$1.1M
If you can't spare $5M, but might be able to manage $1M, here's a Schumacher race car for one-fifth the price of the Ferrari F2002. Campaigned during a season dominated by Nigel Mansell's Williams-Renault, Schumacher drove chassis #B192-06 to third in the German Gran Prix, third in the Italian GP, and fourth in the British GP. He also had higher finishes in another car, which helped secure third place in the driver standings.
Beautifully presented in its original Benetton/Camel race livery, it retains a correct-spec Langford Performance Engineering Ford HB V-8 and six-speed sequential gearbox.
1993 Porsche 911 Reimagined by Singer
Estimate: $800K–$1M
Porsche 911s done up by Singer don't make their way to the auction block often. In fact, the only other one we've seen is this 1991 Porsche 911, which sold for $857,000 at Gooding & Company's Pebble Beach auction three months ago. In other words, this 1993 model is worth watching.
Countless 911s have been modified and upgraded by their owners or aftermarket tuners over the years, but, as RM says, "perhaps no company has come as close to perfection as Singer." Each is a bespoke creation tailored to its owner's preferences. This one is powered by a 390-hp 4.0-liter flat six-cylinder engine built by Ed Pink Racing Engines, and is mated to a G50 five-speed manual transmission. The 911 is painted Midnight Blue, has Fuchs-style wheels with matching brake calipers, and has been driven fewer than 2800 miles since its rebuild. If you've been looking for a Singer, the time to buy may be now.
1996 Zagato Raptor Concept
Estimate: $1M–$1.4M
We've written about this one-off beauty before, but we don't mind taking another look. The futuristic-looking concept car, based on Diablo VT running gear and built in conjunction with Lamborghini, was unveiled at the 1996 Geneva Motor Show.
With its carbon-fiber body, it weighs 661 pounds less than the Diablo VT. It features Zagato's trademark "double bubble" design but retains the Diablo's powerful dual overhead-cam, quad-valve 5.7-litre V-12 and six-speed manual AWD transmission.
2015 Jaguar CX-75 Spectre
Estimate: $800K–$1.2M
We're going back to the well again with this Jaguar, but we wouldn't feel right leaving it off the list. The 2015 C-X75 was featured in the James Bond movie Spectre, and it is every bit a star—albeit a villain, since it was driven in the film by the evil Mr. Hinx (Dave Bautista).
The first of four stunt cars built by Williams Advanced Engineering, chassis #24001 served as a "pod car," and was driven by a secondary pilot sitting atop the roof so that the actors could concentrate on their facial expressions for close-up shots. That means this C-X75 endured far less brutal driving than the other three stunt cars. After filming was completed, the Jag was refurbished and had its supercharged V-8 rebuilt before hitting the road as a promotional car.
1993 Porsche 911 Carrera RSR 3.8
Estimate: $700K–$850K
One of only 55 built, this 1993 Porsche 911 Carrera RSR 3.8 was built for the ADAC (Allgemeiner Deutscher Automobil-Club) GT Cup Series, where it started five races. Its naturally-aspirated, air-cooled six-cylinder Type 64/04 engine officially produces 325 horsepower, but output is more like 375–390 hp. The lightweight RSR has a large rear wing and is painted in aptly-named Speed Yellow, considering it accelerates from 0–60 mph in 3.7 seconds and tops out at 180 mph.
A nearly–identical 911 Carrera RSR 3.8 sold for $1.27M at RM's Amelia Island sale in 2018, but it had fewer miles (475) than the one currently for sale. A year earlier, a completely original, barely-driven 1993 model—only 10 kilometers!—went for €2,016,000 ($2.23M) at RM's Villa Erba event.
2001 Lamborghini Diablo VT 6.0 SE
Estimate: $550K–$750K
Long in the shadow its more popular sibling, the Countach, the Lamborghini Diablo was presented to the world as a more fuel-efficient aerodynamic Lambo ride, which is a bit of a misnomer for a car powered by a 492-hp V-12. The last of the "brand-new" Diablos—and the 40th of 42 6.0 Special Editions built—this amazing example has only 18 miles on the clock.
If you've never seen a Lamborghini in this color, fear not, there's no need to schedule an appointment with your optometrist. The 42 Special Edition models came in two colors; 21 were metallic gold Oro Elios, which represented dawn, and the other 21 (like this one) were painted a color-shifting bronze-maroon called Marrone Eklipsis, which represented sunset.
Note from the Hagerty valuation gurus: One of the Marrone Eklipsis models sold for $412K at Amelia Island in 2018, and it had four fewer miles than the one on offer at Abu Dhabi, so this will be a good test of where the market stands for these Special Editions.
2005 Maserati MC12
Estimate: $2.6M–$3.5M
A single-owner car with fewer than 1950 kilometers (1212 miles), this two-tone Maserati is one of only 50 street-legal MC12s produced, making it rarer than the Ferrari Enzo (400 built) it is based upon.
In addition to its stunning, supercar good looks, the M12 is powered by a 624-hp, 6.0-liter V-12 that boasts 481 lb-ft of torque, a 0–60 time of 3.5 seconds, a quarter-mile mark of 11.4 seconds, and a top speed of 205 mph.
No doubt the second owner will be happy to bring it home.
2011 Aston Martin One-77
Estimate: $1.5M–$2M
The hand-crafted One-77 made its official debut at the 2009 Concorso d'Eleganza Villa d'Este, where it won the modern design award and was described as the fastest and most-powerful Aston Martin ever built. Explaining its One-77 name, the Aston was "limited to 77 unique examples," and even with a price tag of £1,150,000 (about $1.9M today)—and a $200K deposit required—it easily sold out.
The Black Pearl example at Abu Dhabi (the 38th of 77) displays only 888 kilometers (552 miles). Its 7.3-liter V-12 musters 750 horsepower and 553 lb-ft of torque, which vaults it to a top speed of 220 mph.
The only other sale of a 2011 One-77 Coupe that we could find is a recent one; a red example with 1226 kilometers sold for $1,566,806 at Bonhams' Bonmont (Switzerland) Sale in September 2019.
2015 Ferrari FXX K
Estimate: $4M–$4.5M
Last, but definitely not least, is this 2015 Ferrari FXX K—Ferrari's most potent track-only, limited-production supercar, and the first ever offered at auction.
According to RM, to gauge interest during the summer of 2005, prototypes of the original FXX were shown to clients whom Ferrari thought worthy, and ultimately 38 examples were produced. After the hybrid-electric LaFerrari was unveiled at the 2013 Geneva Auto Show, the track-only version—the FXX K—soon followed.
With 1035 overall horsepower—848 hp from its 6.3-litre V-12 and 187 hp from its electric motor—the lighter FXX K is faster than its older hybrid sibling. To improve aerodynamics, the K's nose received a two-part splitter, and a twin-profile rear spoiler helps manage downforce while also giving the car a more menacing stance.
As the first FXX K to cross the block, there's no telling how high this 250-kilometer example may go, but in comparison, the most recent FXX model sold at auction was a 2006 Ferrari FXX that went for $3.525M at RM's 2019 Monterey sale.
This FXX K is painted in traditional Rosso Corsa with silver highlights and is wearing race number 7, which is generally considered a lucky digit. We're guessing its future owner will think so, too.