How DeSoto went from sitting pretty to utter doom in just three years
DeSoto was killing it in 1957. People loved their stunning styling. Fins and flash were in, and Chrysler's line of affordable sedans offered plenty of both. DeSoto enjoyed healthy sales—178,594 in all—even as its rivals struggled.
Yet the company was being squeezed from within and without, undercut by more luxurious Chrysler products, increasing competition from established brands like Chevrolet and an upstart called Edsel, and a slowing economy. Just four years later, Chrysler would kill the brand. The last DeSoto rolled off the line on November 30, 1960.
Walter Chrysler launched the brand in 1928 and named it for Spanish explorer Hernando de Soto. Chrysler wanted a line of cars to compete with mid-priced models from the likes of Oldsmobile, Studebaker, and Hudson.
The company sold 81,065 cars in 1929, an inaugural record that stood until Ford introduced the Falcon in 1960. Chrysler decided to make DeSoto a more upscale line of cars so as not to cannibalize sales from Dodge, and introduced the aerodynamic AirFlow and AirStream models in the mid-1930s. The cars were sleek and stylish, and the 1935 AirStream is probably DeSoto's most famous model, although its 1942 model is famous for being the first mass-produced American car with pop-up headlights.
As with all American automakers, DeSoto essentially stopped building cars during the War, and the 1946 models were merely reissued 1942 cars. It soon offered sleek, modern models like the Firesweep, Firedome, and Fireflite.
The lineup was redesigned in 1955 by Virgil Exner, who gave all of Chrysler's cars his "Forward Look." People loved the styling, especially the massive fins—with triple taillights—and snapped up the cars. DeSoto saw sales jump by 7000 in 1957.
The cars offered as much go as show. The hemi engine was good for 345 horsepower, or an impressive one pony per cubic inch. Torsion-bar front suspension, a new Torqueflite automatic transmission with push-button shifting, and a convertible model made the DeSoto Adventurer a particularly popular model.
DeSoto had some serious problems, though. The first was spotty quality control. Its cars suffered from leaky windshields and rear windows, weak torsion bars that occasionally broke, splitting upholstery and flaking paint, and other problems. Things got so bad Chrysler actually took the unheard-of step of shutting down the assembly line for a week to set things right.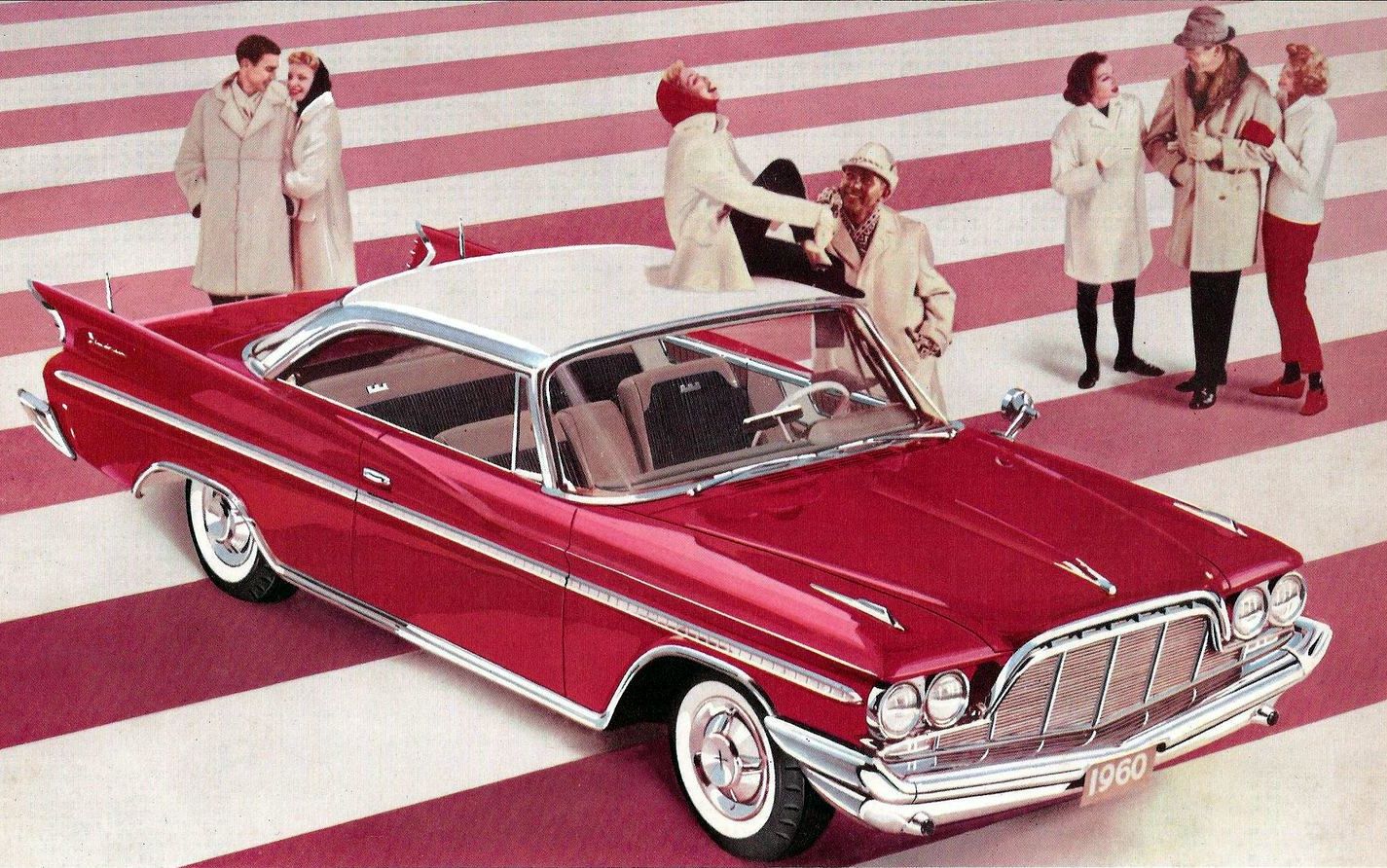 DeSoto faced more pressing issues, too: the more upscale Chrysler Windsor was cheaper than anything it offered. It also saw increasing competition in the mid-priced segment from Ford, Mercury, General Motors, and Chrysler's own Newport lineup. Edsel also landed a serious blow when it introduced its first model in 1958, selling 60,000-odd cars in its first year.
All of this came about as the nation slipped into a recession that clobbered Detroit. DeSoto saw sales fall 60 percent in 1958, and Chrysler posted a loss of more than $40 million. Eager to stop the bleeding, Chrysler merged DeSoto with the new Chrysler-Plymouth division and stopped building DeSotos in a dedicated factory. It wasn't enough. DeSoto celebrated its 30th anniversary by selling just 45,700 cars.
Even as all of this was happening, Chrysler's so-called Special Car Committee started developing what would become the company's first compact cars, the Plymouth Valiant and Dodge Lancer. The automaker soon realized it couldn't afford five marques and develop the Valiant, so it dedicated a large portion of DeSoto's development, sales, and management resources to the new endeavor. DeSoto offered just two models, the Adventurer and Fireflite, in 1960.
Chrysler announced its decision to kill the DeSoto on November 19, 1960 and decided to produce a two-door and four-door DeSoto—neither car was given a model name—until it ran out of parts. Those 3034 cars were a hodgepodge of bits and pieces, with dashboards from the previous year's Dodge models and mismatched steering wheels and other pieces snatched from the Chrysler Newport parts bin. Anyone who'd ordered a DeSoto but didn't get it before the parts finally ran out received a Newport instead. In that way, sadly, the last DeSoto wasn't even a DeSoto.