5 vintage snow machines that are still going strong
Winter tires make driving a four-season classic more viable than ever, but stepping up to a dedicated winter vehicle means unstoppable action over snow-covered roads or no roads at all.
Purpose-built winter snowmobiles were developed out of necessity. Before WWII, a significant snowfall meant cars and trucks went nowhere. Extensive road salt use and clear road policies only ramped up in the post-war era, and many of the original snow-going winter titans are still going strong at work or just for fun.
The five snowmobiles below are merely that, so let's hear about your favorite classic snow cars, trucks, machines, and contraptions in the comments.
Model T Snowmobile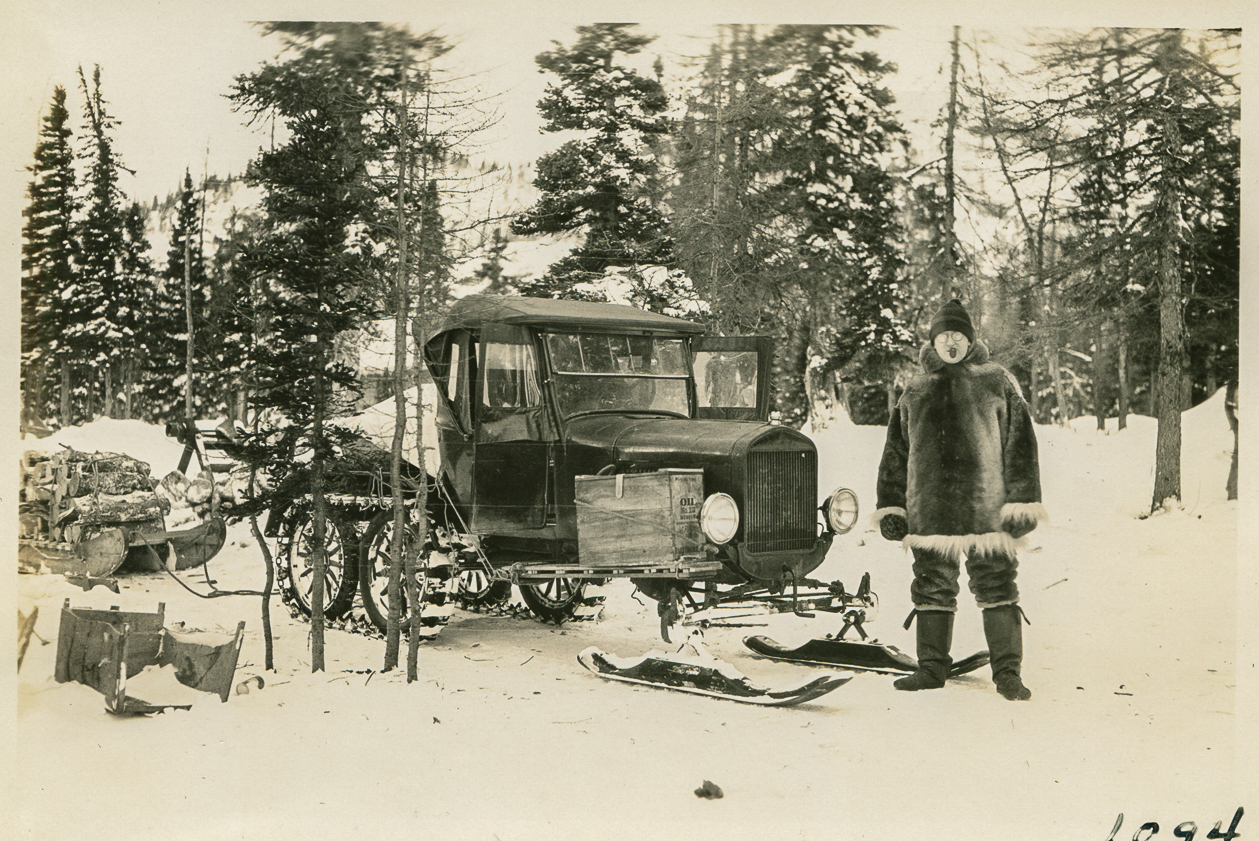 The Ford Model T brought affordable transportation to the masses and spawned a post-production aftermarket industry that converted the Model T into everything from circus wagons to snowmobiles. While he probably wasn't the first to modify a Tin Lizzie for oversnow travel, New Hampshire Ford Dealer Virgil T. White was the first to patent and sell a well-sorted snow conversion setup, according to the Model T Ford Snowmobile Club. White offered his copyrighted Snowmobile conversion in various configurations from turnkey runners to component kits, and production ramped up in the early 1920s to meet demand.
Sales were brisk enough that White sold the manufacturing rights and patents to Wisconsin-based Farm Specialty Manufacturing Company, which churned out thousands of Snowmobiles until 1929. The Model T snowmobile was a popular choice for doctors, postal delivery, utility workers, and explorers like Donald B. MacMillan, shown here on his 1927 sub-Arctic expedition to the northern territory of Newfoundland and Labrador in Canada.
Researcher Jamie Brake retrieved what little was left of the abandoned MacMillian snowmobile in 2014 and spearheaded its restoration. Head over to the Model T Ford Snowmobile Club for more on snow-going early Fords.
Bombardier B-series
Joseph-Armand Bombardier turned childhood curiosity and mechanical ingenuity into a transportation empire. After his son succumbed to illness when a blizzard prevented travel to the nearest hospital, Bombardier patented a sprocket wheel and track system that propelled the Bombardier Snowmobile into the pantheon of over-the-snow transportation. The seven-passenger Bombardier B-7 made its debut in 1936–37 and an improved 12-passenger B-12 model launched shortly before WW2. The versatile B-12 proved popular in peacetime and fueled the development of the workhorse Muskeg tractor and the Ski-Doo recreational snowmobile.
Bombardier B-series production continued into the '70s with variants from school buses to postal delivery vehicles known today as the snow bus or snow coach. Early production wood-body versions used a Chrysler flathead six-cylinder and three-speed manual transmission power team, and later steel-bodied models packed a Chrysler V-8 and TorqueFlite automatic. The snow coach worked so well that many are still in regular use like the seven-bus fleet at Floyd Hale's Fish Huts. President Bill Vieveen said the fleet ranges from 1959–79 models. All seven were converted to the 318-cubic-inch V-8 Torqueflite setup and equipped with driver-activated floatation systems for safe transport on Lake Simcoe in Ontario.
Sno-Cat
"No snow too deep, no hill too steep" goes the Tucker Sno-Cat company's motto. Trudging through snow convinced a young E.M Tucker that going over the top was a better plan. After a series of spiral-driven snow machines proved unsuccessful, he came up with the idea of using four large steel pontoons and tracks for the right combination of floatation and traction. Over the snow the Sno-Cat went. Pre-war Tucker Sno-Cat prototypes led to post-war mountain excursion testing in production machines. The Medford, Oregon, company not only builds hundreds of new Sno-Cats every year to this day but also runs an in-house Classic Cats by Tucker restoration and sales program to keep the old cats going.
The Classic Cats division is heading into its fifth year. Current and semi-retired Tucker builders with over 45 years experience handle everything from mechanical upgrades that preserve original patina to tracks-off restorations. Other than the proprietary transfer case, Sno-Cats run everything from Chrysler flathead six-cylinder and early 331 Hemi V-8s to the slant-six leaning tower of power and 318-cu-in LA-series small-block V-8. Classic Cats commander TK Clyde Moody said that Sno-Cat candidates arrive from California to the northeast and emerge ready to get back to work or recreation. Vintage Sno-Cat Jamborees are the snowverlanding answer to the classic car rally, and Alpine Cat Tours will give you a Sno-Cat ride up Mt. Hood.
King Kat

Muscle car horsepower battles and the war of the superbikes paralleled high-performance snowmobile development and culminated in the most fearsome and sought-after snowmobiles of all time. The elusive 1971 Arctic Cat King Cat 800 was the ZL1 Camaro of the snow, or more accurately, the Kawasaki H2 Mach IV Widowmaker of the frozen expanse. The unruly cat packed a Kawasaki four-cylinder air-cooled two-stroke good for 85 horsepower with quad Mikuni carburetors and factory-tuned expansion chambers. Arctic Cat built just 124 King Kat 800s with an eye on racing, and the king of cats proved successful if not unruly out on the racetrack.
High-speed travel exposed to the winter elements might seem a daunting proposition, but if the heat from the four-cylinder and exhaust are not enough, then suit up with a selection of outerwear from the 1972 Arctic Cat catalog. Stylish, high-performance snow motoring on the nationwide network of groomed snowmobile trails is just a starter cord pull or two away. Just add a metal flake helmet and bubble goggles for safety.
If the search for a four-cylinder King Kat 800 turns up nothing, keep an eye out for the slightly more plentiful three-cylinder Hirth-engined versions. More, you say? Set aside a few days and hit up the Boss Cat Legacy for a 25,000-image repository of all things Arctic Cat and much, much, more.
Get in the Bandvagn
For assured travel over snow or anything else with a Northern European flair, look no further than the quad-tread Bandvagn, or tracked, vehicle. A Volvo subsidiary developed and built the original 1964 Bandvagn BV202, as an all-terrain amphibious Swedish army troop transport, and the improved 17-passenger Hagglunds BV206 model arrived in the late '70s and early '80s. Nearly full-width tracks give the Bandvagn a super-low ground pressure footprint for travel over snow or bogs, and the treads power the watertight Bandvagn through the water in a pinch. Bandvagn variants range from troop transport and armed anti-tank units to fire control and ambulances.
Original BV202 units were powered by the mighty Volvo B18 inline four-cylinder, and later BV206 used everything from the Ford Cologne V-6 to Steyer inline-six turbo diesels. The front section packs the engine, automatic transmission, and transfer case. A prop shaft turns rear treads, and hydraulic rams at the center pivot bend the Bandvagn where it needs to go without skid or brake steering. All traction. All the time. Decommissioned Bandvagns have made their way to police and rescue fleets and the eager hands of snoverlanding civilians, and one Bandvagn was converted into shaved ice wagon for Legoland Denmark.