Just 22 miles separate these Packard landmarks, but they're worlds apart
Never mind the fact that Packard ceased operations more than 60 years ago—the beloved brand still lives in the hearts and minds of enthusiasts who own, or at least revere, both the cars and the aircraft engines Packard manufactured. Before Ford, Cadillac, and Lincoln entered the business, Packard sold horseless carriages to early adopters. In 1902, a prosperous Packard Motor Company moved from its Warren, Ohio, birthplace to Detroit, where it built high-quality, technically-advanced automobiles for the ensuing 54 years, plus V-12 aircraft engines during both world wars and Navy PT boat V-12s during World War II.
Today, Packard fans cherish the Clippers and Caribbeans that survived, paying their respects at the two hallowed sites surviving from Packard's heyday. These necropolises couldn't be more different. What remains of Packard's Detroit manufacturing plant is Motor City blight at its worst. Yet 22 miles due north, a lovingly preserved piece of Packard's original proving grounds earned a listing in the U.S. Department of Interior's National Register of Historic Places.
Early 20th-century enterprise
Thinking big, Packard investors purchased 40 acres of pastureland on Detroit's east side and hired America's foremost industrial architect Albert Kahn to design a 4-million-square-foot manufacturing plant. The world's most modern car-making facility commenced operations in 1903, employing 40,000 people at its peak. Why is it still standing more than a century later? Because automakers have a habit of leaving obsolete facilities in their wake when they move to more modern plants or stumble into bankruptcy. In addition, the Packard plant survived because its floors, ceilings, and columns were constructed of practically indestructible steel-reinforced concrete.
Unfortunately, being ahead of the manufacturing curve can cause problems, and 10 years after Packard dedicated its factory, Henry Ford showed the world a better way to build cars. Inspired by how Chicago meat packers systematically disassembled a cow into steaks, ribs, and hamburger, Ford inaugurated the moving assembly line at his new Highland Park plant, three miles north of Packard's complex. This achieved an 80-percent reduction in the time required to manufacture a Ford Model T—from 12 to 2.5 hours—facilitating price cuts that brought new cars within reach of everyone with steady employment. Every maker had no choice but to rethink their manufacturing methodology. Packard converted portions of its process to multi-story moving lines in the late 1930s. Overnight, the wave of the future became single-story plants spread over vast acreage instead of multi-story buildings.
Fingers crossed for a brighter future
Today, the original Packard water tower serves as a silent sentinel over the looted, littered, and graffiti-stained ruins. While most of the structure stands firm, many walls and windows are gone, offering ready access to intruders—at least until roaming security agents arrive to shoo them away. The need for guards became obvious in January of this year when the bridge linking north and south portions of the plant collapsed in a pile of steel and concrete rubble onto East Grand Boulevard. (The bridge in question was incorrectly termed a pedestrian bridge; partially assembled cars traveled this overpass to reach the northern half of the factory for completion and rail shipment.)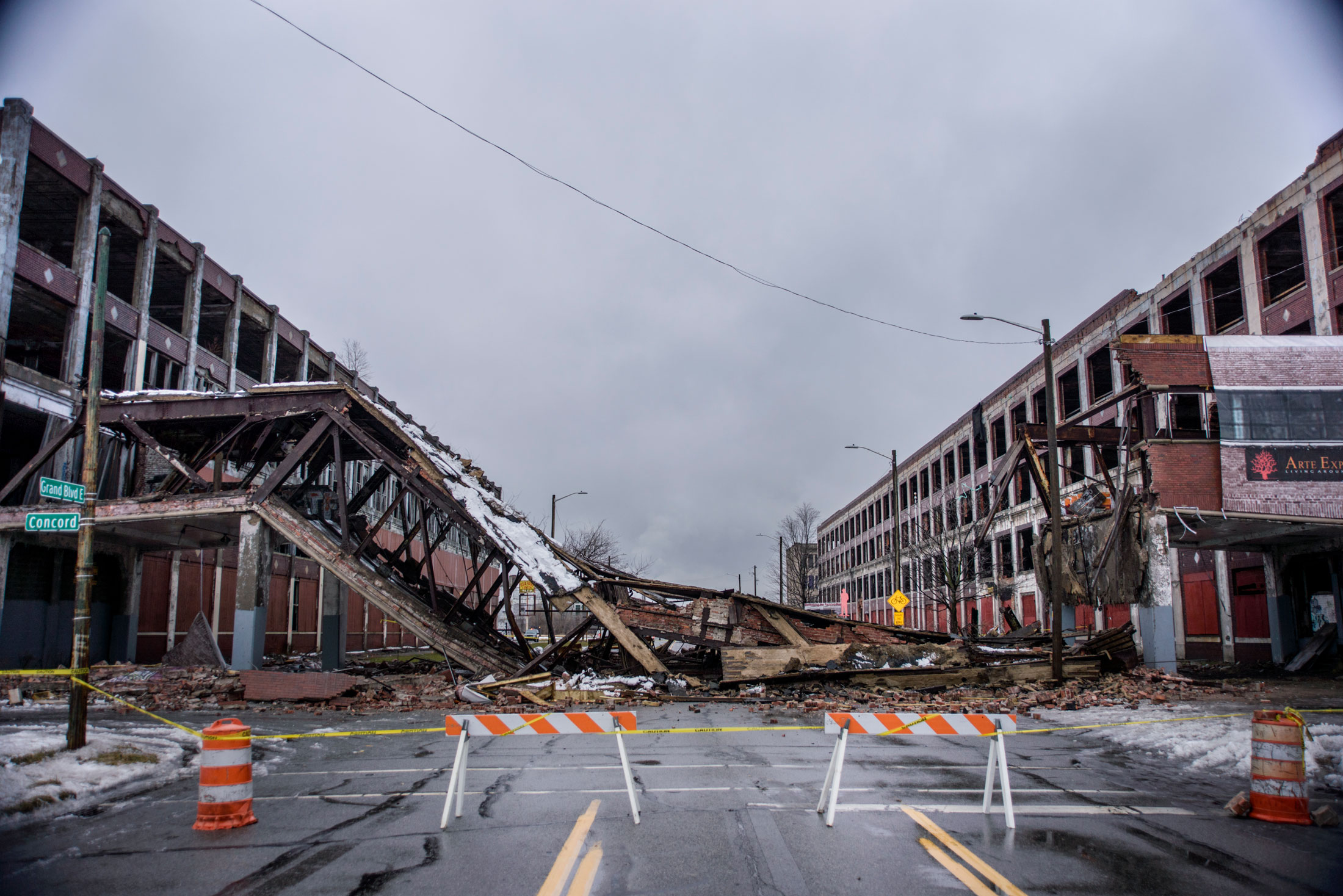 After car-making ceased, the Packard plant served as a warehouse and industrial space for a wide assortment of businesses. The last tenant departed a decade ago, paving the way for urban explorers, metal thieves, and a few Hollywood disaster movies. In 2013, when property taxes fell into arrears, the local county (Wayne) offered the property for $975,000. Following a few nibbles for parts of the decaying pie, the wealthy Spanish developer Fernando Palazuelo bought the place for $405,000. This entrepreneur grandly announced his Packard Plant Project and plans to invest some $350 million to ready the site for residential, office, light manufacturing, retail, recreation, and artist usage.
Except for some minor demolition and clean-up activity, plus one "groundbreaking" ceremony for Palazuelo's Arte Express Detroit enterprise, there has been no evidence that these grand plans will materialize. In the meantime, tours of the site can be booked through Pure Detroit and access for video or photographic projects can be purchased at info@packardplantproject.com. Meanwhile, Palazuelo watches and waits from his home in Madrid, Spain.
Packard Proving Ground Gateway Complex
As the city of Detroit grew with the prosperity of its auto industry, makers sought alternatives to public roads for testing the reliability and durability of their products. In 1928, Packard opened its 560-acre proving grounds 22 miles north of its headquarters in rural Shelby Township. Facilities included a 2.5-mile banked oval test track, 12 miles of endurance test roads, a timing tower, a repair garage, and a combination gatehouse and lodge providing comfortable accommodations for both the resident manager's family and transient testing personnel. Packard chief engineer Jesse Vincent's brother Charles and his wife Lucille raised their three daughters while residing there.
The oval track's 31-degree banking was ideal for high-speed testing. In 1928, after winning the Indy 500, Leon Duray powered his Miller 91 to a 148.7-mph lap here. To prove the mettle of their new V-8 engine, Packard engineers averaged 104.7 mph for 10 days, stopping only for tires, fuel, and driver changes. During nearly three decades of use, there was not one driver or mechanic fatality at this proving grounds.
Architect Albert Kahn used Tudor Revival themes for the gatehouse, lodge, and adjacent repair garage. A steel hangar was constructed to service Packard-powered aircraft that used an airstrip on the premises. Following a visit by Colonel Charles Lindbergh in 1929, the hangar was rechristened in his honor. An engineering laboratory was added in 1943 and a power house in 1955. A tower adorned with Packard script stored water for the site.
When Packard's future outlook turned bleak in 1956, the proving grounds were sold to jet-engine maker Curtiss-Wright. Ford took over the property in 1961 for car testing and parts production through the 1990s.
As its needs for this facility diminished, Ford hoped to demolish the buildings and sell the land to developers. A non-profit group called the Packard Motor Car Foundation had other ideas, ultimately convincing Ford to donate 14.5 acres for preservation. In 2000, the Packard Proving Grounds was added to the National Register of Historic Places. Today, the site is part of the MotorCities National Heritage Area established by the Department of Interior's National Park Service. While the oval track's banked corners are long gone, a major piece of the straightway adjacent to the timing tower is intact.
In addition to preserving the magnificent slate roofs and hardwood floors with local, state, and federal financial aid, efforts are underway to construct two new museums at this location: one called The Arsenal of Democracy, to venerate Detroit's contributions to the World War II effort, and the other to be named The Museum of Automotive Testing. Let's hope car magazines receive their nod of respect in this latter exhibition hall.
To arrange a visit, Packard fans should click www.packardprovinggrounds.org or call 586-739-4800. For those with busy schedules, both the decayed plant and the preserved proving grounds can be seen in one day.