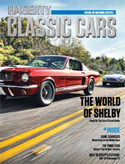 As the car that popularized the hot hatch, the GTI turned the limited world of 1980s performance on its head
Volkswagen started production of the subcompact Golf in Wolfsburg, Germany, in 1974. As the Beetle's heir apparent, VW had much riding on the diminutive hatchback's success. With a pointy Giorgetto Giugiaro design wrapped around an intelligent water-cooled transverse inline four and front-wheel drive, the Golf took on the "people's car" label and ran with it.
Rebadged as the Rabbit, the car arrived in North America as a 1975 model, and in 1978 VW began building it in Westmoreland County, Pennsylvania. Westmoreland Rabbits were powered by an increasingly larger range of fours with overhead cams and an alloy head, eventually reaching 1.7 liters, with available fuel injection, all for an ambling 74 horsepower and 90 ft-lb of torque. The range also included a 52-hp diesel that delivered over 50 mpg and incredible longevity. The Rabbit was a hit.
But so, too, were the little cars being churned out by Honda and Toyota, and even the Chevettes, Escorts and Omnis of the world began eating into sales. By 1982, Volkswagen of America faced a sales decline of more than 40 percent and the consequent loss of dozens of dealers.
In response, Volkswagenwerk AG and the folks in Westmoreland conspired in 1982 to bring the GTI to America. Of course, there had been a GTI in Europe for years. The hotted-up Golf had long served as the de facto choice of young German professionals who couldn't quite afford a Porsche. But it was just the thing for Americans who felt compelled to buy a sensible small car, but who also dreaded the thought of something boring and slow.
The new GTI featured a 1.8-liter four with Bosch K-Jetronic fuel injection and 8.5:1 compression. The result was 90 horsepower and 100 ft-lb of torque, with 0 to 60 mph in less than 10 seconds by way of a close-ratio five-speed gearbox, all while returning 26 mpg. The interior featured a pair of fantastic sport seats, upholstered in either blue or burgundy corduroy, and the shift knob was represented by a quirky dimpled ball — harking back to the model's European name: Golf. Beyond that, the interior space was simple and subtle, like every other Rabbit on the road.
And while the car's pace was hardly blistering by today's standards (or even yesterday's standards, really), with its independent front and twist beam rear suspension with stabilizer bars all around, front disc brakes, 14-inch alloy wheels with wide Pirelli rubber, and plenty of room for groceries, the 2,000-pound GTI was a minor revelation.
At $8,000, it was more expensive than domestic hatchbacks like the Omni and Chevette, as well as those from Japan — a new Civic S was just $6,399. But it was also two grand cheaper than VW's Scirocco sport coupe, which the GTI outperformed. And if potential buyers still had reservations about forking out an extra $600 over a loaded Escort GT, one drive in the GTI was all it took.
The GTI was a measured reaction to a potentially dire situation and VW showed us that inexpensive and practical could also be a helluva lot of fun. The motoring press agreed, and the GTI made it onto just about every year-end list for the "best" or "coolest" cars. More importantly for VW, buyers agreed, and 30,000 GTIs hit the road during the car's two-year
production spell.
Westmoreland cars were not without their faults, however, as anyone who owned one will likely attest. Hagerty Classic Cars magazine Executive Editor Jonathan Stein bought a new GTI in late 1982, and if you give him a minute, he'll attest. Terms like "rattly," "shoddy build quality," and "the transmission ate itself after 30,000 miles" come to mind.
Those who were patient enough — and who had enough nickels and dimes in their pockets — were rewarded with a car that could run for a very long time. Many original or long-term owners report upwards of 200,000 miles on their Mk I GTIs.
If you're in the market, they're not hard to find. Enough were built that you still find them on just about every online classifieds site. The craigslist cars generally range in condition from seized and rust-eaten to "FRESH VR6 SWAP WITH HUGE AFTERMARKET TURBO…. THIS BUNNY HAULZ!!!!"
Few and far between are those original cars, which managed to last 30 years on the West Coast or down South in the hands of appreciative long-term owners. You'll typically see them listed for $1,000 to $3,500, though low-mileage examples can and do bring much more. In 2009, Mecum Auctions sold a 31,000-mile car for $5,800, and Bring a Trailer (bringatrailer.com) often features the best available, including the former Volkswagen of America Museum car, which sold for $6,500 in 2011.
If you want an affordable-to-buy, cheap-to-maintain, practical little runabout, you could do worse than a well-sorted Mk I GTI. As always, do your homework and have a good VW specialist check out the car before you buy. And know that even when you find the car, you won't win any races — even against the mom in the Camry SE. But you'll sure have fun trying.