When Gucci-trimmed cars had automakers seeing green
When my Ralph Lauren polo shirt came out of the laundry considerably smaller than when it started, I felt foolish for paying a premium for a shirt with a polo player sewn on the front. Yet many of us willingly shell out more for the products rendered by Ralph, Calvin, Tommy, Tom, Michael, and others.
The 1970s gave us leisure suits, pet rocks, and The Village People, but the decade also birthed the rise of mass-market premium designers, a trend Detroit automakers joined when it introduced designer-edition automobiles. And while Lincoln is best known for fielding designer-trimmed vehicles (it offered a Lincoln Town Car Cartier trim as late as 2004) it seems that the Blue Oval's inspiration for designer cars came from a most unexpected source—American Motors Corporation—as well as a most unlikely car, the 1972 Hornet Sportabout by Gucci.
An unlikely pairing
A rarified Italian design house adding its touch to a frugal Midwestern-built compact seems improbable, especially given the companies' dissimilar backgrounds. Guccio Gucci founded his namesake company in 1921 as a purveyor of equestrian leather goods. Inspired by the straps used on horse saddles, Guccio designed the company's now-iconic green/red/green stripe design, originally using blue and red. By 1963, under the guidance of his sons Rodolfo and Aldo, the company found favor with the flush and famous, including Grace Kelly, Jackie Onassis and Elizabeth Taylor. By 1970 Gucci, now run by Aldo, was expanding their licensing, including a new association with American Motors. A company that never produced very much that was quite so rarified, AMC was born from the 1954 merger of Hudson Motors and Nash-Kelvinator.
The smallest Detroit's automaker's most popular car was the stolid, sensible Rambler, a car about as glamorous as a Kelvinator refrigerator. Knowing this, AMC replaced it with the compact Hornet, a name last used on a Hudson model that dominated NASCAR's early years. Initially offered as a two-door coupe and four-door sedan, a wagon joined a year later. Dubbed Sportabout, it came with a choice of modestly powered six-cylinder engines—which most people bought—and a pair of muscular V-8s which most buyers avoided. A three-speed manual transmission was standard.
The Sportabout was part of AMC's attempt at attracting more women to its showrooms, an effort augmented for 1972 with a new idea: designer-edition AMC models. Executives thought that sprucing up their cars' interiors with fashion house trim would entice shoppers lacking a Y-chromosome.
The first assignment fell to Aldo Gucci, who sheathed the Hornet's seats in green and ivory vinyl offset with green and red stripes. Door panels received green vinyl with ivory inlays. Carpeting and steering wheel were dark green, while the headliner was ivory and green and accented with Gucci's famous double-G pattern. As a bonus, the Gucci Package featured reclining front seats. Exterior color choices were limited to Snow White, Yuca Tan (as misspelled in the brochure), Grasshopper Green or Hunter Green. The package added $141.75 to the Hornet Sportabout's $2509 base price, which did not include power steering, power brakes, air-conditioning, tinted glass, AM radio, roof rack, air deflector and three-speed automatic transmission. Luxury, it seems, was optional.
In June 1972, Road Test magazine wrote that, "[T]he merchandising value of an Italian designer of women's shoes, belts and luggage doing the interior of a family car may have some impact on the influence of the woman in the family in selecting that family's vehicle."
AMC also offered a Pierre Cardin interior on the Javelin, while Oleg Cassini enhanced the Matador coupe in 1974. Most famously, Levi's jeans would adorn the interiors of Gremlins, Hornet hatchbacks, and Jeeps. Yet Gucci's success was more limited. AMC sold 2584 Gucci-trimmed Sportabouts in 1972, and 2251 in 1973.
Aldo Gucci sets his sites higher
As Gucci was expanding its licensing empire, the brand's past affiliation with AMC prevented its use by Lincoln for a line of designer coupes for 1976, which included Bill Blass, Cartier, Emilio Pucci and Givenchy.
Instead, Gucci turned to Cadillac and its new Seville.
The Seville debuted in 1975, the first of many attempts by Cadillac to fend off luxury imports by emulating European cars albeit with a heavy dose of Cadillac luxury. Two feet shorter and a half-ton lighter than other Cadillacs, the Seville was Cadillac's first "internationally sized" vehicle. Powering the Seville was an Oldsmobile 5.7-liter V-8 producing 180 horsepower and 275 lb-ft of torque through a three-speed automatic transmission. Astutely, the marque's smallest car was its most expensive at $12,479, or $58,736 when adjusted for inflation.
The Seville enticed 43,772 buyers in its inaugural season, as well as attracting Gucci's attention. Nevertheless, General Motors executives had no interest in producing a designer edition Seville, although they allowed Gucci to build an aftermarket edition and call it "Seville by Gucci."
Starting life as a Seville sans vinyl roof in white, black, or brown, gold Gucci logos were added to the hood ornament, wheels, and fenders. The C-Pillar was wrapped in a vinyl accented with the Gucci logo. Inside, Gucci double-G fabric adorned the door panels, headrests, armrests, and floor mats. Finally, a color-matched five-piece luggage set was fitted in the trunk.
Such opulence didn't come cheap: $19,900 in 1979, $22,900 in 1980.
International Automotive Design's Miami outpost carried out Gucci's designs. John Shute founded the company in 1976 in West Sussex, England with five employees. It would grow to 1400 employees by 1991 before being acquired by Mayflower Group two years later. Best known for developing concept cars, the company is best known for helping develop the 1989 Mazda MX-5 Miata.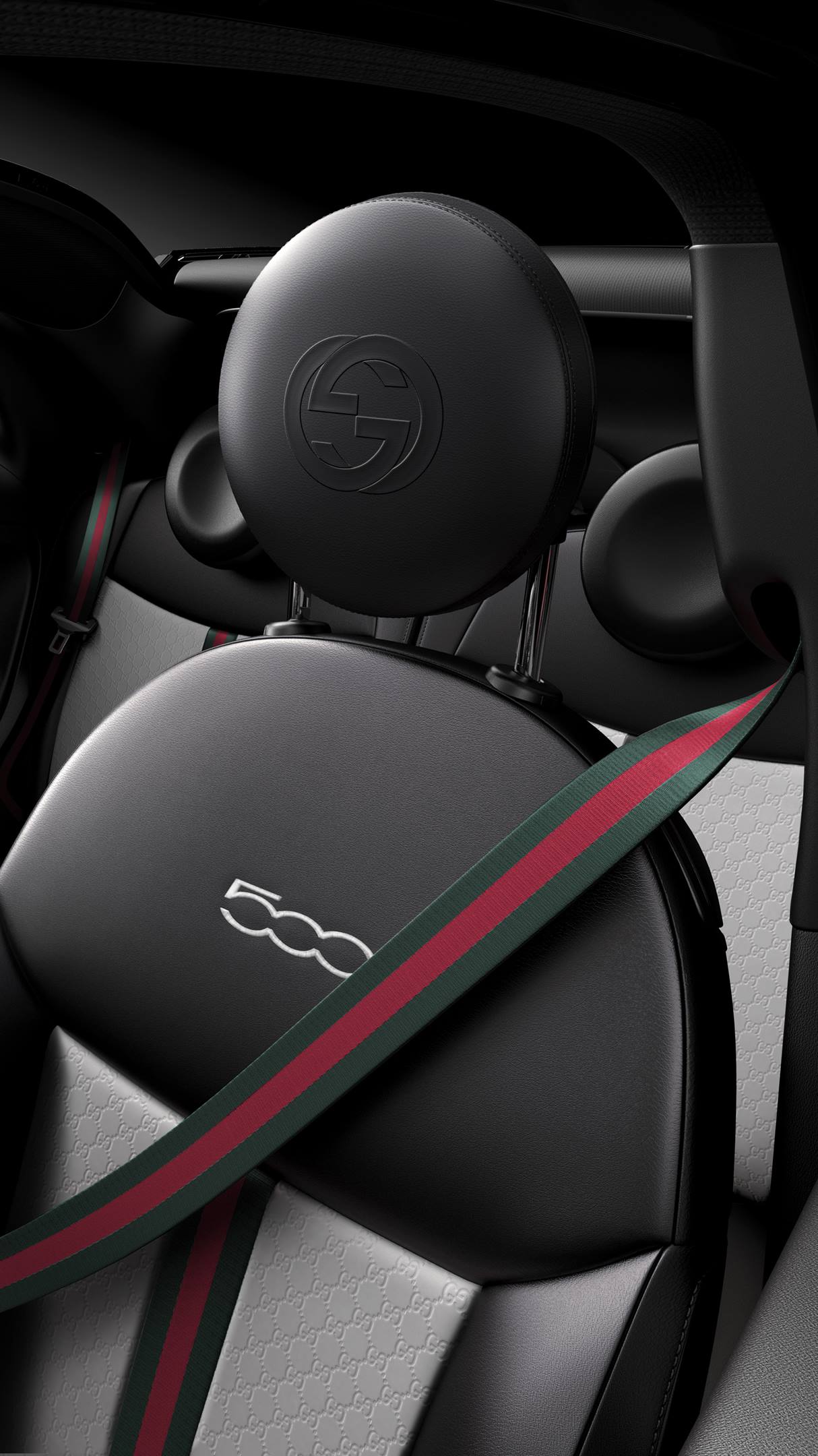 I.A.D. continued building the Seville By Gucci for the car's second generation, albeit with a far larger vinyl roof and far less taste. Declining demand led to its demise after 1984, but by then, Gucci was a different company.
Retreat and revival
As Gucci's Cadillac project ended, the company was plagued by family infighting, most likely caused by Aldo's over-licensing. The brand's double-G canvas was cheap to produce, and the logo was now affixed to more than 22,000 products. As Gucci lost its glamour, true luxury buyers shunned the brand. It would take Rudolfo's son Maurizio to revive the family business. Harvard-educated, Maurizio took over in 1989, closing offices, laying off employees, restructuring the company, and bringing in new blood, including a 29-year-old designer, Tom Ford. Ford revived and updated old favorites while streamlining Gucci's product line. By 1995, solely in control of Gucci's collections, Ford not only gave the fashion house a new look, he gave it a new cache as well.
This would lead to the brand's newest car collaboration, this time with Fiat on a car as common as, but far more stylish than, the Hornet: the iconic 500.
Produced from 1957 through 1975, more than four million 500s were sold despite having 18 horsepower and a top speed of 59 mph. A new, larger version of the 500 returned for 2007 joining a wave of retro-style cars that included the Volkswagen New Beetle, Mini Cooper, and Ford Thunderbird. Under its petite hood, a 1.4-liter SOHC four-cylinder engine developed 101 horsepower and 98 pound-feet of torque.
Debuting at the 2011 Geneva Motor Show, and later that year at New York Fashion Week, the 2012 Fiat 500 by Gucci debuted during Gucci's 90th anniversary, a collaboration between Gucci Creative Director Frida Giannini and Fiat's Centro Stile.
The 500 by Gucci came two ways: black with bright chrome trim or white with satin-finish chrome. Gucci's green and red stripes run below the beltline. The Gucci name adorns the B-pillar, while wheel centers get the famous double-G logo. Convertibles wear the Gucci stripe on the fabric roof. Inside, similar to other Gucci cars, the Gucci stripe appears on the seat inserts, seat belts, shifter, carpets and key fob. Of course, drivers wishing to more fully embrace the Gucci lifestyle could also opt for driving gloves, bomber jackets, sunglasses, and a watch.
"Being Italian, it makes me proud to have contributed to this Fiat 500 by Gucci, which brings together the spirit of two brands that so perfectly symbolize our country's savoir faire in the world," said Lapo Elkann, Fiat family heir at the time. "It has indeed been very gratifying to work again on the car I love most."
Given that the final Fiat 500 by Gucci appeared for 2013, one wonders which car will next wear Gucci livery. Alfa Romeo Giulia? Fiat 500X? Nobody's safe.