U.S. Postage Stamps Keep on Truckin'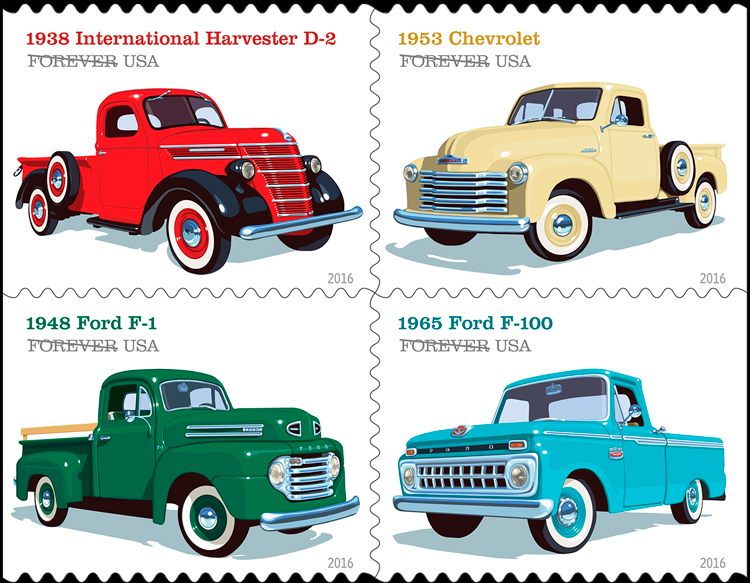 For cute, we get Shirley Temple. Music, Sarah Vaughn. Outer space? The U.S. Postal Service has that covered too, with 2016 stamps that feature both actual planets and fictional space explorers (Star Trek).
For those of us who love everything on four wheels, however, anticipation continues to build for the release of four stamps that feature fantastic illustrations of iconic American pickup trucks. The USPS website is mum about when the stamps will be available. And if the friendly folks at our local post office know the release date, they certainly aren't saying. At least the American Philatelic Society was able to offer a guess: "Summer?"
If you haven't seen promotional photos of the truck stamps (generally posted not far from images of the FBI's Most Wanted), we're all-too happy to fill you in.
Chosen by the USPS to celebrate "the rugged and reliable work vehicles that Americans have driven for nearly a century" are:
A red 1938 International Harvester D-2 with its "distinctive barrel-shaped grille and elegant styling."
A light yellow 1953 Chevrolet featuring "large windshields (that) provided drivers with excellent visibility, a distinctive curvy grille that bulged in the middle, and a six-cylinder engine."
A green 1948 Ford F-1 with "a roomy 'Million Dollar Cab,' sharp horizontal five-bar grille and six cylinder engine."
A powder blue 1965 Ford F-100 with "a new grille that featured 18 small rectangular openings. It also featured what Ford dubbed 'Twin-I-Beam' independent front suspension."
The utilitarian pickups were illustrated by Chris Lyons, whose work has appeared in a number of publications, including Road & Track magazine.
The 47-cent "Forever" stamps will be sold as a double-sided pane of 20.
The USPS also offered auto-related stamps in 2013 (American Muscle Cars) and 2014 (Hot Rods).