Unique Cape Cod car museum will leave you seeing red
Bill Putman has a thing for red cars. And red cats. Somewhere around 35 vintage sports cars are currently housed on the grounds of the inn he runs on Cape Cod in Massachusetts, depending on whether you count a couple of outliers like the Lotus Europa body shell on the roof. Most are tucked away in a ramshackle museum behind the main house, and every last one of them is red. The only other full-time residents are 14 cats, who pretty much have the run of the place and the cars. And most of those, of course, are reddish Calicos.
When asked why red, the keeper of Toad Hall smiles like a man who has answered the question many times, and points to one of many signs adorning the walls. Toad's car's were red, so his are too. The Toad in question is a character from Kenneth Grahame's The Wind in the Willows, published in 1908. The museum gets its name from him.
"Toad was one of the first car nuts," Putman explains.
Bill's taste runs primarily to British cars, and the museum reflects that with an impressive representation of post WWll models from Austin Healey, Jaguar, Lotus, MG, and Triumph. There's also a lone Daimler SP 250, along with a smattering of Datsuns from Bill's racing days, including a 510 coupe, a pair of 1600 roadsters, and a 240Z or two.
An enthusiast since restoring and hot rodding a 1949 Ford as a teenager back in the 1950s, it wasn't until Bill got his SCCA license and began competing that his interest began to shift to English cars. His reasoning was simple. "All the British cars did well in their classes, and were reasonably priced."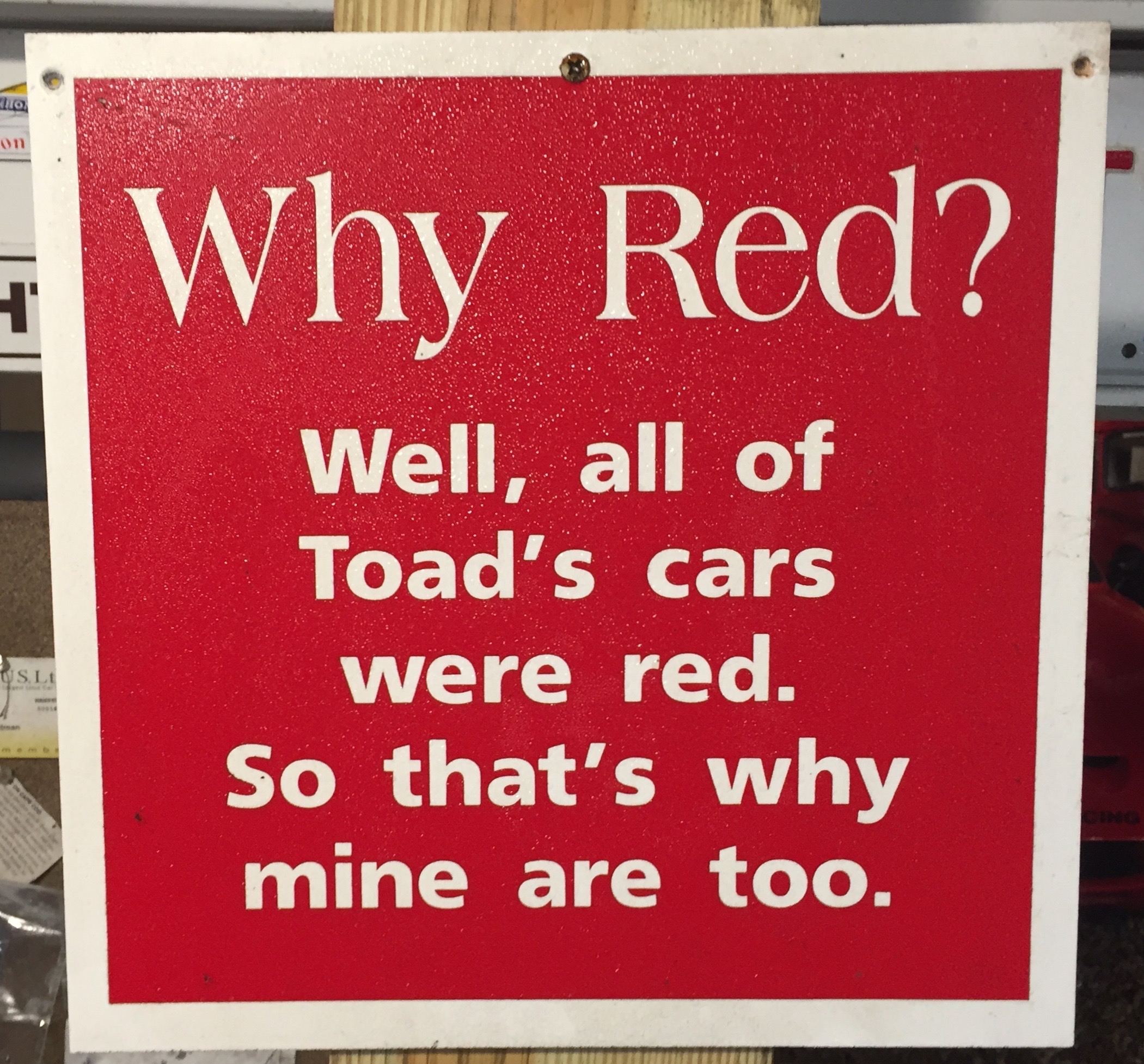 Bill continued to compete for years, under the Minuteman Racing banner that emblazons all of his cars. And then the former high-powered executive—with the likes of Gulf Oil and American Express—left the corporate world in 1988 for a life of innkeeping. "The B&B was something my wife and I always wanted to do," he says.
Unfortunately, Bill's wife passed before the dream came to fruition. But he pushed on with the project, renovating a previously empty 225-year-old farmhouse into the Simmons Homestead Inn. Along with a change in career, that was when he really got serious about collecting cars. Perhaps because he now had the room, perhaps because business was good in the 1990s, and perhaps because his wife could not act as a voice of reason to discourage the purchase of dozens of red cars, Bill broke out the checkbook. In one two-year period, 40 cars found homes at the inn. And he found himself in need of more storage space.
"I just started building sheds, and it kind of got out of hand," he says. Eventually, Bill put a roof over the low-ceilinged shelters, linking them into a sort of free-form barn.
The cars came from all over the U.S., as Bill scoured eBay and Hemmings Motor News during whatever free time he had. Four were local purchases from Cape Cod. While it wasn't mandatory that all the cars were red, color was a key selling point.
"I did have a few of them painted," he says.
Most were in good condition when he purchased them, but Bill bought a few project cars early on. Like many collectors, he quickly learned that snapping up already restored examples was often the less expensive and more enjoyable way to go. "It made more sense to let somebody else do all that nonsense."
Spanning the decades from the 1950s to the '90s, Bill's collection is something of an encyclopedia of British sports car history. The oldest is a 1951 MG TD, one of the cars that came from another collector on the Cape. "I never thought I'd want anything that old," Bill says with a smile. The newest is a Lotus Elan M100 from the early '90s, a rare and largely forgotten effort with a powertrain sourced from Isuzu.
In between are examples of most Triumph models sold in the U.S., including a TR2, TR3, TR4, TR6, Spitfire, and GT6+. The MG section includes a 1958 MGA coupe and roadster, an MGB, and an MGB GT, while the collection also includes examples of a Jaguar E-Type coupe and roadster, along with a somewhat tired XJ12 Coupe that lives out front. Parked next to it is a gracefully decaying Bentley, now retired from service as a hospitality car for transporting inn guests.
Bill says that at its height, the collection numbered 60-plus cars, and all were registered and driven regularly. But that simply proved to be too much. He's whittled it down to a more reasonable three dozen or so. Asked if he had a favorite, Bill paused. "Cars are like animals, you can't pick a favorite," although he admits that a now-departed Lotus 7 was a longtime favorite driver. And another Lotus, a '87 Esprit that sits in a corner, served as his daily driver for seven years.
Bill also has an extensive collection of memorabilia and photographs of a life spent in and around the hobby. In one corner stands a hood from a car once driven by fellow racer and occasional dinner partner P.L. Newman, whom he describes as having been "a pleasant guy."
Neon signs in the shape of many of his cars adorn the rafters over their parking spaces, and various vanity license plates hang on the walls commemorating models still in the collection and others that are long gone.
Like many collectors of a certain age, Bill is done with the acquisition stage of the hobby at this point and has begun the long process of divesting himself of a lifetime of collecting. "Everything is for sale," he says.
Although Bill is downsizing the collection, his enthusiasm hasn't waned. His current daily drivers are a 2000 Audi S4 that's been chopped and lowered, Honda S2000 that's been similarly tweaked. Like everything else in Bill's collection, both are emblazoned with the Minuteman Racing logo of his former racing team. And yes, those are red, too.
Between talking cars and directing a busy inn staff, Bill isn't showing signs of slowing down. Trying to keep up with him 30 years ago—on the track and off it—must have been tough. "I plan to retire sometime in my 90s," he says. In the meantime, Toad Hall is open daily, year-round.
If you're lucky and Bill isn't too busy, you may get a personal tour. And if that isn't enough, you can always book a room at the Inn.