McQueen's 1945 Willys MB is one cool military Jeep
What's the secret to making an already cool Willys Jeep even cooler? Simple, attach Steve McQueen's name to it.
The day before Americans celebrate Veterans Day, a WWII-era 1945 Willys MB Jeep once owned by "The King of Cool" will cross the block as part of Silverstone Auctions' NEC Classic Motor Show sale in Birmingham, UK on Saturday, November 10. The legendary movie actor owned the Jeep until his death 1980.
Pre-auction estimate is $105,000–$131,000, which is 4–5 times the average value of a top-notch 1945 Willys MB (CJ-2A). A 1942 Willys Jeep, without the cache of famous ownership, carries an estimate of $26,000–$31,500 in the same sale.
"Celebrity ownership doesn't necessarily mean a big price premium, but having Steve McQueen's name attached to anything automotive almost always translates to a big price," Hagerty auction editor Andrew Newton says. "He owned a lot of cars and bikes, so it depends on how noteworthy the car is and how regularly he used it. But 'owned by Steve McQueen' will always get bidders' attention."
According to Silverstone Auctions, the Jeep's current owner purchased it for $6000 at the 1984 Steve McQueen Estate Sale in Las Vegas. That's the equivalent of $14,600 today. McQueen was apparently the second owner, having acquired the Jeep directly from the U.S. Army. The sale includes corroborating documentation and the Jeep's original California license plates, which were renewed October 31, 1980, one week before McQueen's death.
A Gulf-liveried Porsche 917 that McQueen drove in his 1971 film Le Mans sold for an astounding $14,080,000 at Gooding & Company's 2017 Pebble Beach Auction, and his 1976 Porsche 930 went for $2,145,000 at Mecum's 2015 Monterey event. But those headline-grabbing sales are the exception, not the rule.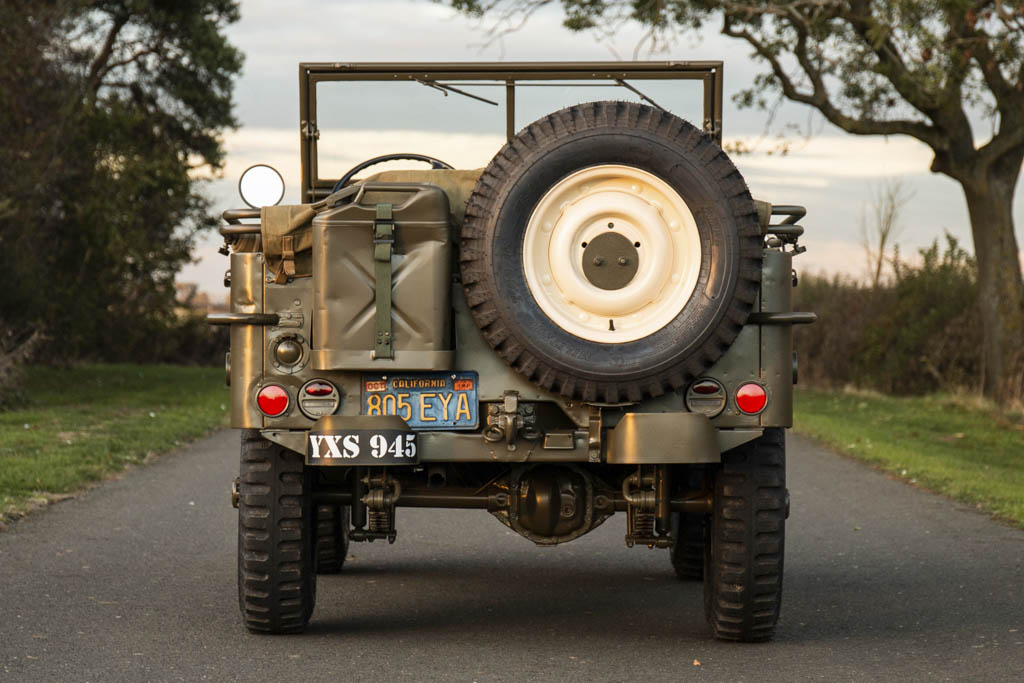 Most McQueen-owned cars don't come close to realizing those prices, but they almost always add significant value. A few recent examples (from most expensive to least expensive): 1951 Chevrolet Styleline Deluxe Convertible, $126,500 at Barrett-Jackson's 2018 Scottsdale Auction; 1950 Hudson Custom Commodore, $98K at Bonhams' 2018 Quail Lodge Auction; 1953 Hudson Hornet Sedan, $61K at RM Sotheby's 2012; and 1952 Chevy 3800 Custom camper Pickup, $60,500 at Barrett-Jackson's 2016 Scottsdale Auction.
McQueen doesn't even have to have direct ties to a vehicle to make it desirable. If you're a fan of 1968's Bullitt (and who isn't?), Silverstone is offering a pair of Highland Green 1967 Ford Mustang 390 GT Fastback Bullitt replica cars—one with a pre-auction estimate of $76,000–$89,000 and the other at $118,000–$144,000.
Cool.
Editor's note: McQueen's 1945 Willys Jeep MB sold for £84,375 ($108,950).