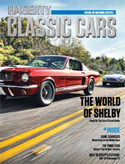 The one that got away came back home
Most people only get one chance with that special car. Sometimes it's an opportunity missed or a car sold too soon. However, Robert Jordan got a second chance.
When Jordan was home on military leave in December 1966, he visited the Dumas Milner Chevrolet dealership in Jackson, Mississippi. "I knew I'd need a car after my discharge and I'd always been a Chevy man," he says. A car fresh off the truck caught his attention: "It was different from anything I had seen before. It was a 1967 Camaro Rally Sport/Super Sport." It was Tuxedo Black with a beige vinyl roof, white nose stripe, gold deluxe interior and four-speed manual transmission, and Jordan promised himself that he'd own it if it was still there in February.
Three months, a discharge and a bank loan later, Jordan traded a $3,100 check for that black RS/SS Camaro. As the salesman handed over the metal Protect-O-Plate owner's card, Jordan noticed that his town was erroneously listed as Terry, not Jackson. Assured that the goof wouldn't affect the warranty, Jordan drove off in his new ride.
Later in the year, Robert met Carol, and they were married in October 1968. Painted with white shoe polish and festooned with toilet paper, the trusty Camaro took them from the wedding to their Gulf Coast honeymoon. For another five years the Camaro was used daily, but after their first son was born the Jordans sold it and bought a bigger car.
Fast forward a lifetime and the Camaro was largely out of mind, until October 2010, when Robert and Carol attended "Cruisin' the Coast." After seeing many fine early Camaros and exchanging "the one that got away" stories, they began to have wistful thoughts of their old car.
Everything changed in late February 2011, when Robert, who now really did live in Terry, returned home to find a message from a Chris Canfield. He learned that Canfield was considering buying a restored 1967 Camaro, which had a Protect-O-Plate showing it had been bought new by Robert Jordan of Terry, Mississippi. Canfield shared photos of the restored car — now white with a red interior — and Jordan said that he'd be interested should it ever be available. A week later, says Jordan, "Chris contacted me and said I was the rightful owner and he wanted to make my dream come true." Canfield forwarded the seller's contact information. Once Jordan had confirmed that the Camaro was indeed his old car, the deal was done.
In late March 2011, Jordan and friend John Stigall picked up the Camaro in New Castle, Indiana, and trailered it home. To bring the story full circle, in October, Robert and Carol Jordan took the Camaro back to the Mississippi Gulf Coast, where they celebrated their 43rd wedding anniversary.