Prewar American cars are still in demand based on the 2018 Monterey auction
The Pebble Beach auctions this year featured the remarkable sale of the 1935 Duesenberg SSJ Roadster for $22,000,000 by Gooding & Company. Is that an exception or was it a return to form for cars from the great prewar American makes? (For anyone wondering what the prewar category is, it's any example built by one of the following makes before 1942: American, Auburn, Buick, Cadillac, Chrysler, Cord, Du Pont, Duesenberg, Franklin, Lincoln, Locomobile, Marmon, Mercer, Packard, Pierce-Arrow, Ruxton, and Stutz.)
The $22 million sale for the Duesenberg SSJ is a record for an American car sold at auction. The prior best was achieved by the 1962 Shelby Cobra CSX2000 that sold for $13.75 million in 2016. With the record back on a car built before 1942, there appears to be a renewed interest in prewar cars. Of the top 25 American cars sold at the Pebble Beach auctions this year, 60 percent were built before the Second World War. Only once in the past 10 years was the prewar share of the top 25 greater, and that was with 68 percent in 2011 when six Duesenberg Model Js sold. The long-term average by decade was only 33 percent in the 1990s and 48 percent in the 2000s.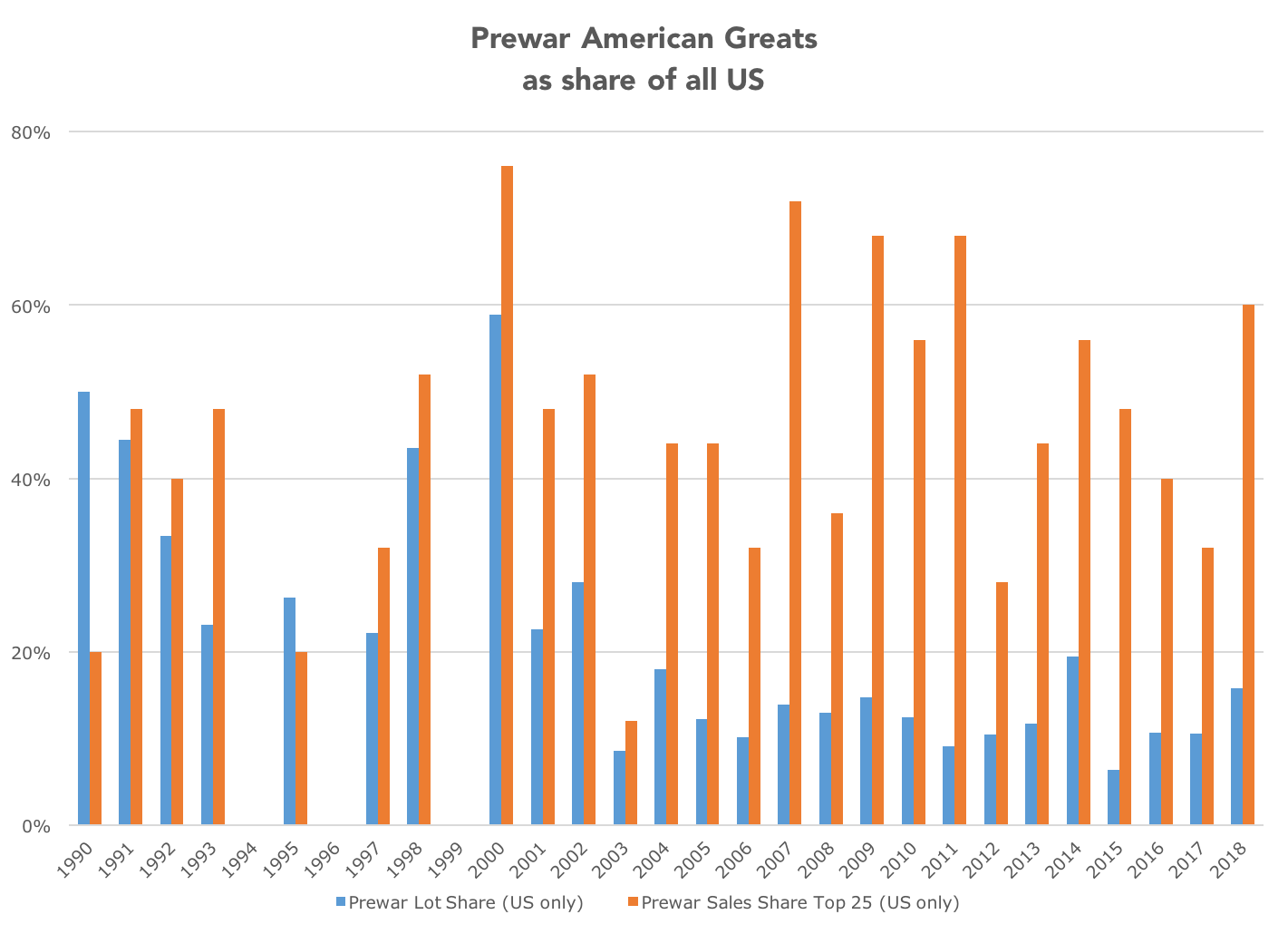 The number of prewar American cars from the great marques on sale at Monterey is also trending up. From a low of 6 percent in 2015, it hit 16 percent in 2018, although that's still down from historic levels. The number was as high as 30 percent in the 1990s but fell to 20 percent in the 2000s.
The share of total sales by pre-war cars was up at the auctions this year too, even when excluding the big Duesenberg. With the SSJ sale, the share was 11 percent, and without it the share was 6 percent. Both are above the 5-percent average from earlier this decade. Here too the current uptick has not reached the levels of previous decades, for example averages of 8 percent in the 2000s, and 7 percent of the 1990s.
The sell-through rate for prewar American greats is typically better than for the overall auctions. In 2018, 69 percent of Cords, Duesenbergs, and Packards hammered sold, which is 7 percent more than the overall sell-through rate of 62 percent. While the segment did sell at a lower rate in 2015 and 2016 (at 6 percent and 2 percent lower, respectively) it has averaged 6 percent this decade. Back in the 1990s, the cars sold 9 percent more often than all auction offerings, but it dipped to no-difference in the 2000s and was as low as -14 percent in 2003.
With the exceptional offerings and prices achieved this year, and improving metrics for the segment, prewar American greats appear to be attracting new collectors. If collectors continue to offer outstanding cars at auction, the resurgence of in interest in these remarkable cars will stay alive.
Top 25 American cars sold at the Pebble Beach auctions this year:
1965 Shelby GT350 Base Fastback sold for $379,500 by Gooding & Company
1916 Packard Twin Six-Series 1-25 Base Runabout sold for $390,000 by Bonhams
1936 Ford Model 68 Deluxe Coupe, 3-Window sold for $407,000 by Mecum Auctions
1934 Packard Twelve-Series 1108 LeBaron Sport Phaeton sold for $445,000 by RM Sotheby's
1936 Packard Super Eight-Series 1404 Base Sport Phaeton sold for $451,000 by Mecum Auctions
1969 Chevrolet Corvette Base Convertible sold for $451,000 by Mecum Auctions
1912 Pierce-Arrow Model 48-SS Base Touring sold for $472,500 by RM Sotheby's
1916 Locomobile Model 68 Base Cabriolet sold for $473,000 by Worldwide Auctioneers
1921 Stutz Series K Bearcat Roadster sold for $478,000 by Bonhams
1957 Chevrolet Corvette Base Convertible sold for $522,500 by Mecum Auctions
1955 Chrysler New Yorker DeLuxe Base Newport Hardtop sold for $527,500 by RM Sotheby's
1937 Cord 812 Sportsman Cabriolet sold for $539,000 by Gooding & Company
1965 Shelby GT350R Race Model Fastback sold for $720,000 by RM Sotheby's
1962 Shelby Cobra 260 Roadster sold for $990,000 by Worldwide Auctioneers
1966 Shelby Cobra 427 (CSX3101 – CSX3200) Roadster sold for $995,000 by RM Sotheby's
1935 Auburn 851 Supercharged Speedster sold for $1,012,000 by Gooding & Company
1936 Auburn 852 Supercharged Speedster sold for $1,017,500 by Mecum Auctions
1930 Packard Speedster-Series 734 Base Roadster sold for $1,127,500 by Gooding & Company
1929 Duesenberg Model J Murphy Convertible Sedan sold for $1,155,000 by Mecum Auctions
1931 Duesenberg Model J Derham Tourster sold for $1,320,000 by Worldwide Auctioneers
2017 Ford GT Base Coupe sold for $1,540,000 by Russo and Steele
1934 Packard Twelve-Series 1108 Dietrich Convertible sold for $3,745,000 by RM Sotheby's
1933 Duesenberg Model J Rollston Convertible Victoria sold for $3,850,000 by Mecum Auctions
1966 Ford GT40 Mk II Coupe sold for $9,795,000 by RM Sotheby's
1935 Duesenberg SSJ LaGrande Convertible sold for $22,000,000 by Gooding & Company