Of course Portland still has a Saab dealership
Most passersby on 82nd Avenue in Portland, Oregon, won't register Garry Small Saab at all as they motor along the busy street. But for any car aficionado, the lineup of Saabs and active sales advertisements generates inevitable confusion and intrigue.
Yes, Portland still has a Saab dealership. There's official signage, it's clearly still in business, and the calendar shows 2018, seven years since the beloved, oddball Swedish brand "born from jets" sucked in its final turbocharged breath. Garry Small Saab has always been something of an outlier anyway, so as far as the dealership is concerned, tales of the marque's demise are greatly exaggerated.
Most Saab sales centers shared real estate with other brands, often Cadillac in the GM years, or among a more random gallery of import nameplates under the umbrella of some dealer empire. Not this one. Garry Small Saab has been independently owned and operated since the man with the name on the sign took over an existing Saab showroom in 1986.
"I had a Volvo service center that we started in 1970," Small tells Hagerty. "Then this dealership became available in 1986 and so I thought, there's a perfect marriage: Volvo and Saab. So I brought all of my Volvo customers over here and got the Saab franchise, and that's how we got going."
Garry Small is definitely not a stereotypical car salesman in a flashy suit, nor do you get the impression he tried to be. He is and always has been a mechanic, one who spent 12 years wrenching at a shop that specialized in Volvo, British Fords, Triumph, and Amphicar before he got into the sales business.
"I figured I'd better start servicing a car that's actually going to be around. That's how I started with Volvo."
He spent years continuing to get his hands dirty, frequenting his machine shop to rebuild a customer's turbocharger, grind a flywheel, really whatever was necessary, all while running the dealership in its new-car prime.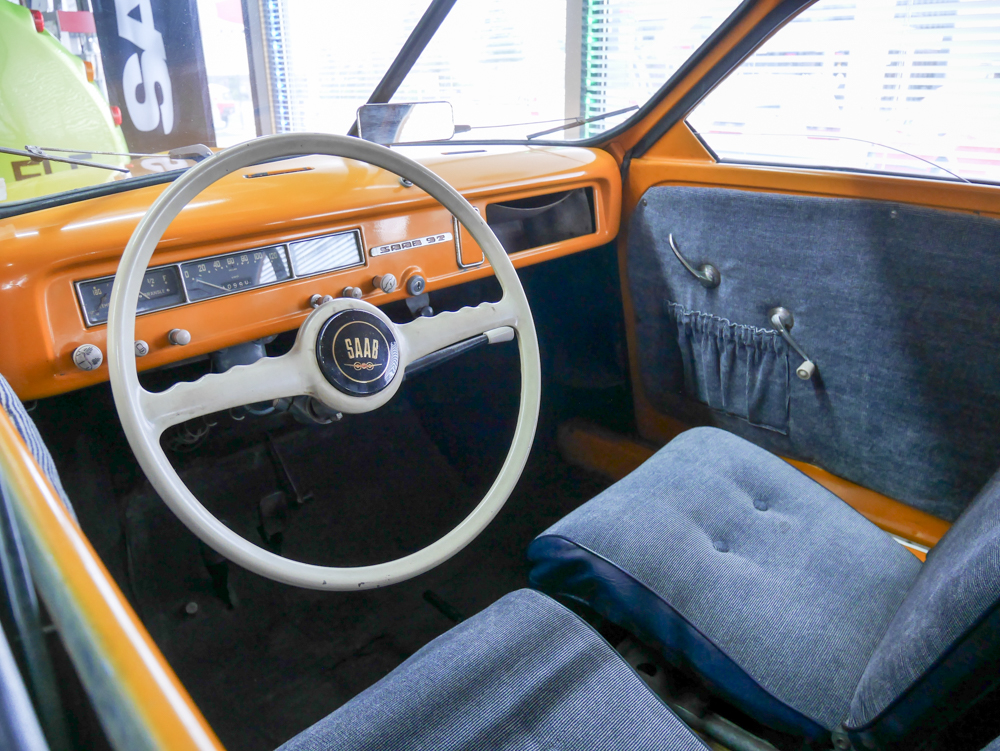 "I bought all the machine shop equipment when I started racing," he says. "I could never find anyone to build a race motor the way I wanted it, so I bought all my own machine equipment, started doing all my own work."
Yes, racing. At roughly the same time Garry Small started the Volvo service center in 1970, he had the crazy idea to race a Volvo P1800—despite having never actually gone racing before. Though his father had owned flathead Ford race cars in the 1950s, the junior Small didn't decide to pick up the torch until he was 30.
Perhaps he was just a late bloomer. Small raced his P1800 between 1970 and 1982, twice falling short of a SCCA F Production road racing national championship. He came in second in 1980 after starting in 21st position—the result of an overlooked brake infraction that bumped him back after qualifying second. He would start on the pole the following year and was in a position to win when the car started losing power with three laps to go. Turns out the fuel supplier neglected to mention they were having trouble with water in their gas.
The P1800 is proudly on view in the showroom today along with a token selection of cars for sale. It's as much a museum now as it is a service waiting room On this particular week, there's a pristine 68,000-mile 1997 Saab 900 convertible in rare Monte Carlo yellow, as well as a restored 1984 Mustang SVO with only 70,000 miles. There's also a non-racing P1800 and an adorable two-cylinder, two-stroke 1954 Saab 9-2. The walls are bathed in Saab banners, color selection mockups, and a great many promo posters. The door to Small's office, curiously, bears one for the "Born from Trailblazers" Saab 9-7X.
It's the display cases that really take you back through Saab history with their collection of "vintage" promotional materials spanning three-plus decades. There are brochures, key chains, watches, pins, model cars, and a particular favorite, Saab Visa credit cards. Whipping out your gold "Turbo card" in 1990 must've been fun.
Small estimates he sells about five to six cars per month, with 15 to 20 cars on the lot at any given time. They're mostly Saabs, but there are also Volvos and some lightly used, newer cars from other brands thrown in to help move metal. Small's service department refurbishes the cars and, judging by what's on the lot, everything does appear cleaner than the typical used car.
"Usually I get on the Internet and scour for Saabs. I don't buy anything out of the East Coast because of the rust situation. I only buy California, Oregon, and Washington cars, maybe some out of Arizona."
Presently, Small is on the look-out for anything newer and rare, such as the 9-3 Turbo X ("we only ever got one of those"), and the 2010 and 2011 Saab 9-5 Aero.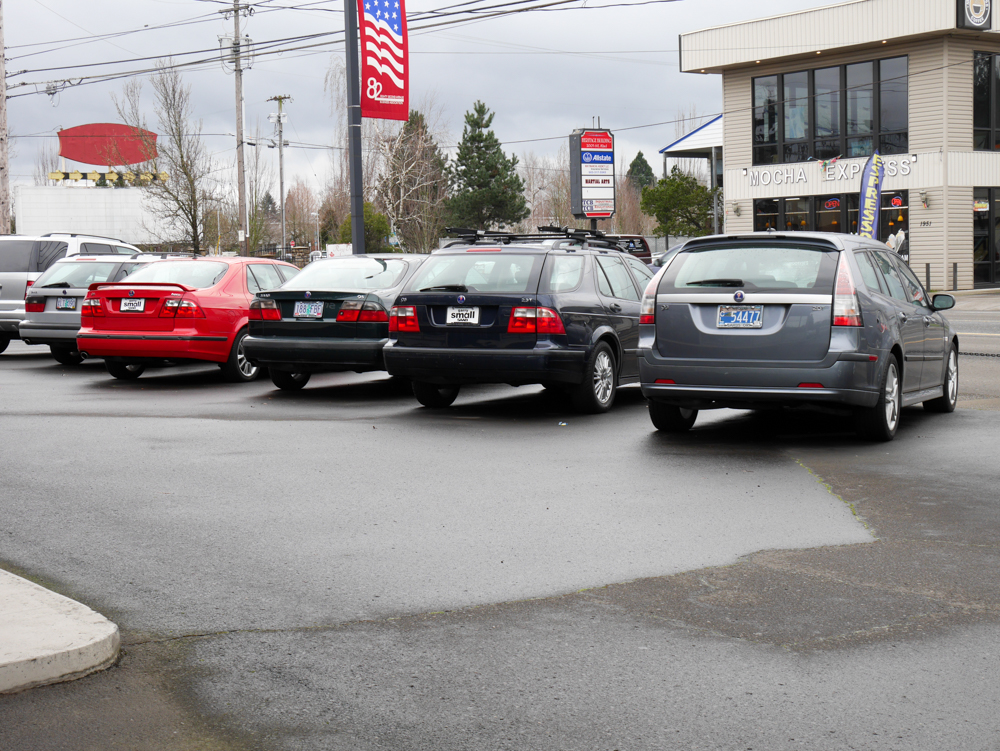 The 9-5, which was the last new Saab, is obviously bittersweet as it represents both Saab's end and what could have been. The brand was finally getting new product that wasn't a rebadged Subaru Impreza or Chevy Trailblazer, and yet, nearly as soon as it arrived, it was gone. The Saab 9-4X compact SUV was dead on arrival (only 800 or so units of the Cadillac SRX clone were built), and Small had nine open orders for 9-5 SportCombi wagons that were never produced.
"We had 20 new Saabs in inventory when they gave us the word, but we managed to sell those cars and managed to keep the Saab thing going."
Despite the first year being a bit scary, concerns about like warranties, recalls and parts were eventually allayed. Parts haven't been as difficult to procure as you might imagine, but finding them for older models is getting a bit harder. Besides an ample on-site stock, Saab parts are still being manufactured in Sweden and distributed through an official channel, a company called Orio in Pennsylvania.
Small's business has obviously evolved in the past seven years to be more service-focused, but the sign out front still says Saab and the cars for sale are still predominantly 9-3's and 9-5's. That's not the case with other surviving official service centers. Dana Motors in Billings, Montana—the oldest Saab dealer in the Western United States—didn't have a single Saab for sale at the time of this writing. B&B Saab in Santa Clara, California, doesn't sell cars at all any more.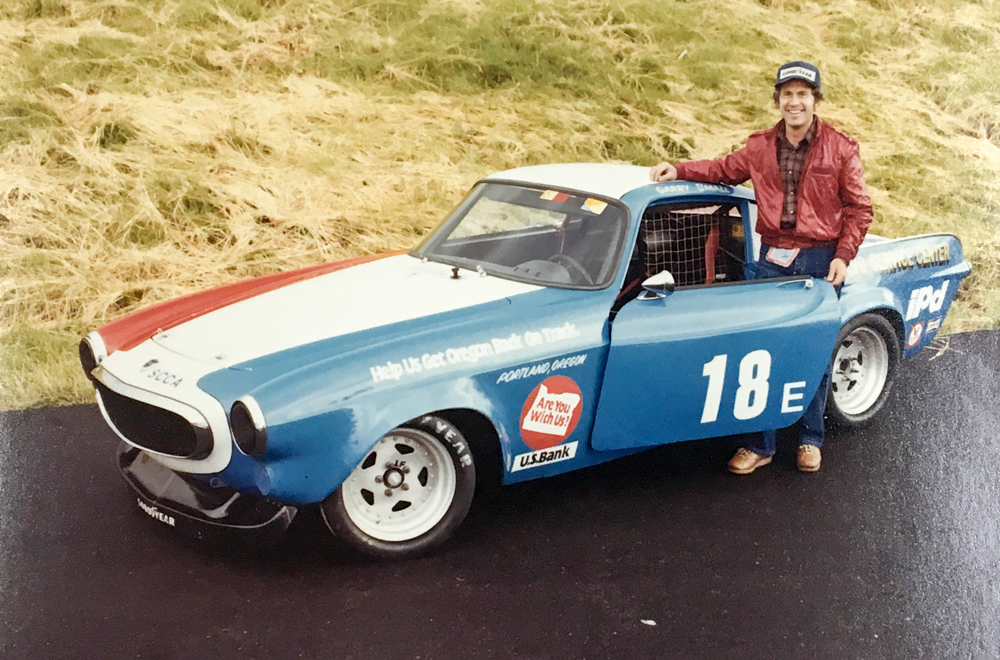 "Saab and Volvo just seemed to be cars that work in Portland," Small says of the town with a clear affinity for both quirky and sensible cars. "I think I'm here because of the city itself. And being a Saab specialist helped a lot. We didn't have other cars or a multi-brand franchise, so people became more comfortable coming here to buy a Saab."
Small wasn't the only one in the know at the shop during its heyday, either.
"My salesman Mel Vale was with me," he reflects wistfully. "I inherited him, he came with the building in '86 and was here until he unfortunately passed away six months ago. He was the Saab knowledge guy. Anything you need to know about Saab, he knew. He was great."
It's that spirit of expertise and specialization that really makes Garry Small Saab something to celebrate. It goes beyond being one of the only independent Saab-only dealers left in the country.
But what happens in the future when the number of Saabs out there dwindles even more?
"When those get old, I guess we'll just keep servicing them until there's not any more Saabs around. We're just here to keep Saabs going as long as we can keep them going," Small says.
And despite pushing 80, there's little reason to doubt that the man in charge will still be a part of it. He continues to work out back in the machine shop, and keeps hunting for surviving Saabs to sell up front. Then again, he might be a bit distracted.
"I've got the race bug again," he mentions with obvious amusement. "I just bought another Volvo P1800, so I'll be [running] that in a couple months in vintage car racing. So that's going to be fun. I might as well do it while I still can."