Peace Vans Seattle is a shop worth the trip, even if the drive starts in Alabama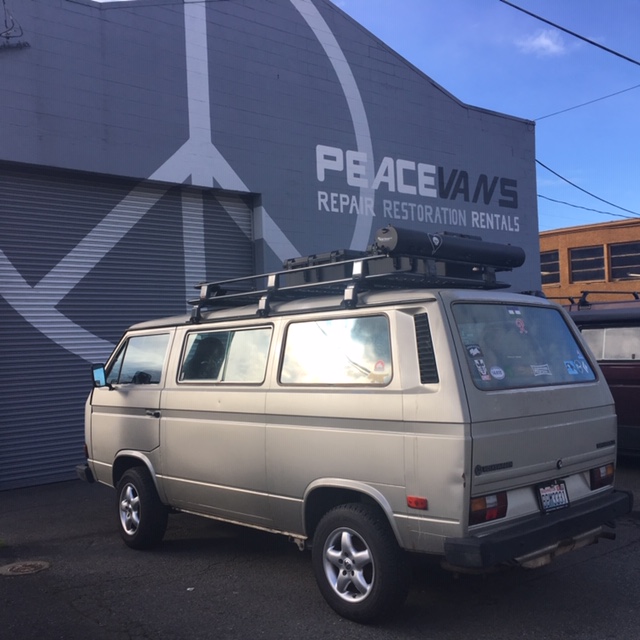 It isn't often that someone plans a family road trip from Alabama to Seattle just to drop off their Volkswagen camper van for a makeover at a shop, but that's an extraordinary testament to the extraordinary work being done at Peace Vans. Naturally, the place has an extraordinary backstory too.
When Harley Sitner took over Peace Vans in 2013, he didn't set out to open a shop specializing in the maintenance and repair of vintage Volkswagen campers. He just wanted a reliable place to get his 1969 VW van serviced. He ended up with both.
The former Microsoft executive and his wife loved their bus, but the search for a good mechanic had proven futile even in their hometown of Seattle—home to a disproportionate number of old Volkswagen buses and the unique demographics appreciative of same. So when Harley finally found such a shop, only to learn the owner was ready to throw in the towel and walk away, he decided it was time to make a change.
"The shop was struggling, and the guy was a little crazy," he says. "But I told [my wife] at least our van would always run. So I went from high tech to no tech."
By any measure, the effort has been a success. Starting with two mechanics inherited with the business, Peace Vans has experienced 15-fold growth during Harley's tenure, and now operates with almost 20 employees spread over several bays in a warehouse district in South Seattle. The growth has come from both marketing and word of mouth, building repeat business from across the U.S. and around the world. Still, about 80 percent of the customers are local, tapping into a local culture of devotees and a temperate climate that helps keep vintage vans from rusting off the road.
"It seems like they've all migrated this way over the years," he says.
Peace Vans is as focused as its customers. All the team work on are Volkswagen buses, primarily of the Westfalia camper variety. You won't find another model of Volkswagen in the shop, let alone something from another make. The passion runs deep, with most employees owning at least one, many of which are daily drivers.
Their dedication extends to the Peace Vans website, which is a well-written, organized, and informative introduction to the shop and its people. It's also something of a primer in Volkswagen buses, with an "Ask the Shop" section detailing everything from what to look for in a used bus to the care and feeding of same, to the all-important knowing how and when it's time to sell. One gets the feeling Harley and the crew have considerable experience in grief counseling for owners with an emotional attachment to their vehicles. And they have.
"People get very attached to these things," Harley says.
A recent visit revealed what might appear to be a substantial percentage of all the VW Westfalias in Seattle, if not on the planet, including several dozen customer vehicles in for routine service, others undergoing restoration in the paint and bodywork shop, and more crammed nose to tail in a fenced lot awaiting their turn. One is from Alabama, its owners having planned a vacation around a road trip to Seattle for a winter makeover. They'll be back to pick it up and take it home later.
Peace Vans welcomes these kinds of travelers, and Harley says such pilgrimages are a growing part of the business. The shop also offers a friendly and welcoming spot for locals, and can offer up an espresso served from a Westfalia kitchen stove to be enjoyed on a well-used bus seat in their cluttered but homey lobby. Harley and company like to be good citizens of the community and have partnered with a number of area non-profit groups and youth programs. Their grass roots efforts also include supporting local do it yourselfers with used parts Peace Vans can't or won't resell to paying customers.
"We'll barter for beer," Harley says.
For adventuring vacationers with an interest in the Westfalia lifestyle but not be ready for a full-on commitment, Peace Vans offers multi-day and weekly rentals. Its fleet numbers about 20 Westies, mostly from the 1980s and '90s, with a couple of older air-cooled third-generation models from the '60s and '70s mixed in. The older ones are reserved for the truly committed, or adventurous, or at least those not in much of a hurry.
All the rental units have names à la Zip Car, and have either been restored or preserved and upgraded with modern stereos and other equipment. Rentals are offered as a turnkey package, right down to linens and pots and pans, and the folks at Peace Vans will be happy to set you up with maps, an atlas, and tour books coupled with tips from their own knowledge of the Pacific Northwest. For those looking for a longer drive, Peace Vans has partnered with another rental shop in Santa Cruz, California, and offers one-way rentals to that other mecca of VW busdom.
In a nod to modernity, Peace Vans has introduced a handful of new Mercedes-Benz Metris pop-top camper conversions to the fleet, and they've partnered with a local dealer to do the conversions and offer units for sale. The work includes components sourced from European suppliers, and is performed with the blessing of Mercedes-Benz, right down to including a factory warranty. About 30 have been sold so far, and the newer units are proving popular with renters.
"In 30 years, maybe we'll have a shop full of those," Harley says.
There may lie the future trajectory for Peace Vans, long after the last of the Westies are retired by even the most die-hard Seattleites.