Lane Motor Museum: Ode to the Offbeat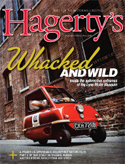 The Lane Motor Museum in Nashville is an eclectic collection, including some of the tiniest microcars ever made.
I'm idling through the SONIC drive-in when my clumsy clutch foot causes the car to stall. Red faced, I fire it back up, apply a healthy dose of throttle – and find myself lurching backward.
Drat. The 1964 Scootacar Mark II DeLuxe I'm driving has no reverse gear, so it achieves rearward locomotion by running its 197-cc two-stroke motor backward. I have no idea how reverse mode is accessed, yet I seem to trigger it with about 50-percent probability. Of course, this is exciting for everyone at the burger joint.
After devouring my meal, I'm ready to head back to the Lane Motor Museum and sample something a bit more substantial and contemporary. Perhaps a car with a four-stroke motor, four wheels or a steering wheel instead of handlebars.
The Lane Motor Museum in Nashville, Tennessee, celebrates cars that exist at the fringes of automotive history. The 330-strong collection includes a coal-powered car, an experimental rotary-engine sedan and a car with a drivetrain and steering wheel at each end, so that it can be driven in either direction. And that's just the Citroëns. (When normal Citroëns aren't weird enough, you've got some offbeat taste in cars.)
Jeff Lane founded the not-for-profit foundation and museum in 2003, when he officially crossed the line from "guy with a bunch of cars" to "collector." That threshold arrived when Lane realized he didn't know exactly how many cars he had. "When I thought I had about 20 cars – but realized I actually had 75 – it kind of hit home," he says. "I had cars in five different buildings, some of which weren't in the nicest places. I either had to get one building or get rid of some cars."
He didn't get rid of any cars.
Eclectic collection
Lane has a few particular interests that merge as themes in the museum's portfolio. Microcars, Tatras and amphibious vehicles, for instance, are all well represented. "The thing I like about microcars is that they tried everything," he says. "There weren't a lot of rules, regulations or expectations. With Tatra, I got interested because of the absurdity, but the technical innovation is what hooked me."
Look around the museum's main floor, and you might see a 1980 Tatra ambulance sharing space with a propeller-driven 1932 Helicron and a 1945 Mochet Velocar. The latter is a hybrid, in that a small gas motor and whatever the driver ate for breakfast power it. The driver and passenger each have a set of pedals to help motor the vehicle, making the Mochet Velocar the easy answer to the question, "What's the worst date car in history?"
At the other end of the scale is the 1959 LARC-LX amphibious vehicle parked outside, which has one Detroit Diesel for each of its 9-foot-tall tires. The LARC is 62 feet long, weighs 194,000 pounds and would be even more problematic at the SONIC drive-in than the Scootacar.
Lane's trove of cars – housed in a former industrial bakery – is too large to fit on the building's main floor, so the display is always in flux, allowing repeat visitors a chance to see fresh machinery. The collection feels more like your eccentric uncle's garage than a musty reserve of snooty concours pricelessness.
There are no velvet ropes here. "I've always been interested in oddball stuff, and sharing my cars," Lane says. "Some people are private, but I'm a big fan of having people see our stuff."
Moreover, the cars here are to be driven, although it's a luxury not available to the general public. In fact, there's a full-time employee whose job description includes putting 50 miles per year on each of the collection's 330 vehicles, which may be seen at lanemotormuseum.org/collection.
From Scootacar to Peel P50
When I ask museum manager David Yando how many cars here are registered and drivable, he replies, "Probably 98 percent of them." Testing that assertion, I ask to drive the 1960 Ultra Van Motor Home and the 1962 Alvis Stalwart. (I mean, how often do you get to drive a Corvair-based motor home and a six-wheel British military amphibian in Nashville?)   Amazingly, the answer to both drive requests is yes. But right now, we're heading downtown with a 1938 BMW 320 Cabriolet and a 1965 Peel P50. I'm driving the BMW, and Yando brings the tiny P50 on a trailer.
After driving the Scootacar, the BMW is a revelation. The steering likes to wander and the brakes impart all the stopping power of a mild headwind. But the 320 feels like a modern car – dapper leather interior, conventional shift pattern, plenty of power to keep up with traffic. Moreover, it feels like a BMW.
Step on the gas, and the torquey straight-six urges the car forward with a distinctive exhaust blat that would be recognizable to anyone with a new 328i. I move the shifter deliberately through its gates not because it's recalcitrant or vague, but because the shift knob is Bakelite and Yando warned me that it's brittle.
So I grip the shifter beneath the handle, because I have no desire to mar what is doubtlessly a very valuable car. To their credit, nobody at the museum said, "Hey, careful, that's a very valuable car!" But I should've known, considering a 1937 328 Cabriolet sold for $302,500 in March at RM's Amelia Island auction.
After cruising Broadway – Nashville's honky-tonk row – for a while (at one point inadvertently chirping the tires on takeoff), it's time to revisit the microcar genre in the Peel, which was built on the Isle of Man, evidently by a race of hobbits.
I can confidently declare that there literally is no way that a car could be any smaller than the Peel P50. I cram myself inside and find that my feet are twice the height of the pedal box, and the pedals themselves are waifish discs about the size of a quarter. If I grip the steering wheel at three and nine o'clock, my elbows stick out both side windows. This certainly is the first car I've driven where I could get a trucker tan on both arms simultaneously.
I pull into traffic, consumed with visions of some text-messaging Suburban driver punting me into low orbit. My predicament isn't helped by the clutch, which sticks to the floor and then releases on its own accord. I need to turn left off Broadway, so I sit at an intersection gunning the 50cc motor and hoping that the clutch's engagement will coincide with a yawning chasm in traffic.
Eventually it does and I reach a side street, where I get cocky and try for second gear. This is a mistake, since I'm heading uphill. The motor bogs so severely that I can hear each combustion event in the poor little two-stroke, so I pull over to turn around.
At least the Peel doesn't randomly decide to start in reverse. In fact, there is no reverse. To turn the Peel around, you get out, grab a handle at the back and pick it up. The first time I do this, I almost yank my arm out of the socket. It's much heavier than I guessed from looking at it. Defiantly heavy, actually, as if to say, "Hey, I'm a car, here. A little respect, please." I pull into an alley to perfect my shifting before I head back into traffic. Just when I start to feel confident in my skills, I pull a U-turn with excessive gusto and the three-wheel Peel starts to heel over, its left front tire off the ground. Reflexively, I stick my right arm out the window and brace the heel of my hand on the pavement, popping the car back upright. The Peel probably wasn't going to fully tip over anyway, but my arm has a low stability-control intervention threshold.
On the way back to the trailer, I head downhill and make it into third gear. I've never been so thrilled to go 25 mph. I'm starting to understand Jeff Lane's penchant for microcars. "It's a blast to drive around in a car that weighs less than the set of tires on an SUV," he says.
The search continues
Back at the museum, I take one more spin through, exploring the corners of the building that are out of the public eye. For anyone who loves cars, especially funky ones, there's endless eye candy.
If I could steal one car from this collection, it'd be the MG Metro 6R4 Group B rally car with the motor from the Jaguar XJ220 (sans turbos, still plenty powerful). Or the Citroën DS Ice Racer. Or maybe just the Infiniti Indy V-8 sitting on a shelf in the basement – that would be an exciting way to repower the 1973 Honda Life Step Van.
In the workshop adjacent to the display floor, a replica of Buckminster Fuller's Dymaxion is taking shape. When Lane can't find something he wants – such as the Dymaxion, of which only one exists – he's not above making a replica. Like the cars themselves, the collection is not static.
"We've done pretty well at finding what we want," Lane says. But there are always obscure and interesting vehicles out there waiting to join the Hanomags, the Matras and the 1956 Zündapp Janus in Nashville. Lane, like any collector, is still looking for new prizes. In that way, he's the same as a guy trolling an online auction for his first vintage car. "There are cars I've heard of that seem to have disappeared, but might still be out there," he says. "There's always a wish list." And no doubt, if there's something even weirder out there, Lane will find it.
For more information on the Lane Motor Museum, visit lanemotormuseum.org or call 615-742-7445.
***
To see this article in its original format, view the pdf version of the Fall 2009 issue of Hagerty magazine.