Watch the Nissan Skyline grow up from cradle to today's Godzilla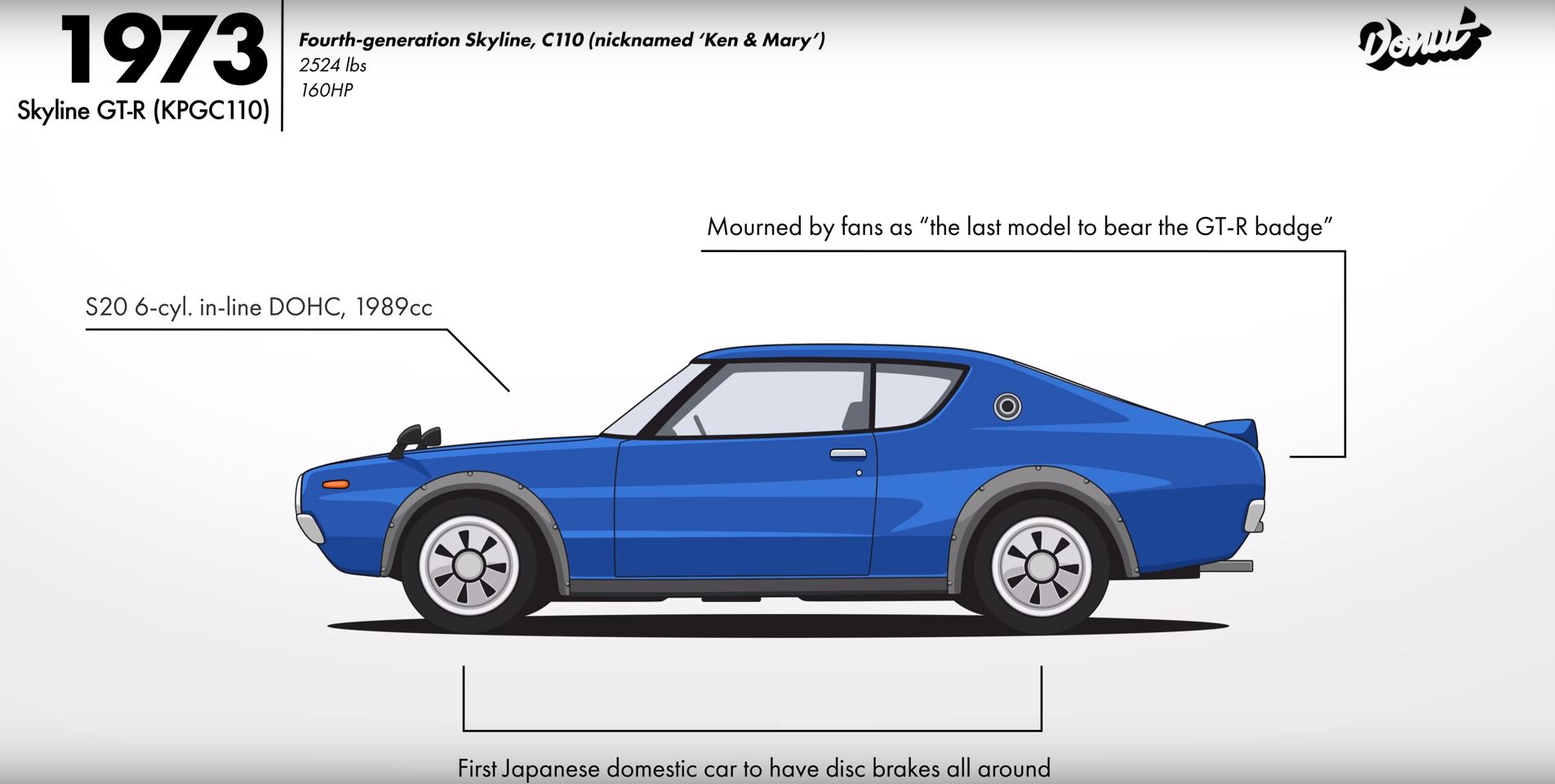 Long before Godzilla was taking checkered flags in Gran Turismo and embarrassing European supercars in real life, its story began as a mainstream sedan. First introduced in 1957, the Skyline was first a Prince, puttering along with a 60-hp four-cylinder engine. Thanks to this slick video from Donut, we can see how it became a Nissan and later developed into the Nismo-tweaked 600-hp animal it is today.
The Skyline soldiered on as an approachable sedan through the late 1960s, but when Nissan absorbed Prince in 1966, a different path for the then-humble nameplate began to take shape. Nissan delivered the first Skyline GT-R sedan in 1969, blessed with a delicious, racing-sourced 2.0-liter inline-six, complete with dual-overhead cams and three Mikuni-Solex sidedraft carburetors. A two-door would follow the next year. In 1973 Nissan also managed to produce limited numbers of the "Ken and Mary" 2000GT-R based on the second-generation Skyline that launched the prior year, but emissions regulations cut short production after just 197 cars rolled off the line.
Although Nissan retired GT-R name after that short-lived tenure, the Skyline endured both in production and racing. The '77 Skyline would be the first Japanese production model to be turbocharged, after adding electronic fuel injection the year before. By 1987, the alpha-dog 2000GTS-R Skyline boasted a Group A race-derived straight-six pounding out 207 hp (210 PS). It was also notable for adding four-wheel steering.
Nissan kicked things up several notches in 1989. At last, the R32 Skyline arrived, resurrecting the GT-R name along with it. Not only did the reborn GT-R up its game with a turbocharged, 276-hp, 2.6-liter straight-six, but it also added electronically controlled four-wheel steering and a multilink suspension at all four corners. Since these R32 GT-Rs have passed the 25-year-old mark, they've been steadily appreciating in value, with low-miles examples hitting $80,000 or more at auction.
More Skyline GT-Rs would follow in production and racing through 2002, but the GT-R name would go off and write its own story beginning in 2007. That first twin-turbo, 478-hp V-6 GT-R, although plagued by some early dual-clutch transmission issues, secured its reputation as the true supercar-killer of the mid-2000s. The version on sale today is essentially the same car, albeit considerably updated and now cranking out 575 hp in base form and 600 hp in the GT-R Nismo.
Who knows what the future holds for the GT-R. But do yourself a favor, take two minutes, and check out its evolution into what we know (and love) today.