How picture cars get from garage to set to screen
The tone of a movie, commercial, or TV show is all about the details. And when a filmmaker is getting everything from the clothes, to the music, to the actors' accents dialed in, the scenery needs to match that same tone and style. Making sure the right cars are on set is essential—it's one of the first things you notice about an environment that communicates what time period you're watching. We spoke with two "picture car" suppliers, one on each coast, to find out what it takes to get these cars in shape and ready for the spotlight.
Picture Car Warehouse
Picture Car Warehouse, in Northridge, California, isn't an easy place to visit. It's not that owner Ted Moser is unfriendly or unaccommodating—quite the contrary. It's just that there's a lot going on in the crowded facility. It's located on a busy street in a light industrial area, and the tiny parking lot is filled by a small team of craftsmen welding, wrenching, and upholstering a broad spectrum of automobiles.
Picture Car Warehouse's specialty is 1950s to '80s cars, and its handiwork can be seen on television and in movies such as 2 Fast 2 Furious, Argo, The Town, Aquarius, and 13 Reasons Why. Moser provides the cars that are used in close-up shots, ones used merely as stage dressing, camera cars, and stunt vehicles. When a production company needs a vehicle to perform in front of the cameras, Moser delivers.
How does he curate his collection? "Whenever I can, I buy up four-door sedans and wagons," Moser says, noting that the desirable cars are kept in good condition by enthusiasts, but run-of-the-mill people movers can be harder to come by. That can mean it's difficult to fill streets with normal everyday drivers for a movie or show set in the late 1970s. "That's something you encounter with directors and production designers. They'll look at a Pinto or a Pacer or a Gremlin and say, 'We don't want those, they're too far out there.' And I tell them, 'You're looking at it through 2018 eyeballs. That's what was driven in those days.' You had a plethora of those kinds of cars that were odd ducks, back when cars had style. The other thing you encounter is that when you're doing a show, you don't want it to look like a car show. By that I mean where everything just came out of a museum and they're pristine, because they don't look like that."
There are only a handful of big companies in the Los Angeles area that do what Picture Car Warehouse does, and Moser told us that PCW is one of the biggest players in the business. Sure enough, in the very same room, a craftsman was working on the upholstery for a Volkswagen Beetle while just a few paces away, in a large shop, several Mercedes-Benz G-Wagens were being restored from the frame up. Microsoft is bringing some of its video game cars to life with help from Picture Car Warehouse, which is building a Dacia, a VAZ, a Jeep, and a '66 Impala to serve as shuttles for an upcoming convention.
We wondered if Moser will start looking for the ho-hum cars of the 1990s as nostalgia drifts ever forward through the decades. "I'm not sure on that, because you can only have a finite number of cars." It turns out that Moser's inventory is a bit larger than your average collector, with somewhere between 500–600 cars. They're located at two lots, one only a few blocks away, and another 30 miles away in Agua Dulce near Vasquez Rocks, the jutting, sandstone formations countless TV and movie buffs will recognize as the backdrop for everything from Westworld and Blazing Saddles to Captain James T Kirk's battle with a plodding Gorn.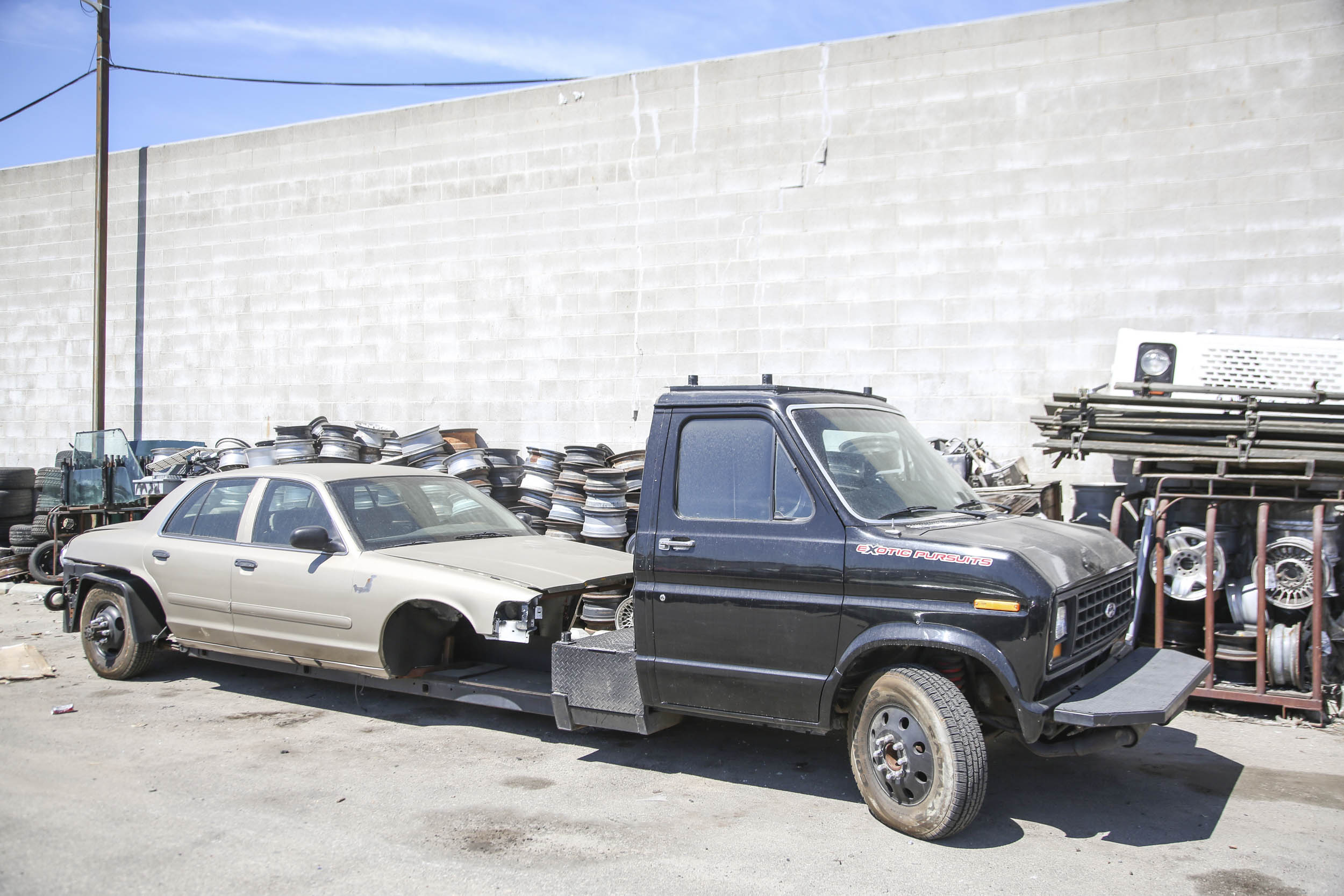 Moser let us poke around the Northridge storage lot, where cars are parked tightly in rows like a Malibu valet stand. Several vehicles stand out: a clone of the A-team van, a Wagoneer, an Olds 442, a GTO, and a Bullitt-inspired Mustang. Particularly interesting is a pair of film cars used for stunts and filming that were designed by stuntman/actor Mic Rodgers. They both use a long-wheelbase chassis with the forward part of a van cab up front and a car body mounted just aft. One is a Crown Victoria, its decklid and bumper cut to make room for a generator to power film equipment. It has sprayers plumbed to add water ahead of the rear tires, helping the stunt driver slide the contraption. Meanwhile, the forward passenger seat, up front in the van cab, is mounted backward so the stunt coordinator can keep an eye on things for safety.
Most of the other cars on the lot are more pedestrian. There's a line of ambulances, decades worth of police cruisers, a city bus, a pair of school buses (one long, one short), food trucks, tow trucks, and taxis. Any one of them could be painted and have graphics applied by the Picture Car Warehouse and roll out wearing the livery of just about any police station, government agency, or four-wheeled purveyor of gourmet mac and cheese you could imagine.
Octane Film Cars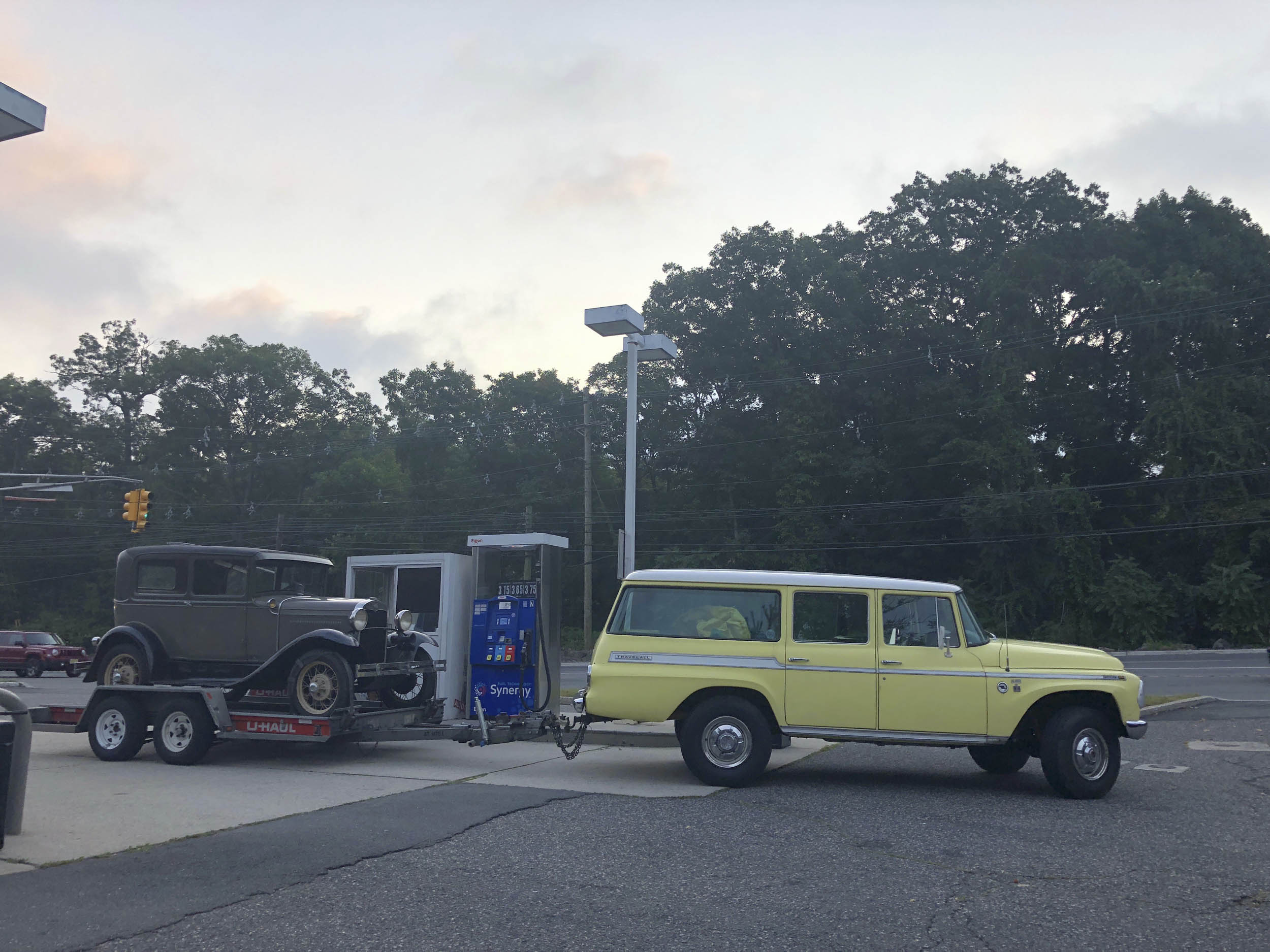 On the other coast, in New York, there's Jamie Kitman and Octane Film Cars. Kitman is New York Bureau Chief at Automobile magazine, as well as a music manager. He started Octane five years ago with a few colleagues, hoping to fill a niche role for older specialty vehicles in New York's growing film and TV scene. "New York is a booming picture town thanks to tax incentives and a population heavy with skilled technicians, craft and service people," Kitman says. "We're a smaller outfit that fill a niche for specialty vehicles, mostly."
Kitman's personal collection of oddball European cars make for a unique aesthetic, and through his vast network of contacts he can track down just about any car. Some of his best finds include Tom Hanks' Fiat 128 from The Post, the '82 Camaro Z/28 driven by Matthew Rhys from the TV hit The Americans, and a variety of vehicles utilized in The Marvelous Mrs. Maisel.
Other existing picture car companies in the New York area have fleets of vehicles for common needs, like taxi cabs, cop cars, and city buses. "That's more of a low-margin, high volume business. Picture cars like these aren't always pristine. A lot of parked cars filling out street scenes aren't either. But they're close enough for jazz. Though I notice that Bondo and overspray are fairly common.
"Octane's forte is finding unusual and hard-to-find vehicles," Kitman says. "Many shows nowadays take their cars very seriously, and we cherish historical detail and verisimilitude. Others might have better or worse standards of accuracy and excellence. I've noticed once or twice that when a show gets canceled or its budget gets cut for some other reason, they might not strive for perfection quite as much."
So how does the business actually work? Kitman explains: "Vehicles are typically paid out by productions on the basis of how many days they work. The car might be gone for four days but only work two, so that's what we'll get paid for. We rent our own vehicles and we broker the rental of other owners' cars, which might be part of a museum or an individual's large collection, or might be somebody's pride and joy. On occasion, it might be necessary or financially wise to buy a car and sell it later.
"Once we've provided a vehicle and transported it to set, our main role is to keep it running, move it around on set as directed, and sometimes store it. More advanced stuff involves rigging it to carry cameras or to be towed on a dolly for a scene that requires it. On occasion we are asked to have windshields removed, to avoid reflections when filming actors speaking inside the car, while the car is stationary in front of a blue screen."
That last part is key, because some cars aren't suitable for the kind of camera treatment a director might envision. For example, the real-life Ben Bradlee (played by Hanks in The Post) had a green Fiat 850 Sport Coupe. His family was adamant that the film use an 850 Sport Coupe, but a cameraman could not fit in the back of that car.
So, the picture car became a Fiat 128 instead. But the necessary 1971–72 examples are tough to find in the Northeast, so Octane supplied a pair of newer 128s retrofitted to look older. Kitman used his own yellow '75, ordering the older chrome bumpers from Italy, and then wrapped the car green. Octane then brokered a blue 1974 example through a customer, already with the older chrome bumpers and painted green. "That was hairy," Kitman recalls.
All part of what goes on behind the curtain. And to Kitman, the ups and downs are worth it to help make the movie sing.
"Nothing bugged me more as a kid than watching TV detectives like Mannix or Frank Cannon going into a corner being followed by a Plymouth and then exiting the same corner with a Ford hot in pursuit," he says. "A federally-mandated 1970s side marker in a '60s scene? It'll kill a picture for some of us. It breaks the suspension of disbelief. Getting it right may mean nothing to some viewers, but to those who care it says everything."