This modified 6×6 MAN camper rig is driving across the Americas
The Target order that my wife placed was ready for pickup. We were low on Borax and there was Halloween slime to be made. Typically, my lunch break is just long enough to pick up whatever the need-du-jour may be at that Target and then grab a Panera Bread salad for myself. On this day the lunch break would be much longer.
Exposure to hashtags such as #vanlife and #overlanding may have a lot to do with the surging popularity of van- or truck-based camping vehicles over the last few years. Some of them are both literal and figurative sleepers, blending in with traffic by resembling a clean contractor van. A keen eye will notice the HVAC unit on the roof, the bike rack in the back, or the all-terrain tires on what is otherwise an inconspicuous van.
The vehicle parked on the far side of the Target parking lot in Massachusetts was anything but. It was a gray MAN truck, and while commercial versions of these German trucks are common all over the world and rather unobtrusive, that was not the case here.
Huge. Everything about it was huge. Height, tires, cargo box—all huge. There was no mistaking it for anything other than vehicle designed to crisscross the world and all of its brutal terrain. I stopped my car and for a moment just stared at it. Soon, another idiot joined me, doing exactly the same thing.
In most cases when I see an interesting vehicle I snap a few pictures and transmit them to fellow motoring enthusiasts via select social media platforms. Those poor souls who are chained to their cubicles eight hours a day for life eagerly take my bait and provide me with valueless payments in the form of red hearts. The whole process seems therapeutic for all of us. This vehicle, however, was too special for a snap-and-go. I decided to make an exception and take a closer look.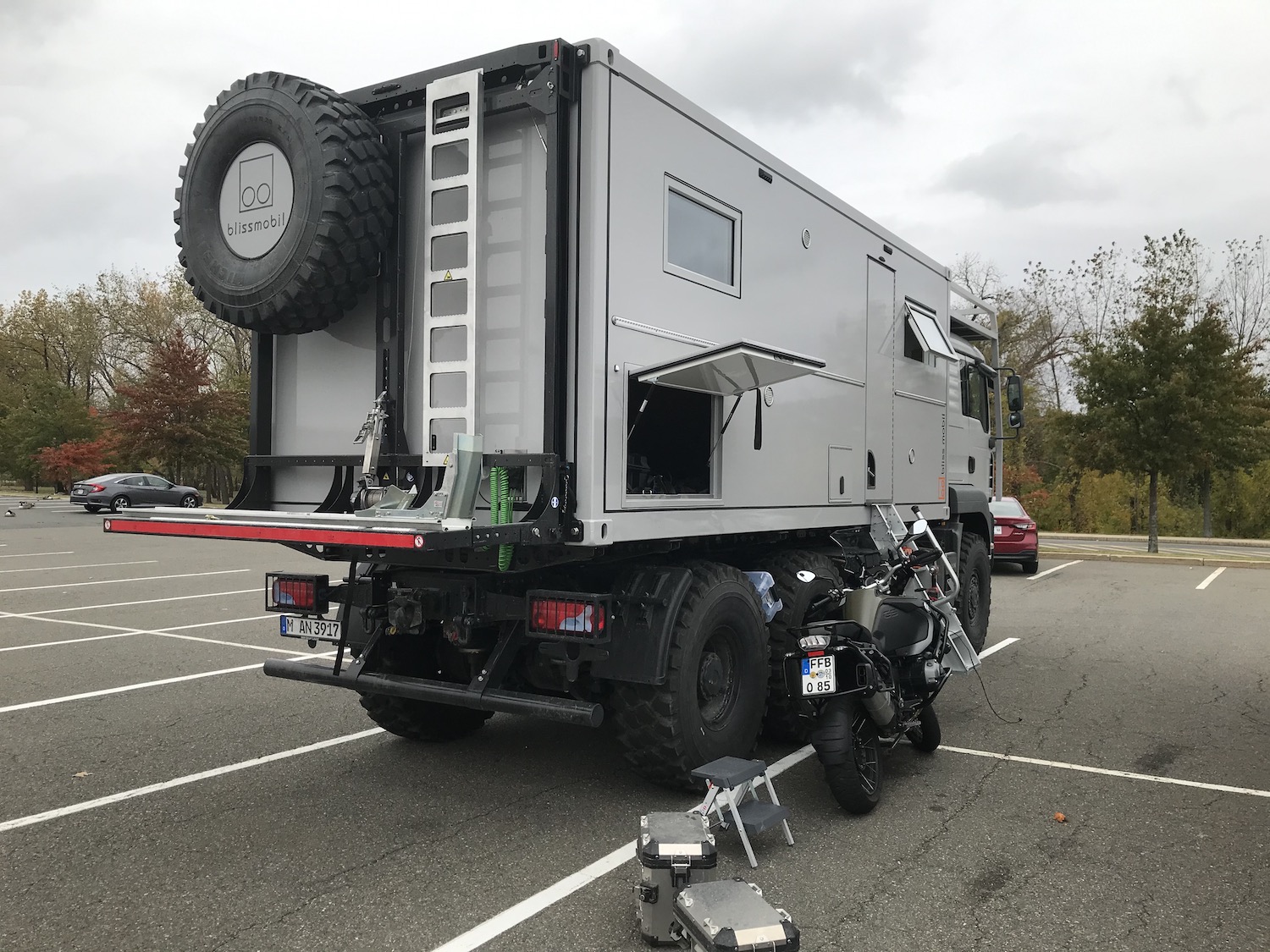 Walking around this German-plated rig, I noticed a man in his late 20s fiddling with some hand tools. Offering a friendly hello, I introduced myself in my most polite European fashion. Right away I mentioned that I was impressed by the size of his rig and that I, too, have wandered the world by car for weeks at a time. This established me as a fellow, highly cultured overlanding veteran, as opposed to the guy yelling "I saw this truck on TV, jumping over sand dunes! It's awesome, man!" out of the cab of his beat-up Ford Ranger.
Werner, the owner of the truck, said he owned an auto repair shop in Germany. The language barrier and my thirst for knowledge about his truck prevented me from understanding if it was a tuner shop, an auto body shop, or what. He told me the he built out the MAN himself. Or at least he had the plans to build it himself, but schedule got in the way and he only did what was needed to support the 20-foot Bliss Mobil body.
This 2009 truck is a former military ambulance, or likely a mobile hospital—a MAN TG-MIL 6×6. It's a military version of the popular TGA commercial truck. While the TGA went out of commercial production in 2006, replaced by the TGS model, the military TGAs were around until 2010. It was then that Rheinmetall MAN Military Vehicles GmbH, or RMMV was formed. RMMV is joint venture between MAN Truck & Bus AG and Rheinmetall AG. Since 2011 RMMV has been making a wide range of vehicles for the security industry and armed forces.
The drivetrain consists of a MAN D08 inline-six turbodiesel. Because it is a military-spec engine it is free of most emission control systems, including urea injection. The most powerful of those engines made 340 horsepower and over 1000 pound-feet of torque.
Power goes through a ZF nine-speed manual transmission, paired with a two-speed transfer case. On this truck power goes to the middle axle. Rear and front axles can be engaged separately, as on a conventional off-roader. This is unusual for a MAN military truck, as these vehicles usually have full-time 4×4 or 6×6 systems. All three differentials are lockable.
Front springs on this truck are of parabolic design. Parabolic springs are much like typical leaf springs, but are thicker in the middle, where they pass under the axle, and thin out in a parabolic shape at the ends. This allows for improved driver comfort as well as additional compression and extension, which are frequently needed in off-road environments. Rear leaf springs are supplemented with air bags. The fuel tank is a standard 400-liter (105.6-gallon) unit. As it stood, Werner said that the whole truck weighed about 16 metric tons, or over 35,000 pounds.
Werner's truck had only 20,000 kilometers (12,000 miles) on it when he purchased it and was in a very good shape overall. Sometimes very good isn't good enough, though. Knowing that the truck would explore the unknown, Werner immediately installed larger tires. Each of the 16.00R20 tires measures 52 inches in diameter and weighs over 330 pounds—without the undoubtedly heavy steel wheel. Werner assumes the each wheel/tire combination weighs over 500 pounds. There is a spare tire mounted up high in the rear of the vehicle, which utilizes an electric winch for access should it ever be needed. Note that this vehicle has single-tire rear axles.
Other modifications to the truck included a repaint to match the camping unit and an installation of a homemade roof rack over the cabin. The cabin itself was cleaned up. Navigation, audio, and communications systems were added. There is a big roof hatch too, which serves as a reminder of this rig's military beginnings. Werner said that time constraints prevented him from attaching a proper grille guard and off-road lights. The truck utilizes a military 24-volt system as well as the typical 12V setup.
The original plan was for Werner to build living quarters over the back of the truck. Workload and trip scheduling unfortunately prevented that, so he purchased a turnkey, self-contained, 20-foot Bliss Mobil unit. Nothing in life is easy, and neither was fitting this sea-container-sized camper onto the truck. The rear of the frame had to be cut for proper length. With that, all the electricals, hitch, cross-member, and bumper had to be moved. The whole thing was even more complex than it seems.
Cutting the frame allowed the spare tire winch system to be installed. In lieu of a typically-seen second spare tire, Werner opted for a roof ladder and an elevator-like platform for his motorcycle. The BMW R1200 GS bike can be used as an escape pod in an emergency but also serves as a much more maneuverable vehicle for exploring cities while the MAN stays out of crowded downtown areas. Despite that Werner said that he intends to drive the MAN into Manhattan, if only for outrageous photo opportunities.
The Bliss Mobil unit is specifically made to be the size of standard 20-foot cargo container. It's designed to be easily removed from the vehicle for shipping purposes, and it is a completely self-sufficient unit. There is a total of 565-liter (150-gallon) water capacity. On the roof are six solar panels with a combined capacity of 1.9 kilowatts, two parallel 24V battery packs with a combined capacity of 800 amp-hours, or more than 20 kilowatt-hours. According to Bliss Mobile, all of this allows for up to 90-day departure from civilization but Werner estimates it at 28 days, given his usage.
The interior is finished in a clean, modern way typical of Europe. (These Bliss Mobil-provided photos of this very same model truck give you an idea—Werner's girlfriend did not want me taking pictures of the inside of their truck in its current, somewhat-messy state. Completely understandable to anyone who has ever been married.)
Werner and his girlfriend have some serious plans for their travel throughout the Americas. Yes, both Americas. They had arrived in Nova Scotia, Canada, and made their way to Boston when I met them. Short term plans included stops in New York City and our nation's capital, before heading down to The Most Magical Place on Earth in Florida. From there they will head west along our southern border until they pick up the Pan-American Highway and head south for the winter months. The plan is to get to all the way down to Chile and Argentina, before turning around and returning north all the way to Alaska. That is a seriously ambitious plan.
Coincidentally, I had been reading Dan Grec's book The Road Chose Me about his exploration of Central and South Americas, and learning of their itinerary made me pause. There was a language barrier in our conversation, and I am sure they have done a ton of research on their upcoming trek, but I suggested they pick up a copy of the book anyway. The drive and those countries are amazing; it is the border crossings and road blocks that are the really difficult obstacles.
Then there is Darién Gap, a 66-mile break in the Pan-American Highway. The gap is basically a dense, mountainous jungle, full of swamps and free of any kind of infrastructure. While it has been crossed by vehicles, these were special team expeditions with a goal to just cross the gap. Of the less-than-dozen vehicular passes, the fastest ones took over three months. Military six-wheel-drive MAN on 52-inch tires or not, it is basically impossible to cross. Ferry service is available and that's where the big MAN might run into trouble due to its size.
My lunch break was in overtime by the time we said our goodbyes. Wherever the road took Werner and his girlfriend, I wished them the best of luck. They had an amazing machine for what was sure to be an amazing expedition. For me, there was Halloween slime to be made and pictures to be tweeted—Werner and his girlfriend sure as hell weren't the only ones living la vida loca.