Marmon: The rise, fall, and rarity of a forgotten American automaker
The Dodge brothers are certainly better known—they're even being portrayed in current television commercials—but the Marmon brothers left their own indelible mark on automotive history. Although best known for the Wasp, there was a lot more to the Indiana automakers than their claim to fame as builders of the first Indianapolis 500-winning car in 1911. In fact, despite being shuttered since 1933, the Marmon Motor Car Company made headlines twice last week.
Shortly after the NewsTribune in La Salle, Illinois, reported the discovery of a rare, two-door 1927 Marmon that hadn't seen the light of day in five decades, RM Sotheby's sold a 1932 Marmon Sixteen Convertible Coupe by LeBaron for $932,000 at its New York ICONS auction. Hagerty Valuation Information Analyst Jesse Pilarski says the sale was the fourth-most expensive Marmon at auction.
"Since 2009, we've seen four of the remaining eight Marmon Sixteen convertible coupes offered at auction increase in value from $500,000 to $1 million," Pilarski says. As for the barn find, Pilarski says it's more difficult to determine what it might be worth because "the last hardtop eight-cylinder Marmon we saw at auction was in 2015, and the car went unsold with a high bid of $47,000."
Determining the value of a Marmon is a discussion that has railed on for more than a century. Marmon luxury models competed with the likes of other premium brands like Cadillac, Packard, Lincoln, and Pierce-Arrow. They were known for sound engineering and durability, and they came at a high price. Exactly what you would expect of a car that was described in early advertising as "A Mechanical Masterpiece."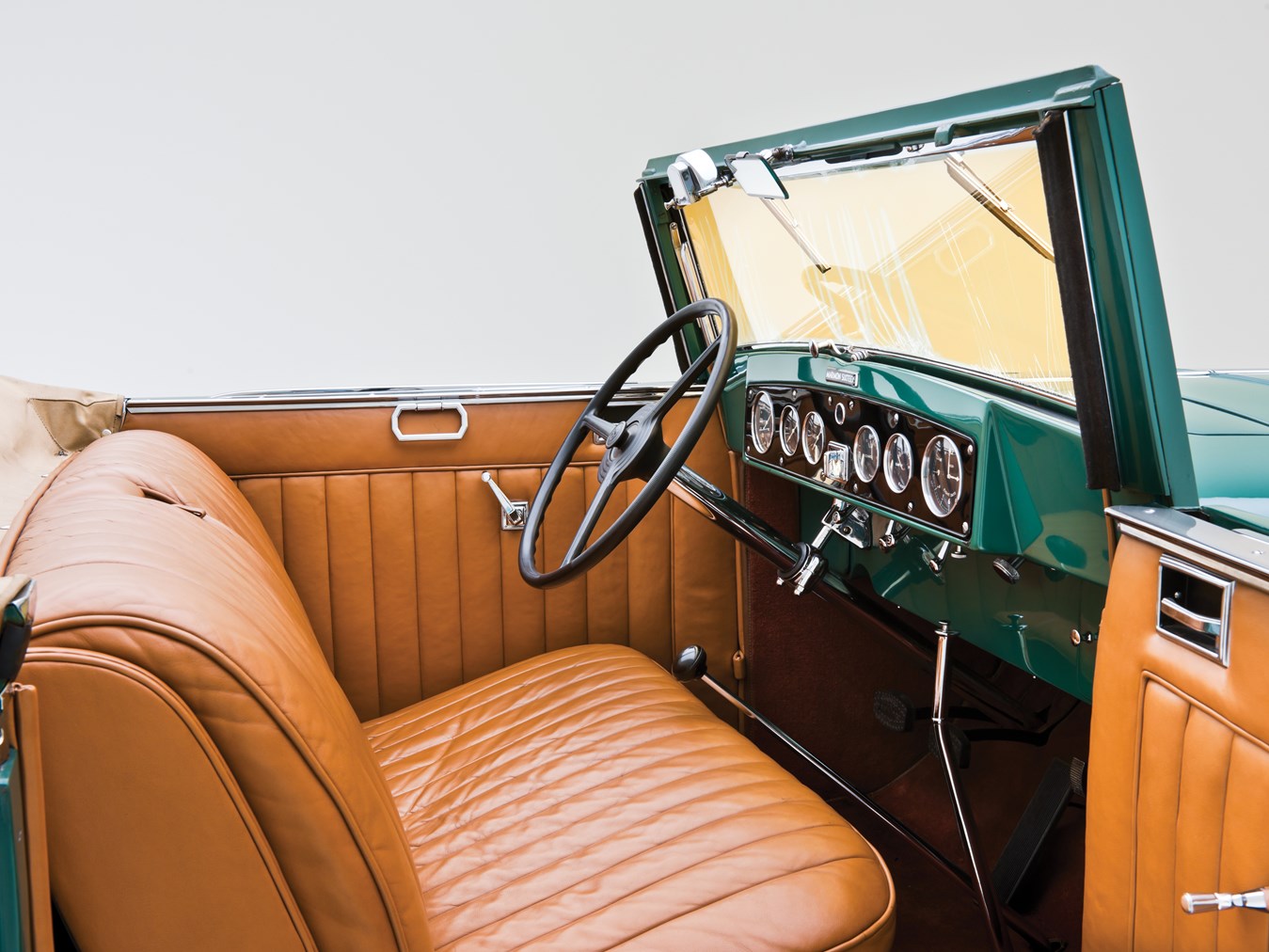 Building a superior car
During the automotive boom of the early 1900s, brothers Howard and Walter Marmon became fascinated with the horseless carriage. They built their first automobile in 1902, using equipment at Nordyke and Marmon Co., an Indianapolis manufacturer of flour-mill and grain-elevator machinery that was co-owned by their father, Daniel. But merely building a car wasn't enough for the Marmons. "Carmakers" were a dime a dozen at the time, and Indianapolis was a hotbed of automotive activity. So, with Howard serving as engineer and chief designer and Walter handling finances and manufacturing, the brothers set out to build a superior car, no matter the effort or cost.
According to The American Automobile, Howard designed a 20-horsepower, air-cooled, overhead-valve, 90-degree V-4 engine, and commercial production began in 1904 with the introduction of the Model A Marmon touring car. An advertisement in a 1905 issue of The Horseless Age listed one for sale for $1600—the equivalent of about $42,313 in today's dollars. The Marmon brothers sold five of them. Improvements followed, and sales steadily rose.
By 1906, Nordyke and Marmon began touting a patented "double three-point suspension." Advertising included an illustration showing a Marmon with one of its rear wheels raised a foot higher than the other three, at the frame level. "When you inspect the car you think of buying, have the demonstrator pose it thus. If it doesn't meet the test as gracefully, without evidence of great strain, how much worse will it fare on rough roads with the speed up? Raising one wheel in the Marmon does not tend to tilt the other axle, hence does not twist or strain the mechanism. This is true of no other car." The price tag was $2500 (more than $63,000 today).
Marmon built an experimental V-6 engine in 1906, followed by a 75-hp V-8 engine that was equipped in its 1907 seven-passenger touring car, priced at $5000—a whopping $124,600 today.
The Wasp effect
The Model 32 came along in 1908, and Ray Harroun made it famous three years later when he drove a Model 32-based, six-cylinder "Wasp" to victory at Indy. Coincidentally, Harroun also introduced the world to the rearview mirror, an invention that eliminated the need for a mechanic to ride along and warn the driver of approaching cars (although he later said the mirror shook so much that he couldn't see anything anyway).
Marmon attempted to capitalize on the 32's new-found fame with a larger, more expensive Marmon 48 that was loosely based on the Wasp, but it was a financial failure. The lightweight Model 34—with its aluminum engine block—was just the ticket, however. It helped the company produce 1753 cars in 1916, more than triple its output from the previous year.
Before Henry Ford acquired the Lincoln Motorcar Company in 1922, he rode to work in a custom-bodied Marmon Model 34. It was the only Marmon model line offered through 1924.
Hard times
An economic downturn began to take its toll in the mid-1920s, and Walter Marmon resigned as company president to become chairman of the board. George M. Williams took Walter's place and immediately set out to right the ship. He proposed that the best solution would be to offer lower-priced Marmons equipped with less-powerful inline-eight engines. (Williams also sold the milling equipment portion of the company to Allis-Chalmers and dropped Nordyke from name in favor of Marmon Motor Car Company.)
A shorter-wheelbase Little Marmon was unveiled in 1927, and it was an immediate success. According to The American Automobile, annual sales rose from 10,095 to 14,770, and then 22,323. The Roosevelt (named for President Theodore Roosevelt) came along in 1929, and it carried the distinction of being the world's first eight-cylinder car with a price tag of less than $1000. That's like paying only $14,000 today—quite a change from those early Marmon luxury models and their premium prices. The problem was, Marmon had to build a lot of them to turn a profit, and sales were hardly enough to fend off the effects of the stock market crash in 1929.
First the masterpiece, then the end
Marmon managed to keep the lights on until May 1933, when it filed for bankruptcy. But the company didn't go down without a fight. Returning to its roots as a luxury car maker and fulfilling Howard Marmon's dream of a V-16 automobile, the Marmon Sixteen was introduced in 1931. Drop-dead gorgeous and powered by a 200-hp, 490-cubic-inch, aluminum OHV V-16 engine, the Sixteen was awarded with a number of design and engineering accolades. According to an enthusiast group known as The Marmon Club, when Amelia Earhart returned to New York after making her transatlantic flight in 1932, she rode down Broadway in a Marmon Sixteen Convertible Sedan during a ticker-tape parade in her honor.
But the Sixteen's nearly $5000 price tag ($80,000+ today) represented a tough sell in such difficult economic times. Fewer than 400 were built—223 in 1931, 111 in 1932, and 56 in 1933.
Of course that price tag, even in today's dollars, is cheap compared what the surviving Marmon cars command. Considering the Sixteen's combination of beauty and rarity, it's not surprising that it has become a prized target of collectors. Somewhere, even as the Dodge boys drive across our TV screen, the Marmon brothers are smiling.